Engineers hired by Lancaster city failed to account for $480,000 when comparing a water tower site on School District of Lancaster-owned property to other sites in and around Lancaster Township, new site calculations submitted Tuesday show.
That, however, won't make a difference in the city's negotiations with the school district to lease land near Wheatland Middle School in the 900 block of Hamilton Park Drive, city officials said.
"It doesn't change that we're still pursuing the school district site, because the next closest site is still roughly $1 million more," said Charlotte Katzenmoyer, the city's director of public works. "We don't  think it's fair for water rate payers when there is a (cheaper) site available."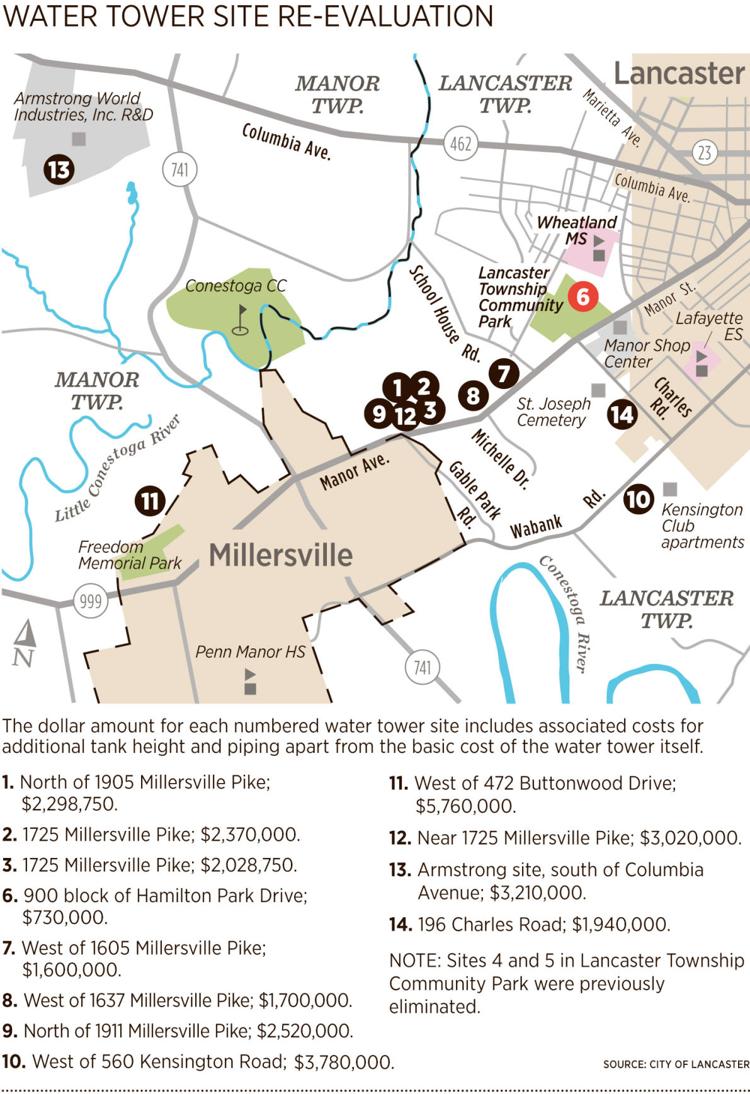 After discovering an error in both the comparative pricing and the measurements done at 14 possible water tower sites, the city recently asked engineering firm ARRO Consulting to return to the drawing board and submit new calculations.
Engineers, Katzenmoyer said, provided the city with inaccurate measurements and cost calculations that didn't include piping for the city's original water tower site.
The city has paid ARRO, which is based in Lititz, $15,000 to calculate tower costs, Katzenmoyer said, adding that the city isn't paying ARRO to correct its mistakes.
Cost estimates, according to the updated calculations, increased at some sites by as much as about $1.69 million, while they decreased at two sites by as much as $352,500. Inflation and new tariffs on steel helped balloon some of the figures.
Construction on the 138-foot tower should cost about $7.75 million. The tower's original cost was $7.5 million, but the city had to make it 25 feet taller — for $250,000 — after the school district's construction plans for Buchanan Elementary School and Wheatland Middle School interfered with the city's plans.
Piping on the middle school site would cost $480,000.
The next cheapest tower site —  positioned west of 1605 Millersville Pike — would stand 12 feet higher and cost $7.87 million, plus $1.23 million in piping.
Lancaster Township Supervisor Steve Elliott said in an email Tuesday that "there continues to be inconsistencies and possibly inaccuracies" in the updated figures, "but we'd like to get clarification from the city before we provide detailed comment."
Matt Przywara, chief financial and operations officer for School District of Lancaster, said in an email that the district has not had a chance to review and verify the data, but "it is the intention of the school district to work with all of our municipalities to work toward the best possible solution."