On a recent trip to visit his parents in Ohio, Ben Deininger drove an hour and a half from Delaware to Lancaster Airport for an $84 flight to Pittsburgh. 
"Philadelphia is 45 minutes away, but the cost of the flight is three or four times as much," said Deininger, a 25-year-old engineer who previously used this roundabout way to get home after learning about the federal subsidy that makes it possible.
"It's great," he said. "I'm kind of interested in the whole program, what do they call it?" he asked, just before boarding his 6:25 p.m. Friday flight on a nine-seat plane.
It's called Essential Air Service and it makes it feasible for Southern Airways Express to offer one-way flights from the Manheim Township airport for as cheap as $44 to Pittsburgh and $34 to Baltimore. The Mississippi-based airline gets $2.5 million annually to operate the commercial service in Lancaster. It includes three weekday flights to Pittsburgh, and two to Baltimore.
But the subsidy — along with all those flights — could end next year if the airport can't come up with $100,000 to $200,000 in local matching funds the U.S. Department of Transportation is requiring to maintain the program here.
With Lancaster city and county officials saying they either can't or are reluctant to provide new money to preserve commercial flights, the only alternative may be to have the requirements relaxed, an option that's become commonplace for Lancaster Airport.
---
Rules for subsidy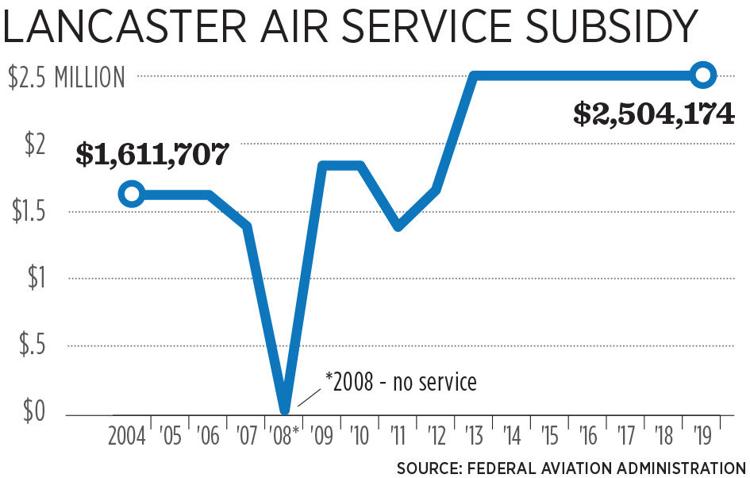 Federal guidelines for the Essential Air Service program prohibit the per-passenger subsidy from exceeding $200 or for airlines to average less than 10 passengers a day. In addition, airports can't be closer than 70 miles from a major airline hub or 40 miles from a medium-sized hub.
At one time or another, Lancaster Airport violated each of those rules, never meeting all of the criteria.
Based on a 2018 passenger count of 10,788, the per-passenger subsidy was $232, and Harrisburg International Airport, which is considered a medium-sized hub, is 32 miles from Lancaster Airport.
And yet, the subsidy has continued, thanks to the intervention of members of Congress, beginning with the late Democratic Sen. Arlen Specter, who initially bent some rules about driving distance to Philadelphia to make the airport eligible in 2004.
This time, local officials argue that the new rules requiring local matching funds unfairly target Lancaster. That's because it is one of only two communities — out of the 173 that get the subsidy — that are being asked for a match. (The other community is Kamuela, Hawaii, which got a $20,000 match from the County of Hawaii to maintain service to its local airport.)
---
Local match rejected
Faced with the requirement to obtain matching funds, the airport turned to county officials and Lancaster city but came up empty in both cases.
City Mayor Danene Sorace's office addressed the airport's request in a statement to LNP.
"We appreciate the airport as an asset to Lancaster County but it is not possible for the city to provide resources to subsidize its operations," the statement said.
Democratic Commissioner Craig Lehman was critical of the requirement for local taxpayers to match federal funds.
"I oppose local taxpayers being leveraged by a wrong-headed federal policy," he said.
Republican Commissioner Josh Parsons said the board is reluctant to chip in since "running an airport is not a core function of county government." And while the airport provides some economic benefit, he said, he hasn't seen anything that shows whether it offsets the cost.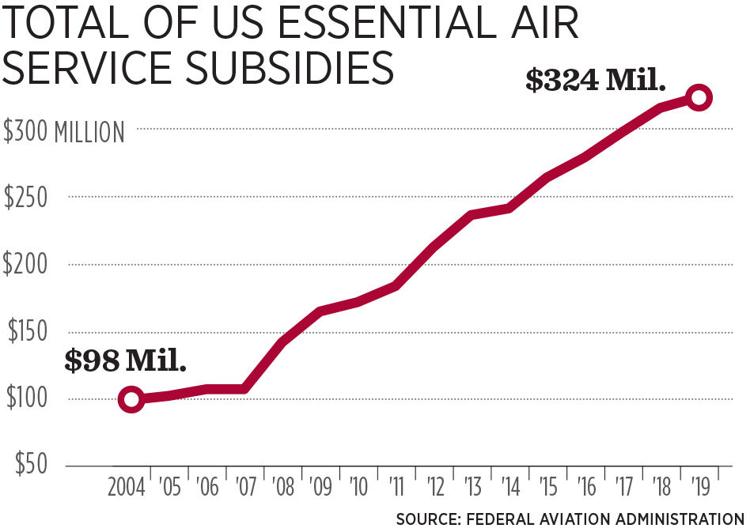 Fellow Republican Commissioner Dennis Stuckey said the matching funds "are clearly an affordable expense" for the airport itself if the rules would allow that.
The commissioners have asked airport officials to request a federal waiver of the matching funds requirement or else get the U.S. Department of Transportation to tweak the rule to let the airport itself contribute it.
Lancaster Airport director David Eberly said the airport authority would indeed be willing to use its own money for the local match if no one else comes through, and if the federal guidelines would be changed to allow that.
As Lancaster Airport officials look for a way around the U.S. Department of Transportation guidelines, some critics say the program — which routinely gives money to other communities that don't technically qualify — has become a symbol of federal overspending.
"Senator Toomey opposes this program, as it requires taxpayers to dole out millions to bailout air routes that are not sustainable on their own," said Steve Kelly, a spokesman for Republican Pat Toomey, who took Specter's Senate seat in 2010.
---
Program history
Begun in 1978 as a way to keep airlines from ignoring small, rural markets once the industry was deregulated, the subsidy was supposed to end in 10 years.
But the program was made permanent in 1996 and payments have increased from $35 million then to $324 million this year. Just under half the money sent to airports in 173 communities is generated from "overflight fees" charged to foreign airlines that cross U.S. airspace. The rest is from taxpayer funds.
Lancaster Airport joined the program in 2004 after Specter and then-Republican U.S. Rep. Joe Pitts successfully challenged the rule that made the airport ineligible for being less than 70 miles from the Philadelphia International Airport via Route 30.
The lawmakers argued that most people here use Route 222 and the Pennsylvania Turnpike to get to the Philadelphia airport, which puts the trip at more than 70 miles.
In April 2017, Republican President Donald Trump submitted a budget plan that eliminated the program, which has its critics in Congress.
"Essential Air Service is perhaps the least essential program in the entire government," said Republican U.S. Rep. Tom McClintock of California when he offered an amendment to defund the program. "It is a direct subsidy paid to airline companies to fly empty and near empty planes from small airports to regional hubs nearby."
(Since the subsidy payments are made based on completed flights, not passenger counts, planes do sometimes fly without passengers. Mark Cestari, chief commercial officer for Southern Airways, said flights are "rarely empty" from Lancaster.)
McClintock's April 2018 amendment failed by a vote of 293 to 113, with U.S. Rep. Lloyd Smucker joining 114 other Republicans in voting against it. Smucker, who represents Lancaster and parts of York counties, has been supportive of the subsidy, saying it is an economic driver for the the area.
---
Economic impact
For Southern Airways, Lancaster Airport is a regional maintenance hub and the home for 20 employees who would lose their jobs or be transferred if the commercial service ended. A handful of Transportation Security Administration agents would also no longer be needed.
Counting payroll and lease payments to the airport as well as fuel and other local purchases, Cestari said Southern Airways has a $1.5 million annual impact on Lancaster County.
Besides losing that if the airline goes away, Cestari said Lancaster County would miss out on the cachet of being an area with its own commercial airline service.
"If you surrender your place on the air service map, you are diminishing your community's potential in a lot of different areas," he said.
Joel Cliff, a spokesman for Discover Lancaster, which promotes Lancaster County as a travel destination, said having the commercial air service simply provides another way for visitors to get to the area.
"You always like to provide as many access options for travelers as possible, and we'd love to see that continue," he said.
A mid-morning flight to Pittsburgh on a Wednesday last month consisted of three people, including someone visiting a relative in Baltimore and a couple that needed to pick up a car in Pittsburgh.
Southern Airways and terminal employees said the Monday morning and Friday evening flights are the busiest, and often include people in town on business.
The Friday evening flight that Deininger used as a cheap option to get home to Ohio also included a couple from Puerto Rico who visited Pittsburgh and Lancaster on a vacation, as well as Cassie Capots, a 29-year-old Lititz resident visiting family in Pittsburgh.
Capots' husband, Justin, a 30-year-old energy program manager with the Lancaster County Solid Waste Management Authority, booked the flight after learning about the low fares from a colleague who used it for a work trip to Pittsburgh.
"Options are always great," he said.
---
General aviation
Without a commercial service, Lancaster Airport would become a general aviation airport, albeit one that Eberly said would be just fine financially.
The airport's annual budget is around $3 million, with Southern Airways contributing around $200,000 from various lease payments. Eberly said some of that could be recouped by getting other tenants.
Without the airline, Lancaster Airport would still be a busy place because it is home to more than 20 other businesses employing more than 200 people. That includes charter companies, flight instruction schools and car rental companies in addition to Fiorentino's, the restaurant inside the terminal.
The airport runway would also stay busy without the commercial flights, which make up only about 2% of the nearly 100,000 annual takeoffs and landings, Eberly said.
Nevertheless, the airport would be diminished without its commercial service, Eberly said.
"The airport is not going to go away if we lose airline service, but we strongly feel having (a commercial) airline service in our community that people can fly in and out of our community is a value," he said.
Eberly has been talking up the service to county and city officials even as he says he understands it will be difficult to get them to allocate funds from their own taxpayers.
Yet one longtime ally says he plans to once again go to bat for Lancaster Airport.
On at least three other occasions, Democratic U.S. Senator Bob Casey has asked the U.S. Department of Transportation to waive a requirement in order to keep subsidizing Lancaster service.
And he is ready to do it again.
"Senator Casey has long been a supporter of the Essential Air Service subsidy program and has advocated on behalf of the airport," said Andres Anzola, a spokesman for Casey. "The Senator will continue to support the EAS program and the Lancaster Airport's applications."