Late last year, Marcus and Lisa Jurgensen purchased their dream home.
Lately, they feel as though they're enduring a nightmare.
The Jurgensens knew a little about the proposed Atlantic Sunrise Central Penn Line South natural gas pipeline that will pass through their Martic Township neighborhood. But Lisa  Jurgensen said what she didn't realize was how big it will be — and how much of her Lakewood Drive property it will affect.
"In November we moved into this beautiful setting," she said, standing near the eastern edge of the 2 ½-acre property.
"They're proposing to cut down all these trees," she said. The septic drain field may need to be moved.
"This is devastating."
But the question — pondered by the Jurgensens and many others along the path of the pipeline — is what to do about it.
To sell or not to sell?
Over the past 18 months, dozens of homes along the 36.5-mile proposed path of Williams Companies' Atlantic Sunrise pipeline through western and southwestern Lancaster County have been put on the market. Some homeowners say they're getting out before the pipeline gets built. Other say the pipeline plan had nothing to do with their decision.
But all along the route, there is worry. Homeowners like the Jurgensens worry not just about how the project will affect their property, but how it might affect their property value. If they want to sell, should they do so now — or wait until the project is completed? What will prospective buyers think?
"We're feeling very lost right now, and we don't know which way to turn," said Nancy Jeffries of Conestoga, whose home lies within 800 feet of the proposed pipeline. She and her husband have talked to a real estate agent about listing the house, but "Our financial adviser said, 'You can't put that on the market now with the pipeline pending — the value of the house is at a low,'" she said.
Once the pipeline's in, "we may get a better value for our house," she said.
But even then, she's convinced, "we're going to take a bath."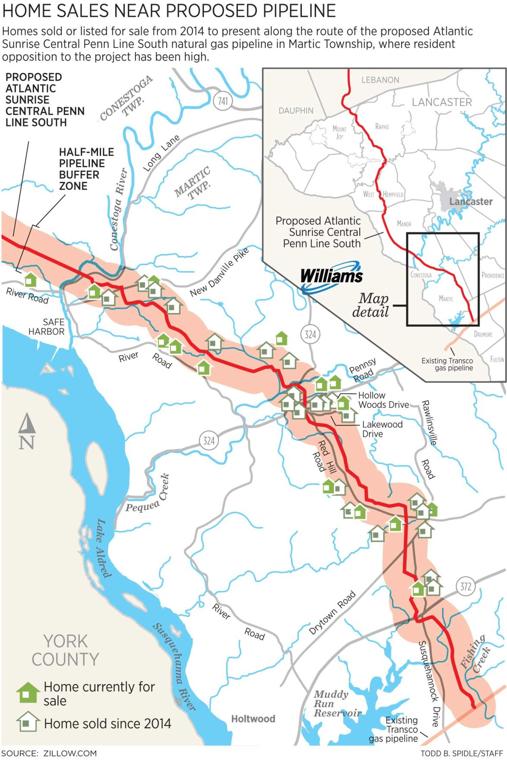 No impact on property values?
In late April, Oklahoma-based Williams formally asked the Federal Energy Regulatory Commission for approval to build the pipeline. The regulatory agency will review how Williams proposes to handle the project's many impacts — including the effect it may have on landowners.
On a website dedicated to the Atlantic Sunrise project, Williams asserts "Historically speaking, natural gas pipeline easements have had little or no impact on property values." The company also cited two studies, one from 2001 and another from 2011, that found no evidence that proximity to a pipeline had any discernible effect on property values.
In an email, Williams spokesman Christopher Stockton also cited a 2014 study commissioned by the company, looking at the impact of a Williams pipeline on lot and home prices in the Saddle Ridge subdivision in Dallas Township, Luzerne County.  That study concluded that "the Williams natural gas pipeline easement has had no impact on the price paid for the residential  homes in Saddle Ridge."
Questions remain
Tony Haverstick doesn't buy it.
Haverstick had just listed his Manor Township property on Breneman Road last year when it was announced  the Atlantic Sunrise Central Penn South line would pass his circa-1740 stone house. "Literally the week I put my house up for sale I got this letter from Oklahoma with this red line behind the place," said Haverstick. "I almost had a heart attack."
Williams earlier this year re-routed the pipeline away from Haverstick's 21 acres, but "for the whole year Williams was going to put a pipeline behind it, nobody looked at it," said Haverstick. "Why would they?"
Some Realtors who are trying to sell homes along the pipeline path said fears are overblown.
"The proposed pipeline hasn't entered the dialogue of local Realtors, at least not in the conversations I am hearing," said Lisa Naples, of Berkshire Hathaway HomeServices Homesale Realty in Lancaster, the listing agent for a home on River Road in Conestoga near the pipeline path.
The seller's moving not to avoid the project, she said, but because he's ready to downsize. The pipeline "hasn't been mentioned by showing agents (or) inquirers of this property, either," she said.
By contrast, Ken Rutt, another Berkshire Hathaway Realtor from Quarryville, said he's heard a lot of talk about it. "One (homeowner) was talking to an agent in our office maybe a year ago when this thing started, wanting to sell his house," Rutt said.
"Would there be resistance to buying it? I think there would be right now, with all the press," he said. "There's so much out there (about the pipeline) that isn't true, but that fear alone might drive some buyers away."
Homes on the market
In Martic Township alone — where, along with Conestoga Township, opposition to the pipeline plan has been the fiercest — at least 33 homes in the pipeline path or adjacent to the route have been listed since the beginning of 2014, according to Zillow.com and an interactive photographic survey map of the pipeline path created by Andrew Ross of geographIT, a Lancaster-based GIS consulting firm.
"I have not been tracking the usage of the site and I have no way of knowing who is looking at it and deciding to welcome, fight or leave," said Ross.
Late last year David and Laura Ederati sold their home on Lakewood Drive in Martic Township. "We didn't realize that the pipeline was proposed to come so close to our neighborhood when we originally first put up our house for sale, so I can honestly say that it was not the cause for our decision to move," said Laura Ederati.
According to LNP records, the number of homes sold in Conestoga and Martic townships actually declined in 2014 — when the pipeline plan was announced — from 2013 totals.
Promises to leave
Many who have publicly vowed to leave have not yet done so. "I'm still waiting to see a final map of where it's going and how close it will be to my house," said Hollie Plante of Conestoga, who last December posted on the Conestoga Pipeline Information Group Facebook page that she was considering selling her home: "I'm in the house I wanted to die in. It's my dream house but protecting my children comes first," she wrote then.
Last week, she said she's still thinking about it, "weighing out my options to see how much less I'll get by selling."
Kim Kann, a schoolteacher and Conestoga pipeline opponent who was arrested and charged with disorderly conduct after trying to make a point in an April public forum, said her home is within the "hazard zone," an area that could be acutely affected were the pipeline to rupture or leak. "I won't live close to a pipeline ... that size and pressure," she said.
But "the question is when is the best time to get out."