Neil King walked out of Zimmerman's Custom Butchershop in Lititz on Tuesday evening with a slice of cheese sandwiched between two pieces of bologna. He pulled out his phone and took a picture to post to his Twitter.
That's how King has been documenting his last eight days — the last three of which have been in Lancaster County. He's on a journey to see the mid-Atlantic step by step, an undertaking he calls "a ramble."
King, a 61-year-old writer from Washington, D.C., decided he wanted to get a better idea of America. It started out as a joke a few years ago, he said. But now it's a reality, and by the end of April, he's hoping to paddle across New York Harbor.
He's walking from Washington D.C. to New York City — a nearly 300-mile trip. During his journey, he's stopped to document things that interest him or to have conversations with locals.
For the past three days, King's been traversing Lancaster. And since he crossed into the county via the Veterans Memorial Bridge over the Susquehanna River, there's been no shortage of things that have piqued his interests.
After the custom sandwich, compliments of Zimmerman's, he saw a young girl in a floral dress catching a fly ball on a softball field on the side of a country road somewhere between Lititz and Ephrata. He walked up and found two softball games going on simultaneously being played by ninth-grade Mennonite children.
King said he started talking to the students and the teacher and afterward, one ninth-grade girl pitched the idea of singing for King.
These adorable Mennonite ninth graders were playing a mean game of softball. The girls were fantastic fielders and hitters in their long floral dresses. Afterwards, they insisted on singing two hymns for me. I've rarely been so moved. pic.twitter.com/xJdupwHSKH

— Neil King (@NKingofDC) April 6, 2021
"They sang two hymns for me that were just extraordinary and amazing," he said. "And that was not just a highlight of this trip, it was — I don't know, probably the highlight of the past year."
In a tweet he posted after the impromptu concert, he wrote that he had "rarely been so moved."
While his twitter is a way for him to immediately share his findings along the trip, the bigger goal is a book.
In an interview with NPR, King said the route he chose is, "... really the founding stretch of the nation in many ways."
There's no time limit on his journey, he said, and he always welcomes a conversation.
One stop that was important for him to make Wednesday was at the Fry family homestead in Ephrata. He had seen a 1942 photo a while back while perusing in the Library of Congress. The home is now owned by the 10th generation of Frys.
(Story continues below video)
Shortly after his visit with the Frys, he struck up a conversation with a farrier named Matt, somewhere near Ephrata, who was shoeing a horse. He left with a bag of cookies he was given as a gift.
On Wednesday, King was making his way from Ephrata to Churchtown, in the northeastern part of the county. On a mile-and-a-half stretch along Sensenig Road to Centerville Road, he admired things he might not have seen if he was in a vehicle: wildflowers, a misspelling on a hand-painted sign, a group of cattle catching shade underneath a bare tree.
"The thing about walking is, you just sort of see everything, you know? In a way that you don't when you're driving."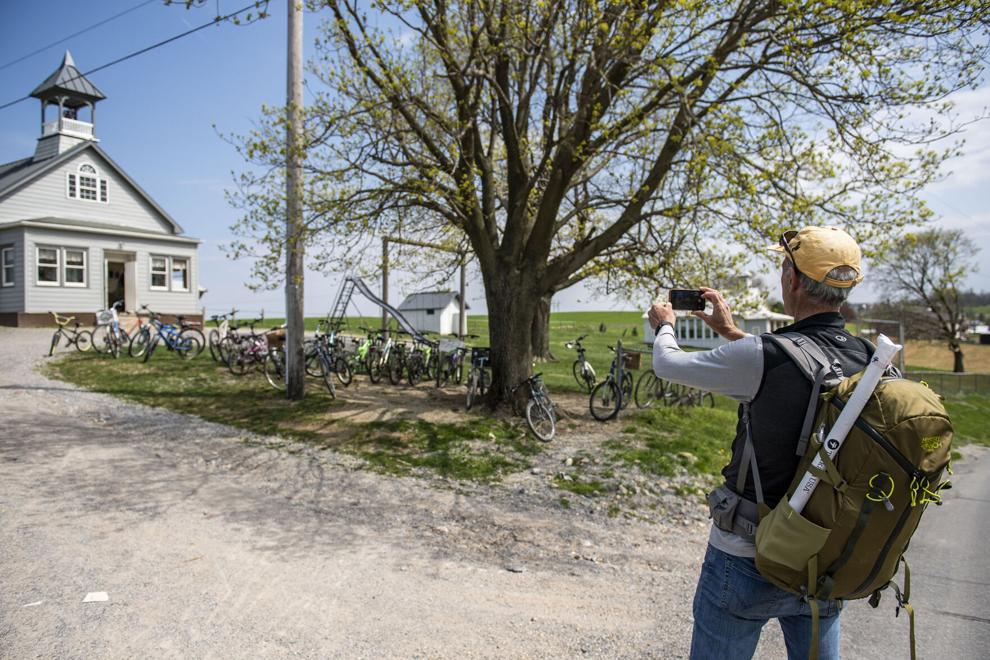 From petroglyphs along the Susquehanna River to the bed that James Buchanan died in, King said that he's getting a new perspective on our country.
"There are so many of these wondrous things that we're not paying proper attention to," King said.
He carries a backpack filled with some clothes, his computer, charging cables, a few books, water and a set of walking sticks. He keeps notes while he walks, using "talk-to-text" in the "notes" app on his phone. Later in the evening he writes more, recounting the past 16 or so miles.
"When you walk through an area like this, you see so many different ways of living — different styles: the Mennonite style, the Amish style, the style of people that race by in their cars," King said. "There's so many different competing modes of existence here. And I hope that everybody in their own way thinks that they're kind of doing it right."
That's one of the many thoughts that go through King's mind during his trek. But he has plenty of time to ponder them, taking the 293-mile trip one step at a time.
Beautiful Lancaster: Scenes from around the county showcase history, nature [photos]
Lancaster County is a beautiful place to live. 
This is the beginning of a series of photos -- some new, some old -- highlighting the beauty, landscape and architecture of Lancaster County. In addition to a panoramic view from Breezyview Gazebo on 441 near Columbia, overlooking the Susquehanna River,  we've included photos from Quarryville and the Landis Valley Museum in the snow.
Let us know in the comments: Where should we go photograph next? What do you think is the most breathtaking view in Lancaster County?