Traffic congestion in Lancaster County, although bad in spots, has leveled off in the past three years and remains down from its peak in 2012, a county report shows.
The most congested spot in Lancaster County? That is the routes 30-41 intersection in Gap, according to the most recent data. The intersection remains a trouble spot despite construction in 2016 of a short bypass for westbound traffic, a project that cost nearly $10 million.
The report says that total congestion across the county, as measured by traffic-related hours of delay, held steady at about the 3-million hours mark in 2016, 2017 and 2018.
Delays were at their peak in 2012, reaching over 5 million hours.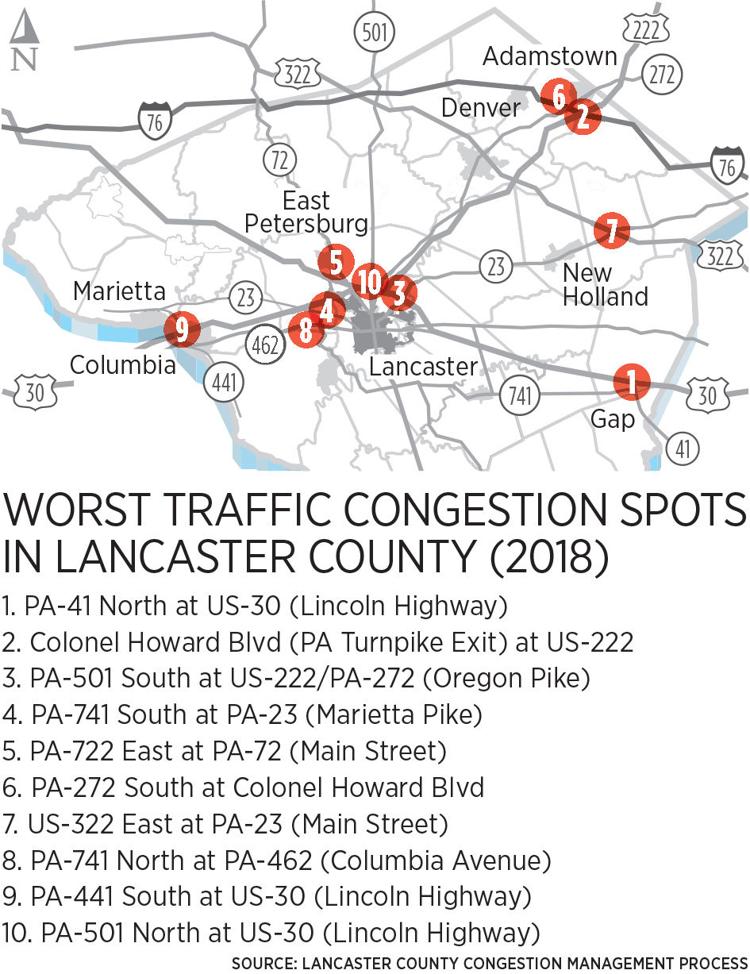 The data, which was gleaned from GPS systems and cellphones, is highlighted in a summary report of the federally mandated Lancaster County Congestion Management Process.
The report defines delay as "the extra time it takes to travel in heavy traffic as compared to the same trip without traffic."
"The 2018 data has helped us to better focus on specific locations where the worst congestion problems exist," said Robert Bini, transportation director for the Lancaster County Planning Commission. "It gives us the ability to focus on potential solutions with the limited resources we have."
Possible solutions
Solutions could range from adding turn lanes at intersections to synchronizing traffic signals on major corridors.
Besides Gap, other intersection trouble spots include:
— Route 222 and the Colonel Howard Boulevard leading to the Denver interchange of the Pennsylvania Turnpike
— Routes 222 and 272 and their connection to Route 501 in Manheim Township.
— Rohrerstown Road and Marietta Pike in East Hempfield Township.
— Manheim Pike and State Road in East Petersburg.
Transit numbers
The report says Amtrak ridership has increased to nearly 710,000 riders in 2018, up from about 685,000 in 2014.
But Red Rose Transit bus ridership has seen nearly a 7% reduction since 2014, although service to Elizabethtown, Columbia, New Holland and Gap have seen increases.
County transportation officials encourage commuters to consider using buses and trains as a strategy for reducing congestion.