The murder of Conestoga Valley high school student Laurie Show - and the subsequent arrest, trial and appeals of the three young people charged in relation to the killing - dominated Lancaster newspaper headlines off and on throughout the 1990s.
The case resulted in national coverage as well, and several TV shows dealt with it over the years.
As Tabitha Buck - whose name has also been spelled in documents since her arrest as Tabatha Buck is set for possible parole this month, here's a look at how her case was covered locally at the time.
---
Dec. 20, 1991: The murder

Just days before Christmas, 16-year-old Laurie Show was stabbed repeatedly in the East Lampeter Township condominium in which she lived with her mother. Initial reports about the suspects were vague, and the first edition story mistakenly listed Show's age as 17, but a clear picture of who the suspects were and how they were connected with Show would soon emerge.
---
Dec. 23, 1991: The suspects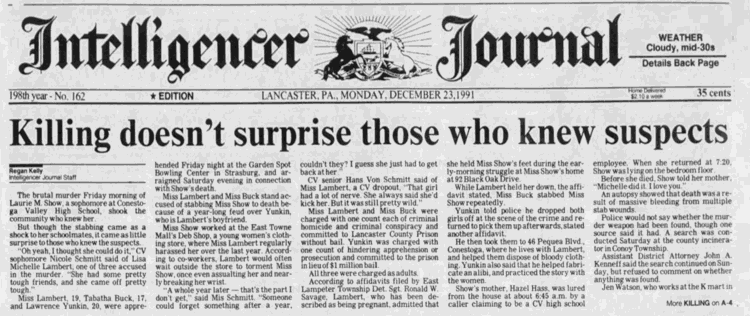 On Dec. 21, 1991, Lisa Michelle Lambert, Tabitha Buck and Lawrence Yunkin were charged in connection with the murder of Laurie Show. As this story from Dec. 23 indicates, people who knew the victim and the suspects said they were unsurprised by the charges.
---
Dec. 24, 1991: The funeral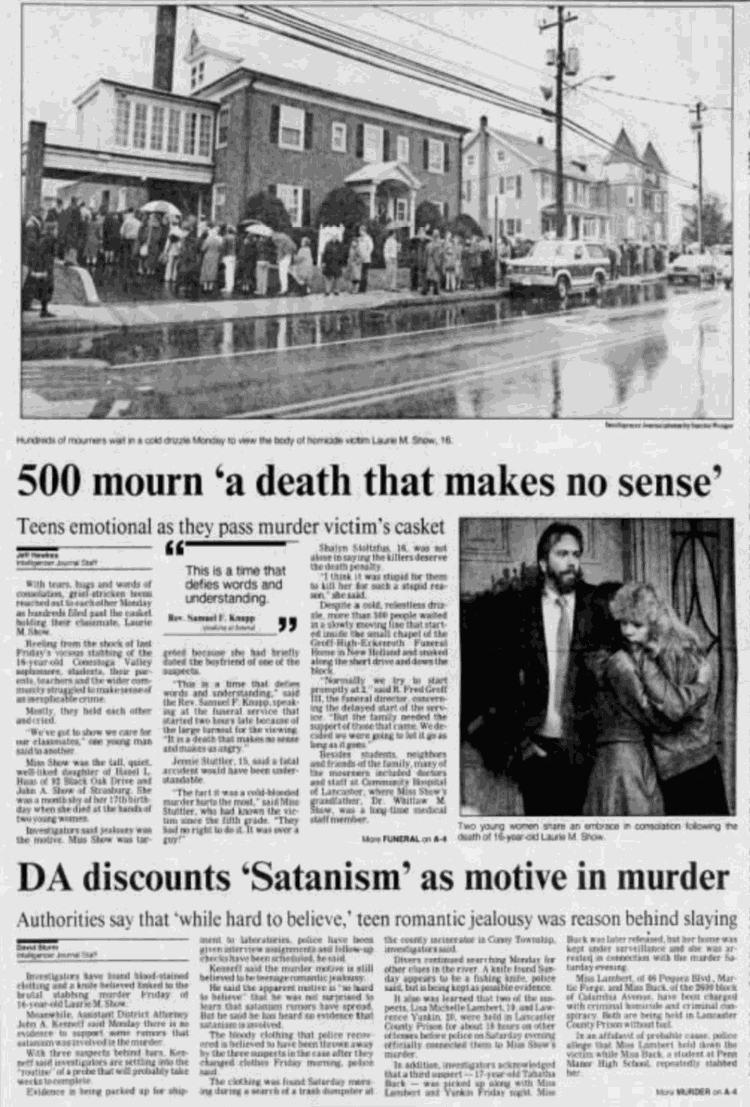 Hundreds of people turned out on a rainy December morning to pay their last respects to the slain teenager. This front page tells the emotional story. It also contains a very period-specific side note: Because of the "Satanic panic" that had dominated national headlines throughout the 1980s and into the early 1990s, officials had to act quickly to quell rumors of a Satanic connection to the Show murder, stating that teen romantic jealousy was the most likely motive.
---
Feb. 6, 1992: Dying words
As Lambert, Buck and Yunkin were ordered to stand trial, Laurie Show's mother, Hazel Show, testified to a packed courtroom that her daughter's dying words identified "Michelle" as her killer.
---
March 4, 1992: Death penalty sought

Lancaster County prosecutors announced they were seeking the death penalty against Buck and Lambert. Yunkin was facing lesser charges, as he was suspected to have played a more minor role in the killing, and because he was cooperating with investigators. Both Lambert and Buck pleaded not guilty on March 25, 1992.
---
July 9, 1992: Buck asks to be tried as juvenile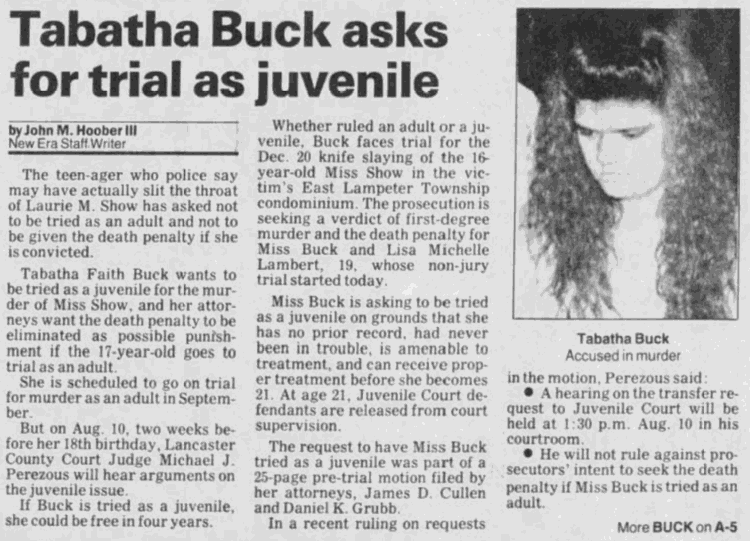 As the high-profile trial of Lisa Michelle Lambert got under way, Tabitha Buck asked to be tried as a juvenile. This request, if granted, would not only take the death penalty off the table, but would raise the possibility of her going free in as little as four years.
---
July 13, 1992: Lambert blames Buck

In court testimony during her trial, Lambert placed all of the blame for the brutal stabbing of Laurie Show on Buck, claiming that she only watched as her friend murdered Show.
---
July 15, 1992: Written in blood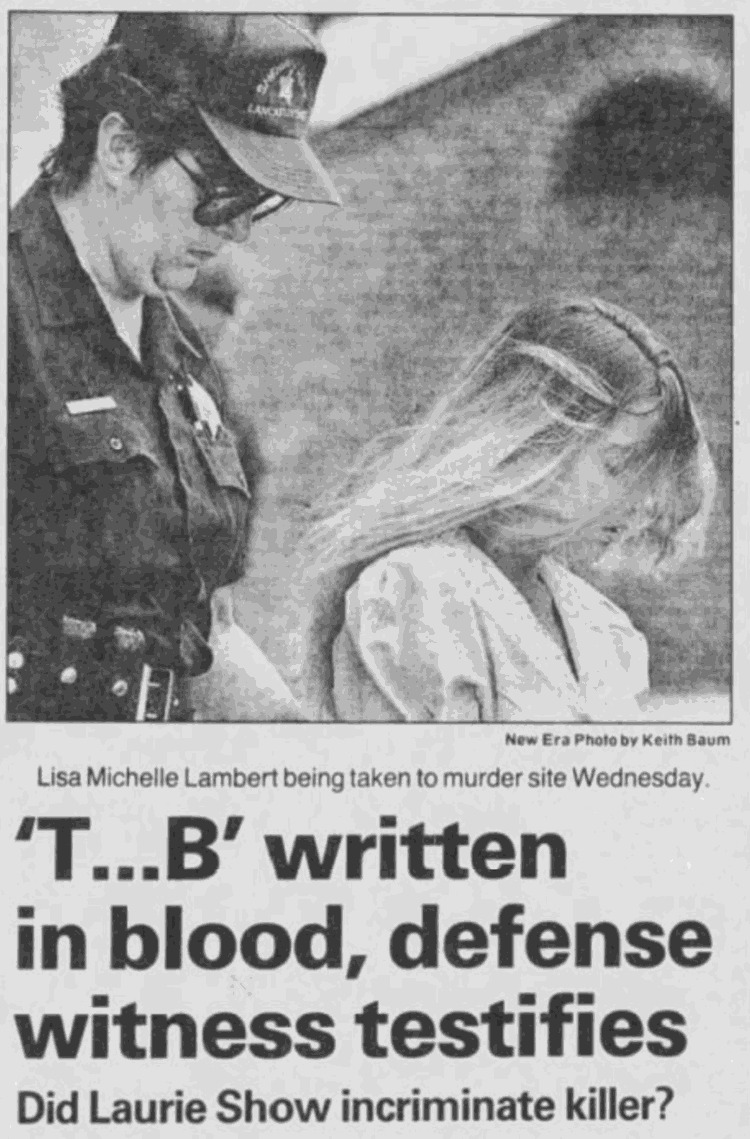 During the trial of Lisa Michelle Lambert, a witness for the defense testified that there was evidence at the crime scene to indicate that Laurie Show had written the initials "T B" in her own blood. This testimony stood in contrast to Hazel Show's testimony that her daughter had implicated Lambert with her dying breaths.
---
July 31, 1992: Death penalty withdrawn

In exchange for giving up her request to be tried as a juvenile, prosecutors dropped their death penalty threat against Buck. Among the reasons for the decision, prosecutor John Kenneff listed the fact that Lambert, purported by prosecutors to be the mastermind of the murder, was given a life sentence on July 20, 1992.
---
Aug. 7, 1992: Trial site shifted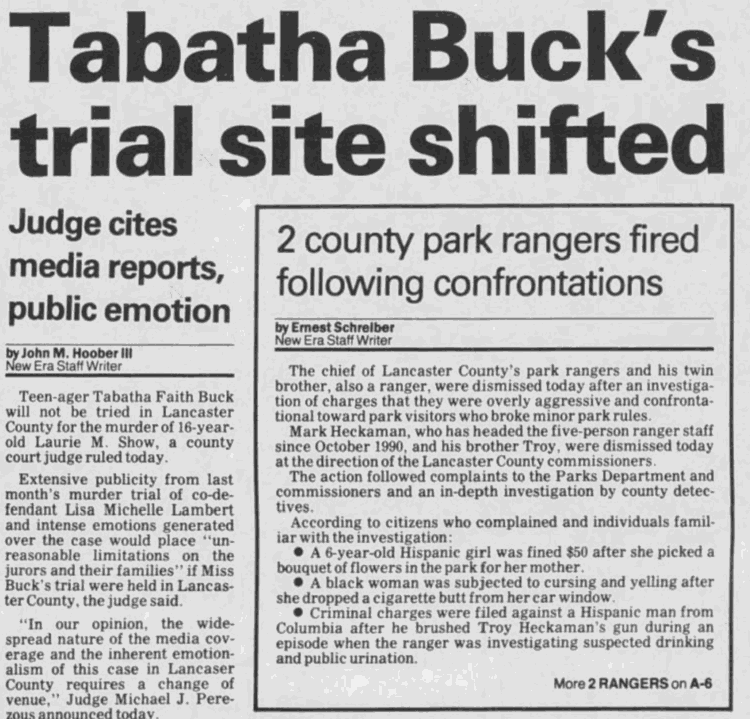 Citing intense media coverage and strong public emotions around the case, Judge Michael J. Perezous agreed to move Buck's trial out of the county in an effort to give her a fair hearing. The state Supreme Court would eventually relocate the trial to Easton.
---
Sept. 22, 1992: Trial gets under way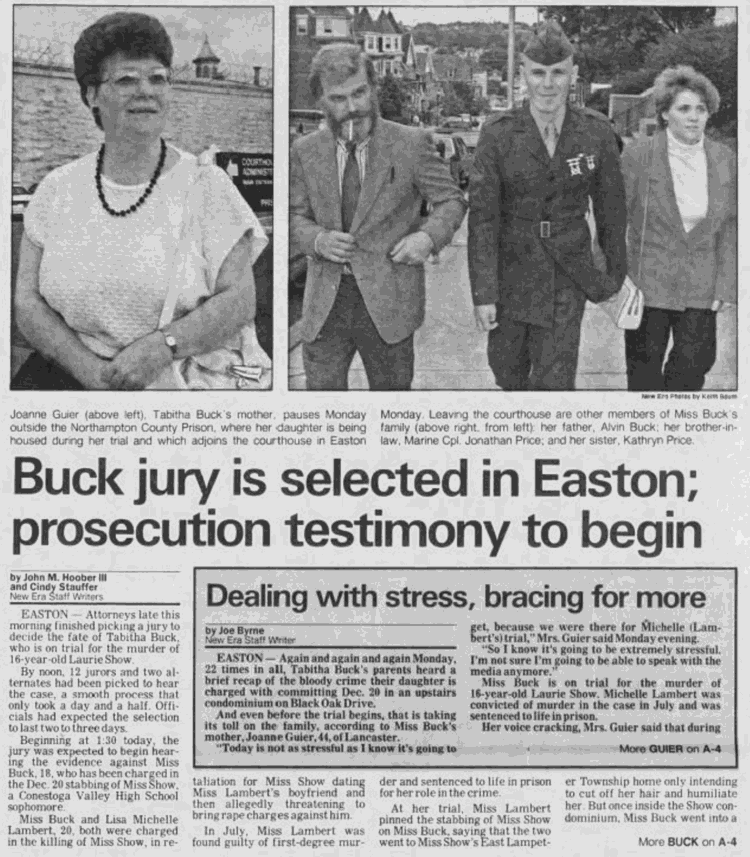 Ten months after Laurie Show was murdered, Buck's trial began in Easton. As this report indicates, jury selection went much more quickly than anticipated - as would the entire trial.
---
Oct. 1, 1992: Life sentence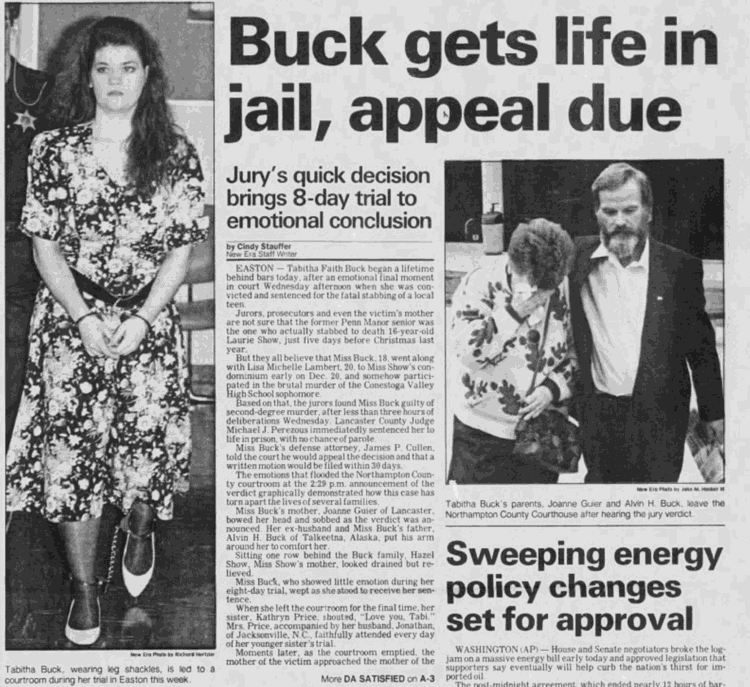 Just over a week after it began, Buck's trial was over - she had been found guilty of second-degree murder, and was sentenced to life in prison. Just a few weeks later, Buck began appealing her case - a process that continued over the next three years. All of her appeals were denied.
---
Covering the Lisa Michelle Lambert, Tabitha Buck slaying of Laurie Show [From the Archives]
Below is a collection of 19 stories covering court hearings, appeals and more from the Lisa Michelle Lambert and Tabitha Buck slaying of Laurie Show.
Note: These stories date back to 2002 when stories were first added to LancasterOnline's website.
To access stories dating back to the 1991 slaying, click here.
LNP | LancasterOnline subscribers have full access to our entire digital archive.