Girl Scouts throughout Lancaster and surrounding counties are worried about losing Camp Furnace Hills, a 320-acre wooded retreat that has been the essential camp experience for generations of Scouts since 1947.
Devastated by a ferocious wind storm in February, the camp, in Clay and West Cocalico townships near Middle Creek Wildlife Management Area, has been closed ever since.
Now, the Girl Scouts in the Heart of Pennsylvania — the governing council for Girl Scouts in 30 counties — is considering closing the camp for good and selling it to the highest bidder.
A de facto decision may be made at a closed meeting of the council's board on Thursday, when the council needs to choose whether to accept a lump-sum insurance settlement or to pursue camp repairs that would be funded by the insurance policy.
The future of all seven camps and programs in the council have been under review since 2016, and a decision on each is expected in November.
Efforts to save camp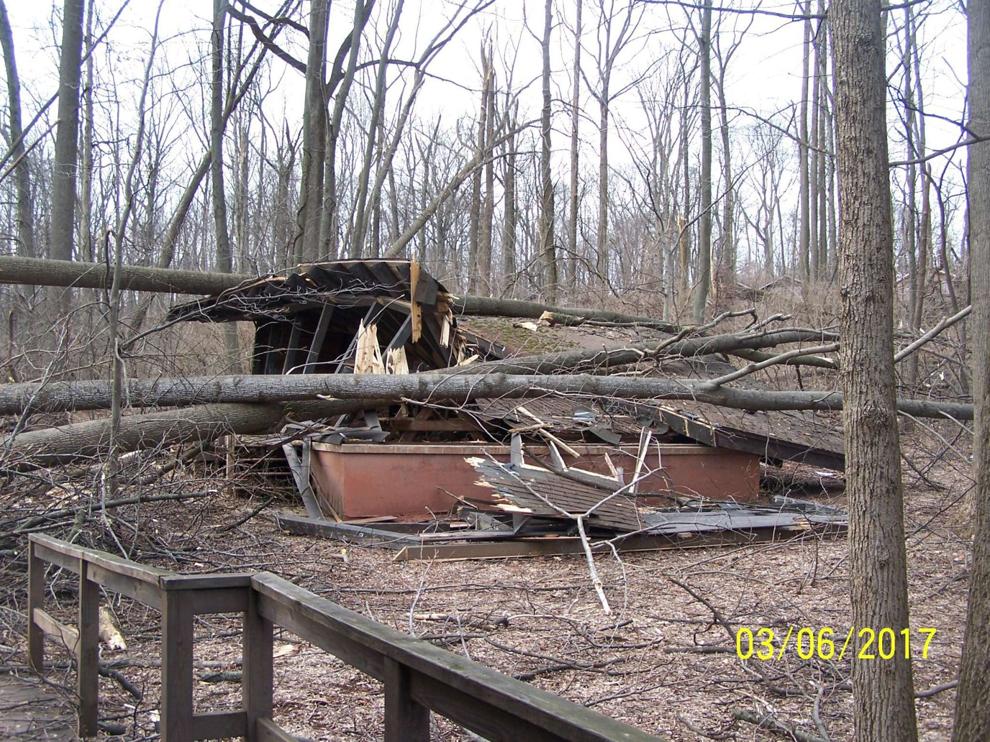 The possibility of a Camp Furnace Hills sale has touched off an extensive backlash, resulting in petitions signed by nearly 1,000 people to save the camp, emotional pleas by Girl Scouts to administrators and a protest spearheaded on the Save Camp Furnace Hills Facebook page.
Local Girl Scouts, volunteer Scout leaders and generations of former Girl Scouts worry that loss of the local camp — with its traditions, affordability and range of outdoor experiences — will prompt a sharp decline in Scouting locally.
They worry about the loss of tradition like the legends of the Fairy Stone and Lizzy, ghost stories and the exaggerated fright of nighttime forays to the outhouse.
They worry about the loss of a place with a carefully planned range of facilities that allows a progression of camping experiences, from cabin to platform tents with an outhouse to primitive camping, even in winter.
Foxfire House
Scouts from beyond Pennsylvania come to Foxfire House, an early 19th-century sandstone bank house on the National Register of Historic Places, where early Pennsylvania-German lifestyle is taught and girls bake pies and make food from scratch.

"The girls need a local place to learn and grow. Just a little spot of nature to let them see other opportunities around them," Kelly Heil Miller of Lititz wrote on the Save Camp Furnace Hills Facebook page.
In interviews with LNP, others worry that loss of the camp will accelerate a decline in Girl Scout participation in the region.
"Keeping Camp Furnace Hills open is core and central to the council's long-term health. Our concern is this sale and closure will basically push the council to a tipping point that they just are not going to recover from," said Dean Dirian of Brickerville, a longtime Scout whose wife is a Girl Scout troop leader who once ran the camp.
State park alternative
The heaviest concentration of Girl Scouts in the 30-county region is in York, Lancaster, Dauphin and Lebanon counties.
"I'm angry and sad. You can't go to a local state park and have the same experience," said Candi Dirian, a lifetime Girl Scout who is trying to get local companies to commit to repairing the camp.
According to local Girl Scout leaders, Scouts would be encouraged to pursue outdoor experiences at state parks and at the Girl Scouts' Camp Small Valley, near Halifax, Dauphin County, almost 70 miles away.
"State parks are awesome, but there's not the history, the tradition, the feeling, the atmosphere at being at your own Girl Scout camp," said Addie Furlow Bird a Girl Scout leader who started the petition drive to save the camp.
Candi Dirian said that Camp Furnace Hills, because it is nearby, enables Girl Scouts to participate in sports and other extracurricular school activities part of a day and still join Scouting events.
"My biggest fear is that the youngest girls, especially, will suffer," said Aimee Taylor, of Lititz, who leads both Brownie and Cadet troops.
"The pendulum is swinging back that both Boy Scouts and Girl Scouts want more outdoors activities. You cannot substitute for that local Girl Scouts camp."
Sharing Camp Mack
In recent weeks, local Girl Scouts, forced to hold day camps at the Boy Scouts' Camp Mack this summer, have invited council leaders and made emotional pleas to save their camp.
One of those entreaties came from Jenna Walter, 17, of Lititz.
"We're just trying to make sure that they do the right thing by us to keep our camp open," she said.
Added Kristen Wenrich, 17, of Denver, "We have grown together as a community and as our troops when staying there. Losing the camp will be a loss of so much memories to come for the younger ones. This camp is special to our hearts!"
Said Alexis Lenhart, a 12-year-old Girl Scout from Lititz, "Going to camp has given me confidence to meet new people and try new activities like archery and hiking. One of my favorite things to do at camp is to walk in the woods and collect fairy wands."
Ellen Kyzer, chief executive officer of the council, would not reveal the council's planning committee's recommendation on what to do with Camp Furnace Hills.
She noted she that she and other council leaders have held focus groups and met with local Girl Scouts specifically about Camp Furnace Hills.
"This whole process is about putting the girls first," she said. "We've taken very seriously girls' input into this process."
Camp Furnace Hills would not be the first camp in the region to close as the council faces declining funds and numbers of Girl Scouts.
Five camps have been jettisoned since 2010. Four were sold through Realtors.