Across the United States, newspapers are disappearing. Over 60 dailies and 1,700 weeklies have ceased publication since 2004 as the internet disrupted profitable business models, and advertisers and readers migrated to other platforms.
Lancaster County hasn't been spared, losing three weeklies: the Donegal Ledger and Solanco Sun Ledger in 2009 and the Columbia Ledger a year later. And Lancaster's Steinman family in 2009 combined the morning Intelligencer Journal and afternoon New Era to focus resources on the morning and Sunday papers.
Meanwhile, nearby newspapers are struggling. The family-owned Reading Eagle entered bankruptcy this year and will sell to MediaNews Group, which plans to cut 81 of about 240 jobs. The Harrisburg Patriot-News in 2013 ended daily publication, going to three days a week. And the Lebanon Daily News, West Chester Daily Local News and York Daily Record, owned by national companies, are ghosts of their former selves.
Dean Baquet, executive editor of the New York Times, in recent remarks to an industry group summed up the grim trend, saying, "I think most local newspapers in America are going to die in the next five years."
While acknowledging the difficulties, Robert M. Krasne, publisher of LNP Media Group, doesn't share Baquet's pessimism. He believes LNP can be the exception.
"Please know that LNP has not escaped the challenges facing our industry," Krasne said last week during the newspaper's 225th anniversary celebration. "Its revenues have dropped and its expenses have risen. But the path we are taking is different."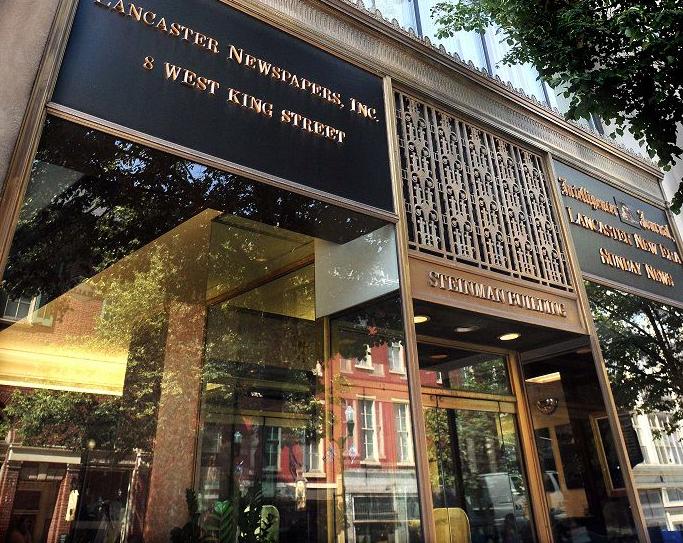 ---
LNP's path
LNP's plan includes local ownership. Krasne said the Steinman family will continue to own and manage the newspaper while pledging to put all profits back into news operations. The family sold 10 Delmarva radio stations this year and Intelligencer Printing in 2017, moves that allow for diversification in non-media assets while working to make LNP sustainable.
LNP's path differs from that taken by other Pennsylvania newspaper families, who over the years sold to profit-maximizing national chains such as MediaNews Group (Daily Local News and Reading Eagle) and Gannett Co. (Lebanon Daily News and York Daily Record.)
LNP's direction also differs from the nonprofit model taken by the Inquirer and Daily News in Philadelphia, which since 2016 have been owned by the Lenfest Institute for Journalism, adding grants and donations to its advertising and circulation revenue.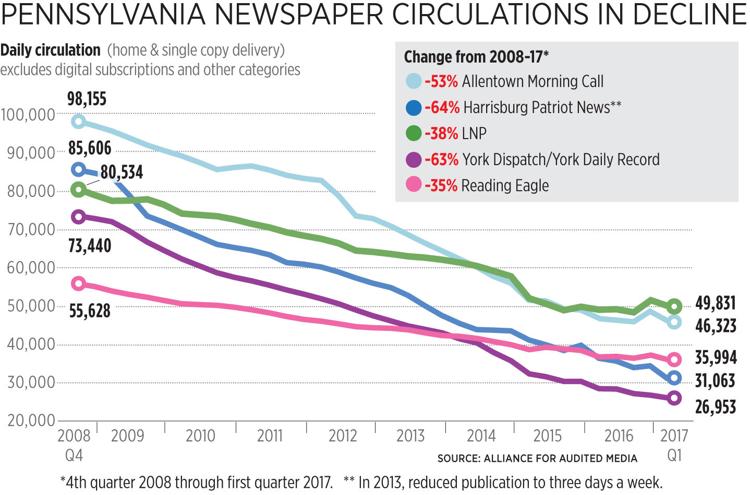 Sustainability for LNP, Krasne said, will happen by providing "robust, meaningful, unique" local journalism that readers of the newspaper and LancasterOnline value and will be willing to pay for. Increasing paid circulation for both the print and online news product is LNP's chief strategy.
---
Controlling expenses
It's a bold gambit, given that LNP's daily delivery and single copy circulation (excluding digital subscriptions and other categories) has fallen from 77,000 in 2009 to 47,600 last year. The percentage of Lancaster County adults who prefer to get local news from print is only 23%, although that compares to 13% nationally, according to a 2018 survey by Pew Research Center.
In addition, 16% of Lancaster County adults paid for local news in the past year, the survey found. That compares to 14% nationally.
Oxford's Reuters Institute for the Study of Journalism, in a newly released survey, found that among online readers who do subscribe, less than half pay for more than one news outlet.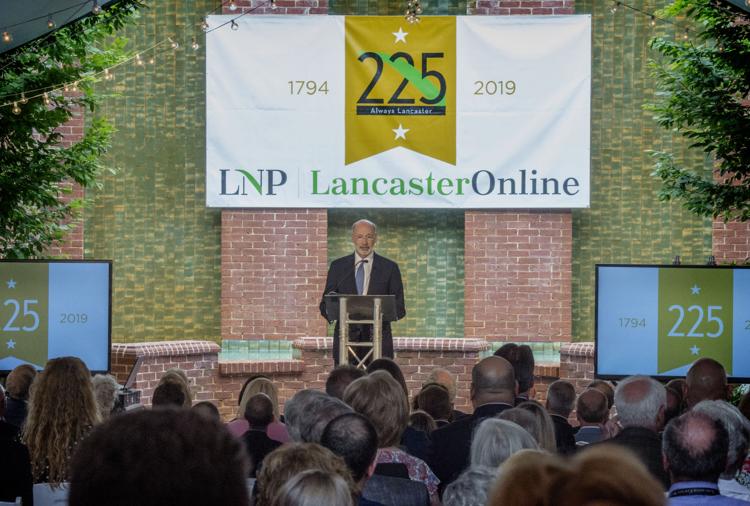 The Pew survey also found that Americans are largely unaware of how much local newspapers are struggling financially. About 71% think local news outlets are doing very well or somewhat well.
Controlling expenses is another LNP imperative. LNP has saved costs by terminating a frozen pension plan that had an unfunded liability and distributing over $130 million to employees and retirees, Krasne said.
The company will also vacate sprawling, inefficient 8 W. King St. next year for the second floor of the redeveloped former Bulova building at 101 N. Queen St.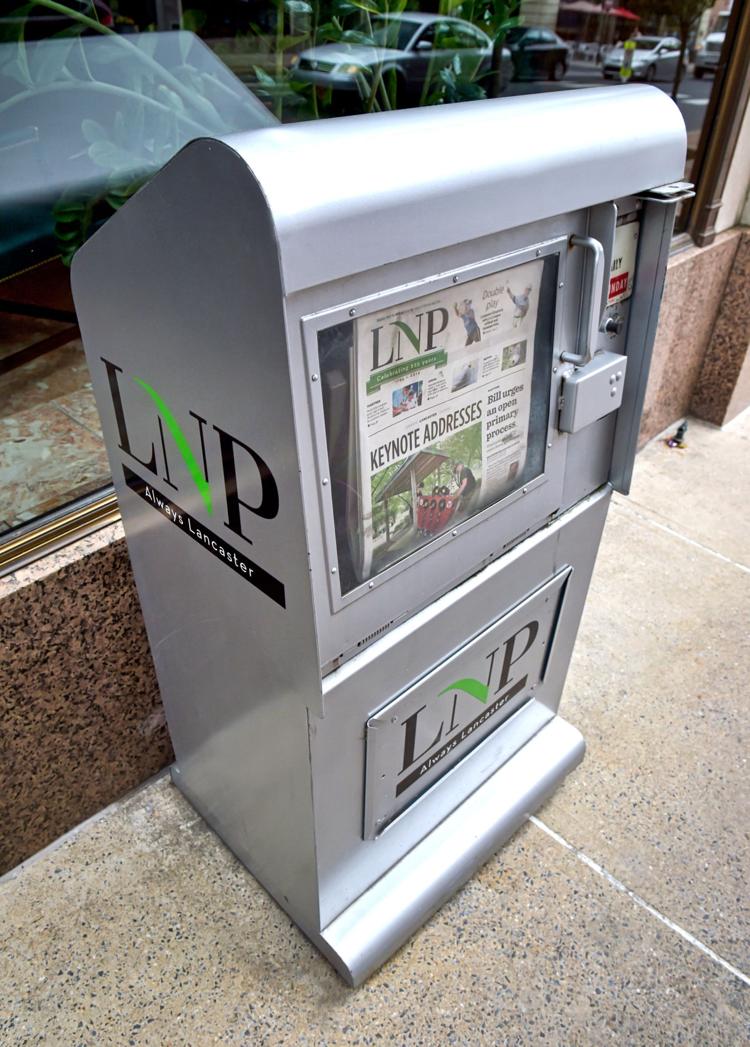 LNP Media Group's subsidiary, Susquehanna Printing Co., also purchased a press and mailroom equipment in the Greenfield Corporate Center to print LNP and its sister publications in-house, ending a contract next year with a Mechanicsburg printer. Krasne said the long-term savings justify the investment.
---
Investing for future
Research suggests that LNP's plan for the future is reasonable.
"Newspapers that have made the most progress in transitioning to a sustainable business model tend to be independent or family-owned papers," Penelope Muse Abernathy, professor of journalism and digital media economics at the University of North Carolina, said in an email. "Those publishers tend to be more in touch with the unique needs and expectations of people in their community."
LNP has found ways to proactively connect with the community, having, for example, created a community liaison position, sponsored candidate forums and added community members to its editorial board.
Abernathy said her research found that newspapers in communities with average or above average population and economic growth and with a disciplined, creative publisher who invests for the long term have "a good chance of not only surviving, but also thriving in the future."
"The best newspapers build strong communities by helping residents understand how they are related to people in other communities," she said. "They build social cohesion, which leads to increased political participation and encourages economic growth and development."
---
Reinvention required
Earl Wilkinson, the head of Dallas-based International News Media Association, said newspapers have been forced to reinvent themselves, and to survive they must question all assumptions.
"We have learned that two centuries of print newspapers give us little direction about the decade ahead," he said at LNP's 225th anniversary celebration.
Inviting Gov. Tom Wolf and 150 community leaders to Steinman Park to celebrate 225 years of …
Michael Barthel, a senior researcher at Pew Research Center, said in an interview that the future for newspapers is "definitely an open question."
"People are trying everything they can and seeing what works," Barthel said. "One of the marketing pushes of the (New York) Times and (Washington) Post is to make the case of their value directly to the public as if they were a public radio station."
Brad Simpson, president of Pennsylvania NewsMedia Association, said that as newspapers find new ways to connect with readers, they have the advantage of being a reliable, credible source of news and information.
---
Watchdog role
As community publishers chart different courses, Wilkinson said, it matters that they succeed. In so-called news deserts where news coverage is absent, the civic good suffers.
Studies have found evidence that communities without strong local news coverage have weaker voter turnout and civic participation. In places where newspapers close or reduce publishing to less than four days a week, municipal borrowing and rates increase significantly. In counties where a newspaper closed, local governments increased their payroll and the average tax bill rose $85.
A recent example of LNP's watchdog function was the filing of open records requests and pursuing litigation to find out what happens to assets seized by the county's Drug Task Force. LNP also recently obtained a police video of a vehicle stop involving a Lancaster County judge.
"Can we credibly say that 'We the People' can exercise our will without access to facts, without access to news, without access to institutions that constantly hold truth to power?" Wilkinson said. "The great danger to the emergence of news deserts is to the country itself and the principles on which it was founded."
LNP 225th anniversary exhibit at LancasterHistory