There was a buzz of activity — the sounds of hammers and saws amid the louder roar of construction machinery — as 19th- and 21st-century technologies combined to make the Star Barn rise again.
On Monday, the second of a three-day festival surrounding the iconic barn's reconstruction on an Elizabethtown area farm, people flocked by the score to see the barn restored from piles of scrap wood to a showy agrarian centerpiece.
"It's spectacular," said Jeff Weaver, 62, of Hershey, who came out Monday to watch the project unfold. "They spared no expense."
The Gothic revival-style barn was built near Middletown in 1872 for John Motter, who raised and sold horses and mules.
It was last used as a part of a working farm in 1986. David and Tierney Abel bought the barn and its outbuildings in 2014, disassembled them and moved them to the 275-acre Ironstone Ranch for use as a wedding and event venue.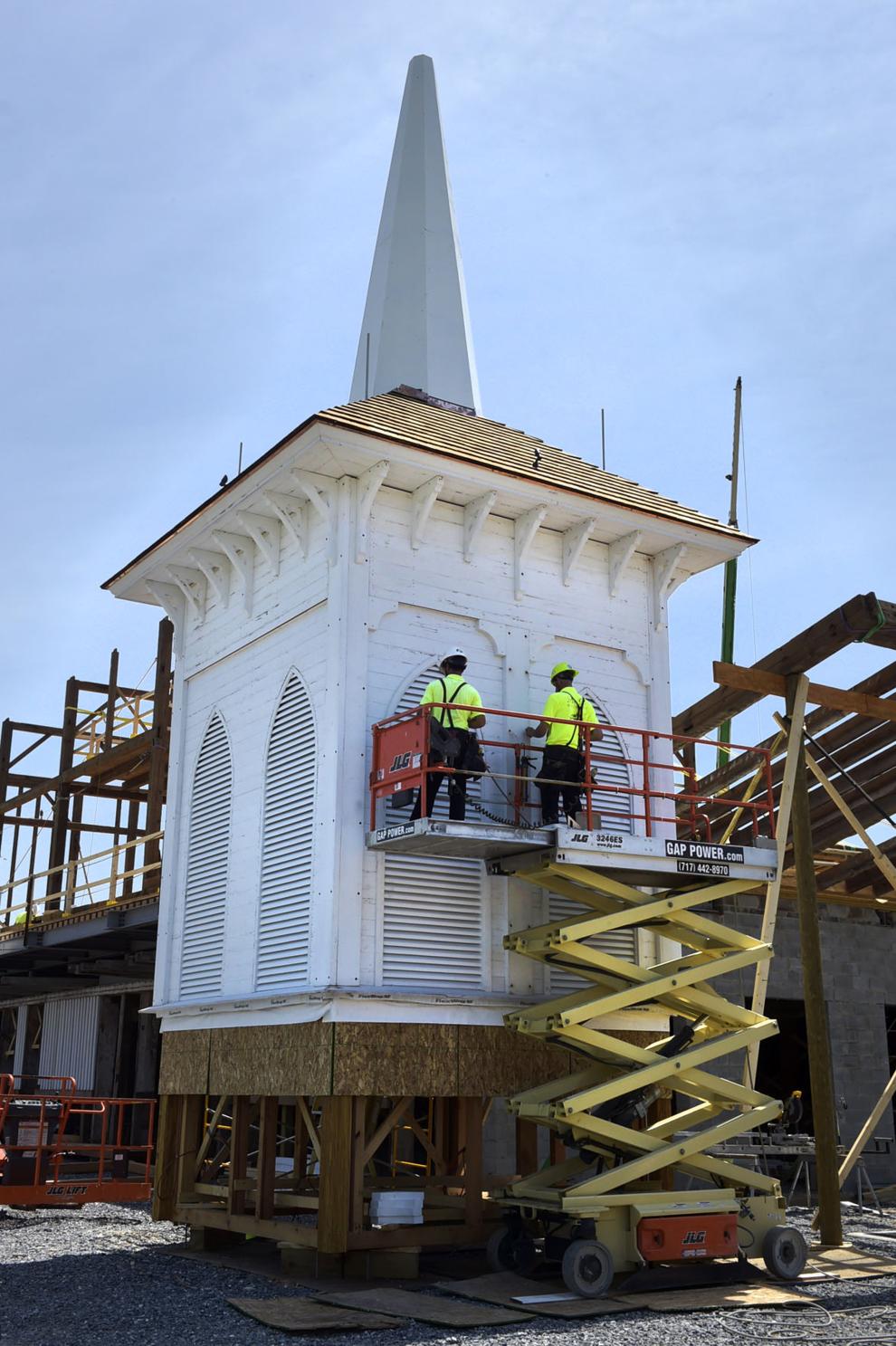 Shortly after noon on Monday, more than 60 volunteers — uniformly garbed in neon-green shirts and hardhats — lined up to haul the ropes in a block-and-tackle system that easily raised a 6,000-pound bent, or timber frame, into place.
"The first inch is the toughest," said Abel.
"It's hard to get that 6,000 pounds moving," he said, noting he helped to haul two bents into place on Sunday.
'Keeping it alive'
"I remember seeing the barn get more and more dilapidated as you drove past it on the highway," said Liz Baker, 50, of Glenville, who worked with the Monday morning construction crew.
"I thought it would be really cool to be a part of keeping it alive," she said, noting she has no previous construction experience "except for some around-the-house kind of stuff."
Her role mostly involved helping to move materials and equipment "for the guys who knew what they were doing," Baker said.
"The craftsmanship that's involved in the timber framing has always fascinated me," she said. "Seeing it come together is amazing."
John Schickel, 59, of Willow Street, was mopping his brow in the near-90 degree heat late Monday morning.
"That's why I wanted the early shift," he said. "The afternoon is going to be too hot."
He, too, said he got involved because he "wanted to be a part of keeping something here instead of tearing something down."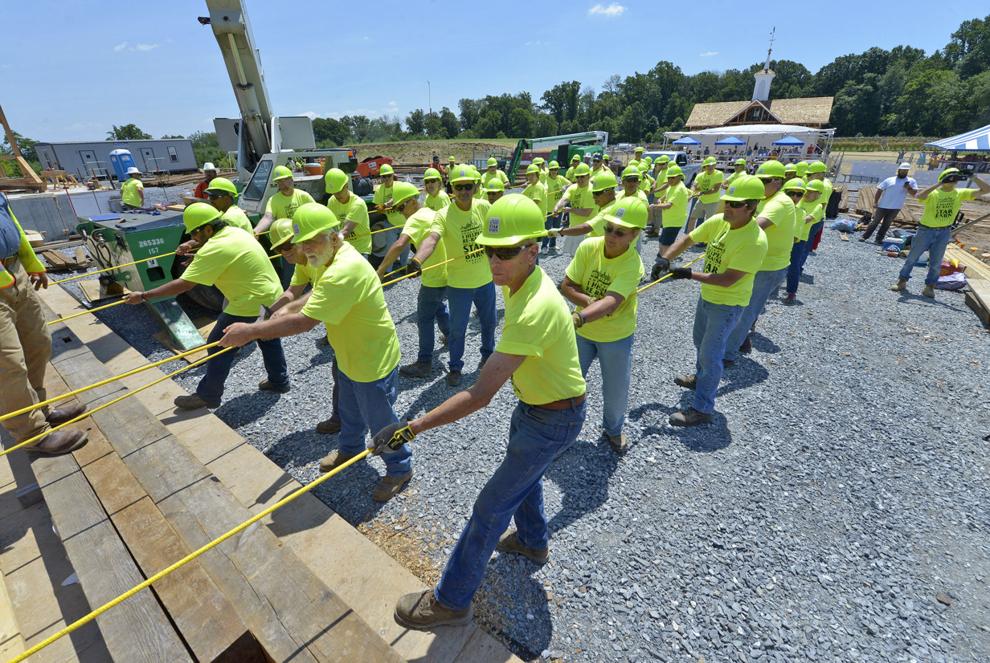 John Melham, 72, of Mechanicsburg, was enjoying the day with his wife and two grandkids when he decided at the last minute to grab a shirt and hardhat and help raise a bent.
"I've never done anything like this before," he said. "I'm proud to be a tiny part of it. ... They probably could have done it without me."
'Wonderful to see'
People came from more than a dozen states to witness the barn-raising, Abel said.
One of them was Thea Sahr, 53, of Watertown, Massachusetts, who used a hatchet to shape a wooden peg that will be used in the final stages of reconstruction.
"Why not?" she said. "Who gets the chance to be a part of something like this?"
She loves the community's involvement in the Star Barn's raising, and said it's cool to participate in the historic endeavor.
"Back then, people weren't just running to Home Depot for pegs," she said. "Although," she added, massaging an aching bicep, "I feel like I need to go to the gym and build up some upper-body strength."
Cathy Crum, 64, had a good reason to fly out from Durango, Colorado, for the occasion: Her great-grandfather was Daniel Reichert, she said — the Star Barn's original architect.
"It's wonderful to see," she said.
"We visited the barn several times before they moved it," Crum said. "When we heard they were moving it, and having a festival to rebuild it, we wanted to be a part of it.
"I'm happy to know it has a good home, fully restored."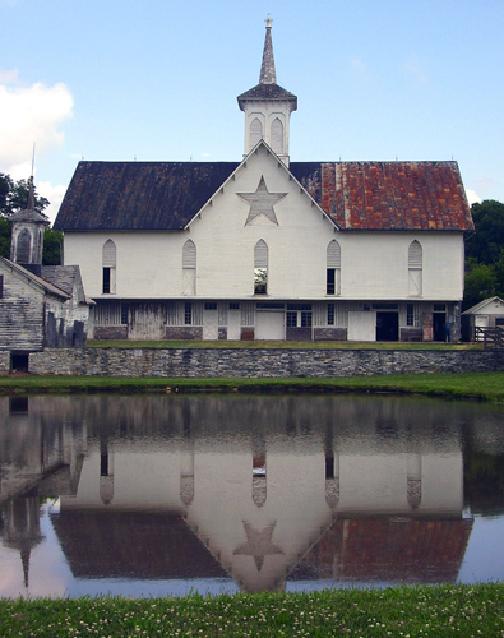 'Stepping back in time'
Abel said lifting the 24,000-pound cupola into place atop the barn will be the crowning event Tuesday evening.
After that, he said — fireworks.
"There's been a lot of work here today," he said late Monday morning, shielding his eyes from the sun and scanning the construction zone.
About 90 paid workers were on site to handle most of the highly specialized job. A few hundred people had paid to lend a hand, and hundreds more were there just to watch the project unfold and enjoy the festival.
Festival proceeds will help cover the cost of renovations, and a portion of the profits from ranch operations go to Brittany's Hope, a charity providing assistance to people who adopt special-needs children.
The festival included food, live music, 19th-century artisans and Civil War-era dancers.
"I'm thrilled," Abel said. "The weather is perfect. And everybody who comes here, it's like they're stepping back in time."
The final day of the festival runs from 10 a.m. to 9:30 p.m. Tuesday.