Here's what has stuck with them for 30 years, since the day that Steven Benson blew up his family in a Chevy Suburban in the driveway of their Florida home, in a greedy attempt to inherit a $10 million Lancaster tobacco company fortune:
• Benson calmly talking on the phone about his burglar alarm company's profits when investigators arrived at the home where the shattered bodies of his mother, Margaret, 63, and his brother, Scott, 21, still lay outside on the driveway.
• Benson never bothering to wash his mother's blood spatters from the side of his white van, which he had parked near the blown-apart Suburban, and which he was still driving on the day police showed up to arrest him for the killings, a month and a half later.
• Benson crying on the first day of his trial. But showing little emotion after that.
• Benson's own sister, Carol Lynn Kendall, then 40, who survived the blast but was severely burned, wanting to make sure her brother was  sentenced to life in prison for the killings. She was afraid her brother would come after her and her children if he ever got free.
Attorneys, an investigator and a juror have never forgotten what Steven Benson did, and how it affected their lives in the years since he was convicted of killing his family in Naples, Florida.
Benson died earlier this month in a Florida prison, where he was serving two life sentences for the crimes. He was 63, the same age his mother was when he killed her.
PHOTOS: Looking back at the Benson murder trial
The family's gripping tale
Three decades ago, Benson's trial attracted notoriety and national media coverage. It spawned TV specials and books.
---
Related: A look at Steven Benson's three decades behind bars
---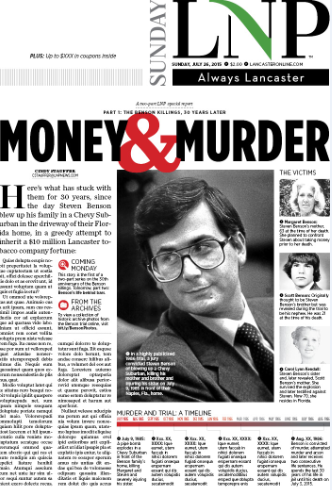 It was the O.J. Simpson trial before the O.J. Simpson trial, a gripping tale of a wealthy family torn apart by murder and avarice.
"Dysfunction," said Patty Bennett, a juror on the case, trying to describe the Benson family. "I must think of a better word. Let's go with disastrous hate. ... You could see a hateful heart in Steven then. Not just Steven, but the whole family was just ugly.
"It was a journey, and every day we learned something new and awful."
E. Richard Cirace, a Boston attorney who advised Kendall during the trial, said the case was compelling due to its "colorful cast of characters."
Benson's grandfather, the family patriarch and the Lancaster Leaf Tobacco magnate, the late Harry Hitchcock, was a congenial-looking, white-haired Christian businessman known for his tulip gardens in School Lane Hills.
Hitchcock's daughter, Margaret, it turned out, was not really the mother of Scott Benson. Her daughter, Kendall, was. Margaret Benson adopted her grandson as her son, to cover up the fact that her daughter, a former beauty queen, became pregnant with a water skier from Cypress Gardens, said Cirace, now 64.
"Then you had Scott as an aspiring tennis player, but ordering nitrous oxide to be delivered to the house like some people get milk," he said, "so he could carry on with his girlfriend, who was a stripper."
Steven Benson's late father didn't think he was capable of doing anything, Cirace said, an assessment that apparently was correct as Benson, who grew up and lived in Lancaster most of his life, left behind a series of failed business ventures. After his first marriage also failed, Benson married a farm worker from his family's tobacco empire.
Within this circle, there was lots of money. And there was lots of squabbling over who got what.
"It's like the story that keeps on giving. ... It just never stopped," Cirace said. "It was full of surprises. It was just a tragic story. They had so much, and the family dynamic was about as whacked out as you could ask for."
The investigator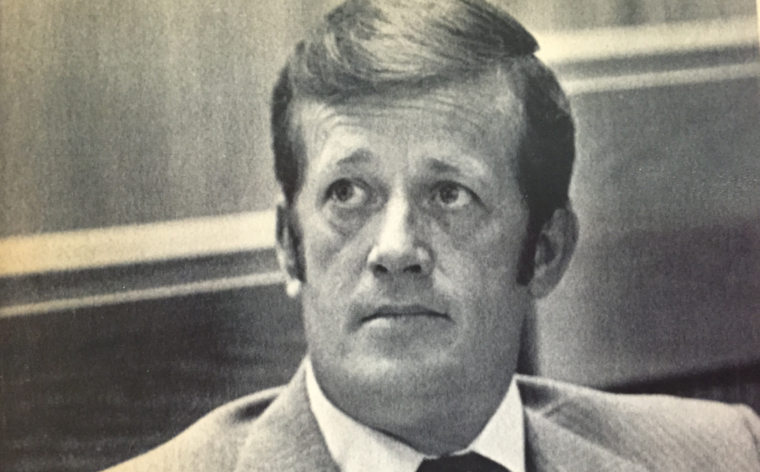 Harold Young, at the 1986 Steven Benson trial.
As the lead investigator in the Collier County Sheriff's Department, Harold Young was one of the first people to answer the call about a bombing at Margaret Benson's home in a gated golf course community on the morning of July 9, 1985.
"I knew it was no accident," said Young, now 75, of Naples. "The Chevrolet Suburban was blown all to bits and pieces, with a body lying out on each side."
Young also knew something else, he said.
He found Steven Benson inside his mother's house, talking on a telephone.
"He was calm as a cucumber," he said. "He was talking to one of his associates — the phrase 'How much did we take in yesterday?' sticks in my head. That seemed more important to him than his family lying all over the golf course."
Benson told Young that he and his family were going to look at piece of property where his mother wanted to build a home that morning. Benson said he first went to get coffee and doughnuts at a nearby store.
He returned and got everyone into the Suburban and then went back into the house to retrieve a tape measure. Then the bombs went off.
Young said, "I knew he did it immediately."
Young had several reasons to suspect Benson. He was the last person to drive the SUV. He parked it and positioned his family in it.
"Nobody else had time to put a bomb in there," Young said. "He was my main suspicion before I got out of the house with him."
Later, investigators found a receipt, with Benson's palm print, for the purchase of pieces of pipe and end caps used in the bomb. Investigators also found on Benson's pants a single particle of zinc, which they said fell off the pipe while he was making the bombs.
Young also remembers the day they arrested Benson: Aug. 22, 1985.
"Margaret's blood was still all over the side of his van. He had been driving it all that time," he said.
Once Benson was in custody, investigators questioned him until he invoked his right to call an attorney. Young said they talked about Mother's Day, and how sad it would be to not have his mother around on that day.
"We were trying to get some emotion out of him," he said. "There was none. He just ignored it."
The money man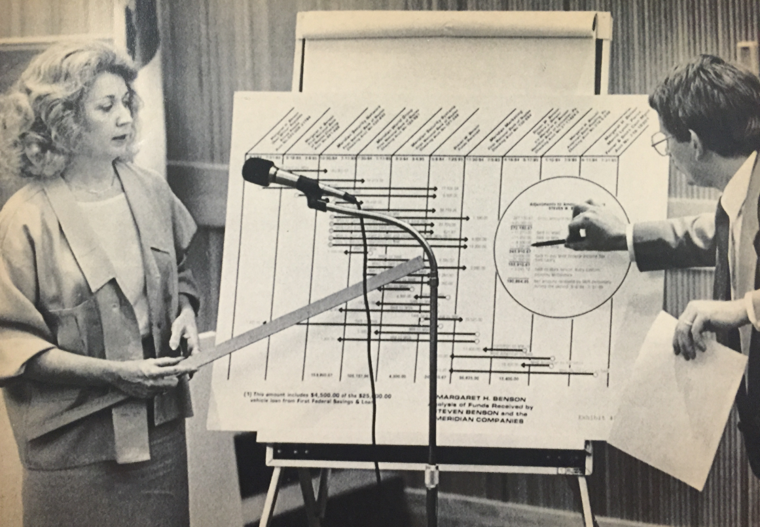 Dwight Brock (right) questions Diana Galloway, a federal auditor, about the transfer of money from Margaret Benson to her son, Steven, at his 1986 trial.
Dwight Brock was an assistant state attorney in Florida, specializing in white collar crime, when Steven Benson was arrested.
Brock's brother, Jerry, the lead prosecutor in the case, asked him to help with the financial issues in the case as it was going to trial.
"Tracking money — that was my forte," said Dwight Brock, who is now 61 and works as the Collier County Clerk of Courts in Florida. "The thing that stuck out in my mind was, wow, how easy this is to see what the money did. Just follow the money, and you could see what he was doing."
And what Benson was doing was spending the money, lots of it, for all kinds of things, including a house in Fort Myers and a car.
"It was obvious he was spending his mother's money on himself and his family," Brock said. "She said, 'I want to know where all the money went.' She wanted to see the books. He was supposed to provide them the next day, the day the bomb went off."
The juror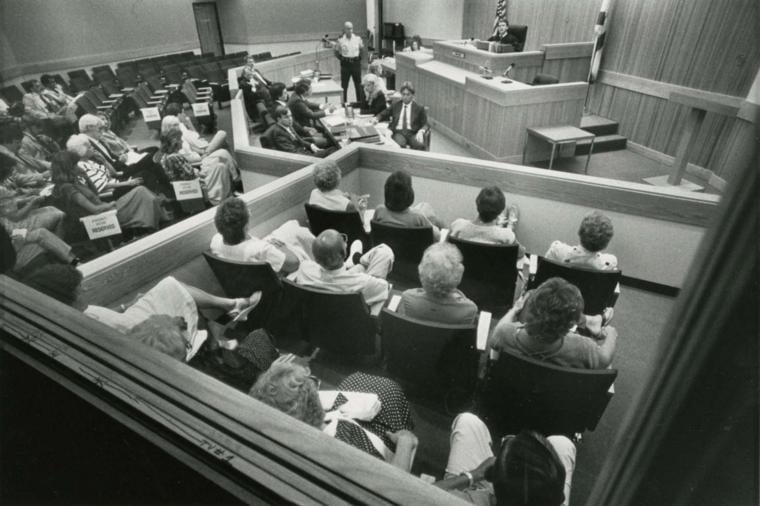 The jury, at the 1986 Steven Benson trial.
Patty Bennett was a nervous mother of two boys sitting in a jury box when the defense gave its opening statement about Steven Benson. She said she will never forget that moment.
"The attorney said, 'I want you to meet Steven Benson,' " she recalled. "He walked behind him and put his hand on his shoulder and he said, 'Steven Benson is a nice person. He is a good son. He is a good brother. And he is an arbitrator within the family when things go wrong.'
"Steven started to cry. His face got really red. He was sobbing."
Benson was 33, just five years younger than Bennett at the time. He was tall and thin and looked intellectual.
"At this time, I was not convinced he could really murder his mother and his adopted brother and sister," said the Fort Myers resident, now 68.
But that changed over the next three weeks, as witness after witness took the stand.
Bennett heard Kendall, who was disfigured in the bombing, testify that after the first blast blew her out of the car, she was still conscious, and she yelled to her brother to help her. He stared at her and walked away, said Kendall, who is now 70 and living somewhere in Florida.
Bennett heard about the money battles that were going in within the family, how Margaret Benson used money to control her children, how they fought among themselves and with her to gain access to the fortune, how Margaret Benson asked a secretary to inform and spy on Steven.
Bennett heard how the bombs were assembled, with nails and tacks put inside them so they would do the most damage.
"The matricide was a huge point," she said. "How do we fathom in our heads that this boy plotted and schemed, and told them where to sit so he could do the most damage to the ones he hated the most?"
After his initial outburst, Benson became stoic and unemotional as the evidence was presented against him. By the time the closing statements were presented, the evidence was clear, Bennett said.
The jury convicted Benson on the first vote, she said.
The jury was split on the death penalty, and so gave him life in prison.
The judge made the sentences consecutive, in accordance with Benson's sister's wishes.
The aftermath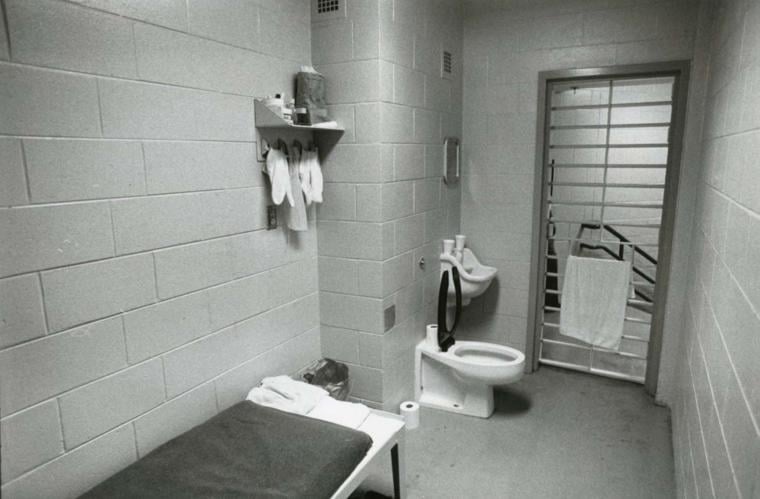 This is a prison cell like the one where Steven Benson stayed.
Steven Benson turned gray behind bars and died, to little fanfare. It's been decades since his trial attracted attention, though TV specials still pop up on cable channels from time to time.
Those involved with the case say they are surprised at how it still resonates in people's minds, and their own lives. Maybe it was the money, the power and the greed, they say.
"I still get recognized," said Michael McDonnell, Benson's defense attorney, who at 74 still practices in Naples and Fort Myers. "I walk into a restaurant and people say, 'Didn't you do the Benson case? I saw you on TV. ' "
Young, the investigator, said he's seen more horrendous cases than the Benson case, ones where people killed their children by drowning them in their mother's blood.
To him, sadly, it's not a shocker, the terrible things people do to each other, the terrible things they do for money.
He doesn't know for sure why Benson has stuck with the public, and with him, all these years.
"It's still fresh in my memory," he said. "I don't know if it will ever go away or not."