The Lancaster teenager charged with killing Brownstown Elementary School teacher Nicole Mathewson told police his accomplice actually killed Mathewson, according to court documents.
It was Thomas Gregory Moore, 25, of 413 St. Joseph St., who "assaulted Mathewson, causing multiple traumatic injuries" which led to her death, Marcus Anthony Rutter, 16, told police, according to Moore's arrest affidavit.
FULL COVERAGE ON THE KILLING IS HERE.
Moore was arraigned Wednesday on charges of homicide, burglary, criminal conspiracy to commit burglary, robbery, receiving stolen property and access device fraud.
Rutter was charged with all but the last two crimes a day earlier.
Both are ineligible for bail and both are incarcerated in Lancaster County Prison.
The suspects are accused of breaking into Mathewson's home in the 700 block of North Franklin Street late Sunday or early Monday to burglarize it.
The 32-year-old sixth-grade teacher was home and was assaulted.
She was found dead inside her home Monday morning, after she failed to show up for work at Brownstown Elementary School.
Rutter and Moore made off with various items, including the keys to Mathewson's car, which Rutter told police Moore took.
The black 2005 Mazda was recovered Tuesday morning at Sterling Place in Lancaster Township.
Moore also allegedly used Mathewson's credit card to withdraw $500 from a city Turkey Hill store, according to the affidavit.
A tip from a source police declined to identify led to Rutter's arrest a block from his home on East Marion Street on Monday night.
Police allege Rutter then led them to Moore, who was arrested Tuesday night at a home in Sterling Place.
Death penalty?
Prosecutors haven't made a decision on whether they will pursue the death penalty against Moore.
Rutter, a juvenile, isn't eligible for the death penalty under state law.
"The death penalty will be considered in due course," District Attorney Craig Stedman said Wednesday afternoon.
"There certainly are aggravating circumstances which would apply."
One of those circumstances: Moore allegedly killed Mathewson during the course of another felony.
Stedman said he's upset Rutter isn't eligible for the death penalty.
"The victim feels the same pain and suffers the same death regardless of whether the murderer is 16 or 46," the district attorney said.
Who is Moore?
Wednesday was Moore's 25th birthday.
According to his Facebook page, he is originally from Glen Mills and attended West Chester East High School.
A neighbor said he and Moore  both attended McCaskey High School.
Moore also apparently studied at Champ's Barber School, his Facebook account states.
The account includes several pictures of him and of men with fresh haircuts, all taken inside the school/barber shop in the first block of West King Street.
Champ Hall, owner of the school, declined comment when asked about Moore.
Moore lives with his aunt, known to a neighbor as "Miss Robin," whom the neighbor said also is Rutter's aunt.
The home where Moore lived is owned by Vernon and Robin Hopkins, according to county property records.
"How in the heck did he do that?" said Maria Gonzales, referring to Moore's alleged role in the killing. "It tears me apart."
Gonzales lives in the same block as Moore. She described him as quiet and friendly.
She said Moore's girlfriend is expecting their baby.
Skyla Cowan, 24, also lives in Moore's block and has known him for a couple years. He said they would get a drink together from time to time.
"He's not a bad guy," Cowan said.  "I can't believe he would go and kill somebody."
"He always helped people a lot," Cowan said. "He always had your back if someone was in trouble."
Criminal record
Moore's arrest Tuesday was not his first.
He has convictions for burglary, theft, access device fraud, receiving stolen property and drug possession — all stemming from several crimes in Lycoming County over the course of several months in 2009.
He was sentenced in December 2009 to 3 to 23 months in a Lycoming County prison, plus three years probation.
Feeling scared
Alicia Rosado, 66, has lived in the 400 block of St. Joseph Street for eight years, but said she plans to move this summer because of so much violence nearby.
Erma Kaylor, 83, who lived alone, was killed in her first-floor apartment at nearby 235 W. Vine St. in 2012.
A couple charged in April with sexually assaulting a 15-year-old girl lived in the 400 block of Lafayette Street, just a few blocks away.
"The neighborhood is no good anymore," Rosado said. "It's not safe. I don't open the door for anyone."
Thomas Moore affidavit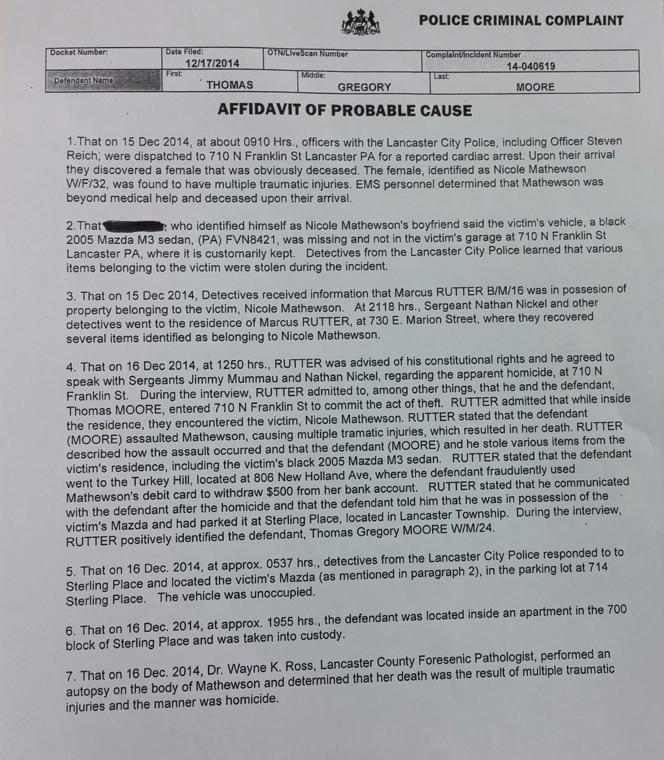 The homicide is among several recent crimes which together have scared many residents of northeast Lancaster city.