Editor's Note: Penn State's contract with Nike has funneled millions in cash, gear and apparel to Happy Valley since 1993. It may be among the most lucrative contracts in college sports. How lucrative? Penn State won't say - and by law, doesn't have to. With this series we examine Penn State's agreement with Nike and its impact on the university, its athletes and students.
It's day one of winter workouts, and new Penn State football coach James Franklin is putting his players though their paces inside Holuba Hall.
Players run sprints and do conditioning drills; some wear white shirts, some blue. But all players, and coaches, have one thing in common:
The "swoosh."
Nike's iconic logo graces the left leg of the players' shorts and the coaches' pullovers. Franklin's blue hoodie sports a swoosh over his heart. The placement, though coincidental, may be symbolic.
For more than 20 years, Penn State has had a close relationship with Nike, the the Beaverton, Ore.-based shoe and apparel giant. Former football coach Joe Paterno had a personal relationship with Nike founder Phil Knight; Nike has funneled millions to the university.
But how much, exactly, is the school's deal with Nike worth?
That's a Penn State secret.
Penn State, like other "state-related" universities, is exempt from Pennsylvania's right-to-know law and doesn't have to disclose the information.
Two right-to-know requests submitted by Lancaster Newspapers were denied.
Many public universities do disclose the numbers - and they are going up. Big Ten rival the University of Michigan gets about $8.2 million in cash and gear annually from Adidas, a deal thought to be one of the biggest in the country.
Penn State probably gets far less than that; experts estimate its deal to be worth about $2 million per year.
That's a tiny portion of the university's overall athletic budget, but in the wake of the Jerry Sandusky child sex abuse scandal and the NCAA sanctions that followed, Penn State's athletic department lost money last year — making the Nike money all the more important.
Coach's Nike money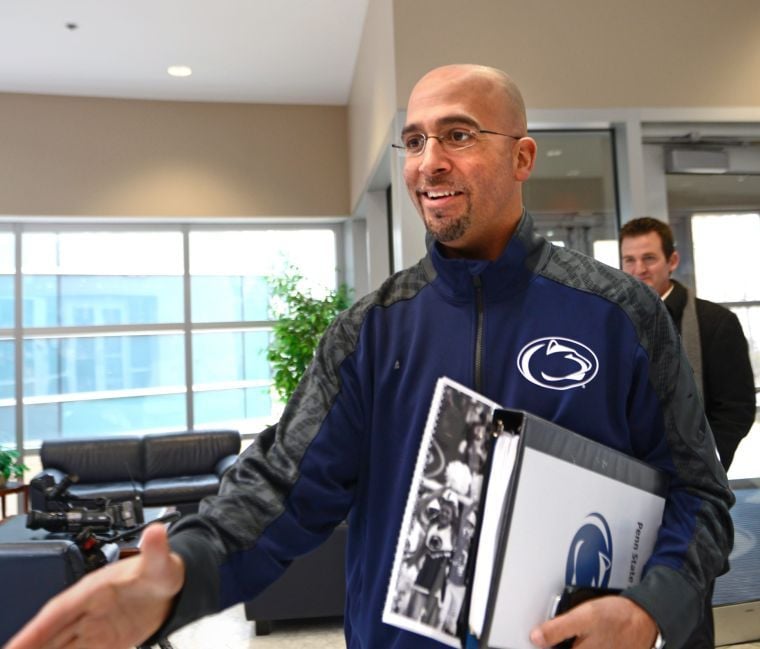 Some state legislators have proposed bringing Penn State under the right-to-know law. Until then, only one chunk of the Nike money is visible — the money paid to Franklin.
Franklin's six-year deal will pay him about $4.5 million annually — and $500,000 of that will come from Nike every year.
His predecessor, Bill O'Brien, got $350,000 annually from the proceeds of the university's Nike contract.
This, too, is a Penn State tradition.
Joe Paterno was one of the first college football coaches to ink a deal with Nike, in the early 1980s. The coach and his players wore the shoes, and Paterno became a close friend of Nike founder Phil Knight. Knight named a day care center on Nike's Oregon campus in honor of the coach, and spoke at Paterno's funeral. When Paterno won his 400th game, in 2010, Nike donated $400,000 to Penn State's libraries.
In 1993, Nike inked a deal to outfit all Penn State athletes, a contract reported at the time to be worth $2.6 million over three years. Penn State library records indicate that the deal has been renewed at least twice since then. Those records are embargoed for 20 years, said college officials.
"The conditions of this contract prohibit disclosure of the terms and the content of the agreement. Also, this agreement is not subject to right-to-know," said Lisa M. Powers, director of the Office of Strategic Communications, News and Media Relations at Penn State, in response to Lancaster Newspapers' right-to-know requests.
Nike also refused comment.
Big Ten, big bucks
In the Big Ten Conference, only Penn State and Northwestern University — a private school — refuse to disclose their shoe deals.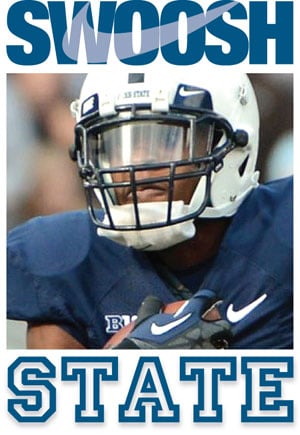 Wednesday
• Swoosh State: Penn State's lucrative contract with Nike remains hidden from the public
Thursday
• How Penn State outfits its athletes
Friday
• Why Penn State can keep Nike contract secret - and why that may change
Sunday
• Penn State beat writer Mike Gross on Penn State's relationship with Nike
• Joe Paterno's relationship with Nike chairman Phil Knight
The complete series will be published in this week's Sunday News.
The University of Michigan's 10-year deal with Adidas, worth $82 million, was thought to be the nation's biggest - until last month, when the University of Notre Dame inked a 10-year deal with Under Armour that the company characterized as the most lucrative in college sports.
Terms weren't disclosed - Notre Dame is a private school - but reports put the value at $9 million annually.
Most other Big Ten deals are much smaller. Ohio State's 11-year deal with Nike will gross nearly $46 million in cash and gear. The puniest deal in the conference is Purdue University's contract with Nike, valued at $1.4 million annually.
Dr. Joel Maxcy, a sports economist at Temple University, suggested Penn State gets $2 million or so annually.
"I'd say Penn State is in the top half of the Big Ten for sure," he said. "They probably trail Michigan and Ohio State, but get more than Purdue or Indiana. Even with the scandal, they're still pretty high up there in terms of national attention."
He noted that's a small figure in the context of Penn State's $100-million-plus overall athletic budget. But other experts say the money is key.
"Even if it's only 5 or 10 percent of the overall operating budget, that's much more than a rounding error," said Dr. Richard H. Burton, the Falk Professor of sports management at Syracuse University. "And because it's a fixed contract, you can count on that money; when the athletic director goes to set the budget, he'll take everything he can get."
Sandusky effect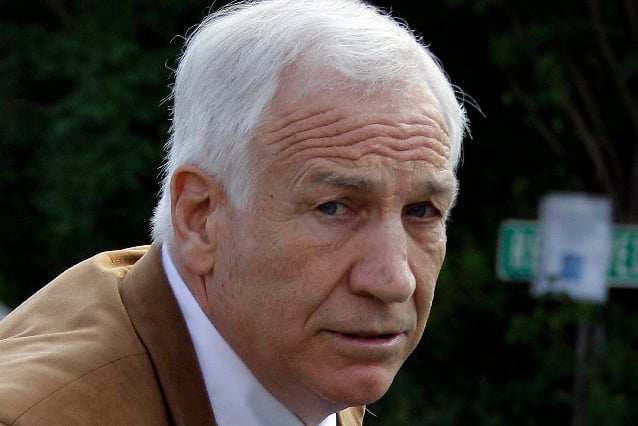 The Sandusky scandal, experts said, tarnished the Penn State "brand" - and may have hammered the bottom line.
The University of Iowa has a clause in its contract allowing Nike to reduce its scheduled base compensation by 10 percent if the football program is banned from post-season appearances for more than one season. Other Big Ten contracts contain a clause giving Nike the right to terminate the agreement if the football program is placed on NCAA probation and banned from post-season appearances for more than one season.
In the wake of the Sandusky scandal, the NCAA placed Penn State on five years probation and imposed a four-year postseason ban.
Michael McCann, director of the Sports and Entertainment Law Institute at the University of New Hampshire School of Law, notes that Penn State athletes still wear the swoosh - and whatever the contract stipulates, he said, Nike probably is never going to sever its relationship.
"If Nike had tried to exit its contract with Penn State, other schools would notice and they may view dealing with Nike to be more risky," he said. "This is why companies rarely actually use morals clauses in endorsement contracts. They threaten to use them, but seldom actually pull the trigger;  they know it would be harder to get new clients if they create a public controversy."
Were Penn State and Nike to negotiate a contract extension today, though, experts say Penn State might get a smaller deal than it would have gotten had the Sandusky scandal not occurred.
But "if you look 20 years down the road for Penn State, a lot of (the value of the contract) will depend on the way they continue to move forward in the wake of the scandal, and the type of success the football program has on the field," said Courtney Brunious, associate director of operations at the Marshall Sports Business Institute at the University of Southern California.
"If Penn State goes about their business the way they have over the last year or so, I think the impact will be less."