Six weeks into his freshman year at Lancaster's J.P. McCaskey High School, Luis Holmes got into a fight in the school cafeteria.
That altercation, which resulted in no serious injuries and no damage to the school, could influence the rest of the boy's life.
As Luis was finishing a five-day school suspension last October, he learned of a second punishment: A School District of Lancaster school resource officer had cited Luis with disorderly conduct and engaging in a mutual fight. The ticket mailed to his home carried a $275 fine or a requirement to show up in court.
Since the start of the 2017-18 school year, police have issued at least 370 summary citations — often referred to as student tickets — across Lancaster County's public schools.
Summary offenses range from consumption of alcohol to disorderly conduct and fall below the misdemeanor level. Fines typically range from $25 to $300.
Though local police and school administrators say they use police intervention as a last resort, citations have become a hot-button issue in many districts that routinely rely on law enforcement.
Students as young as 10 can be cited. Paying up to avoid court is akin to a guilty plea and could show up on a background check decades from now. Critics say the practice is used without oversight and often without the understanding of community members.
"It's not widely known that school districts and the police who work with them use this method. Not by teachers, not by parents, not by students," said Harold Jordan, senior policy advocate for the American Civil Liberties Union of Pennsylvania. "But these are minor offenses with major consequences."
'How is that fair?'
Luis was one of 56 district high school students cited in connection with a summary offense since fall of 2017. After six months, he is still winding his way through the court system as he tries to earn his way out of the fine.
Standing 6 foot 4 inches with a build that looks like he could be on the varsity basketball team instead of the freshman squad, Luis is a natural goofball, according to his mother Katrina Holmes. But he had only returned to the district from home schooling the year before, and he didn't know the administrators well by the time of the fight last October.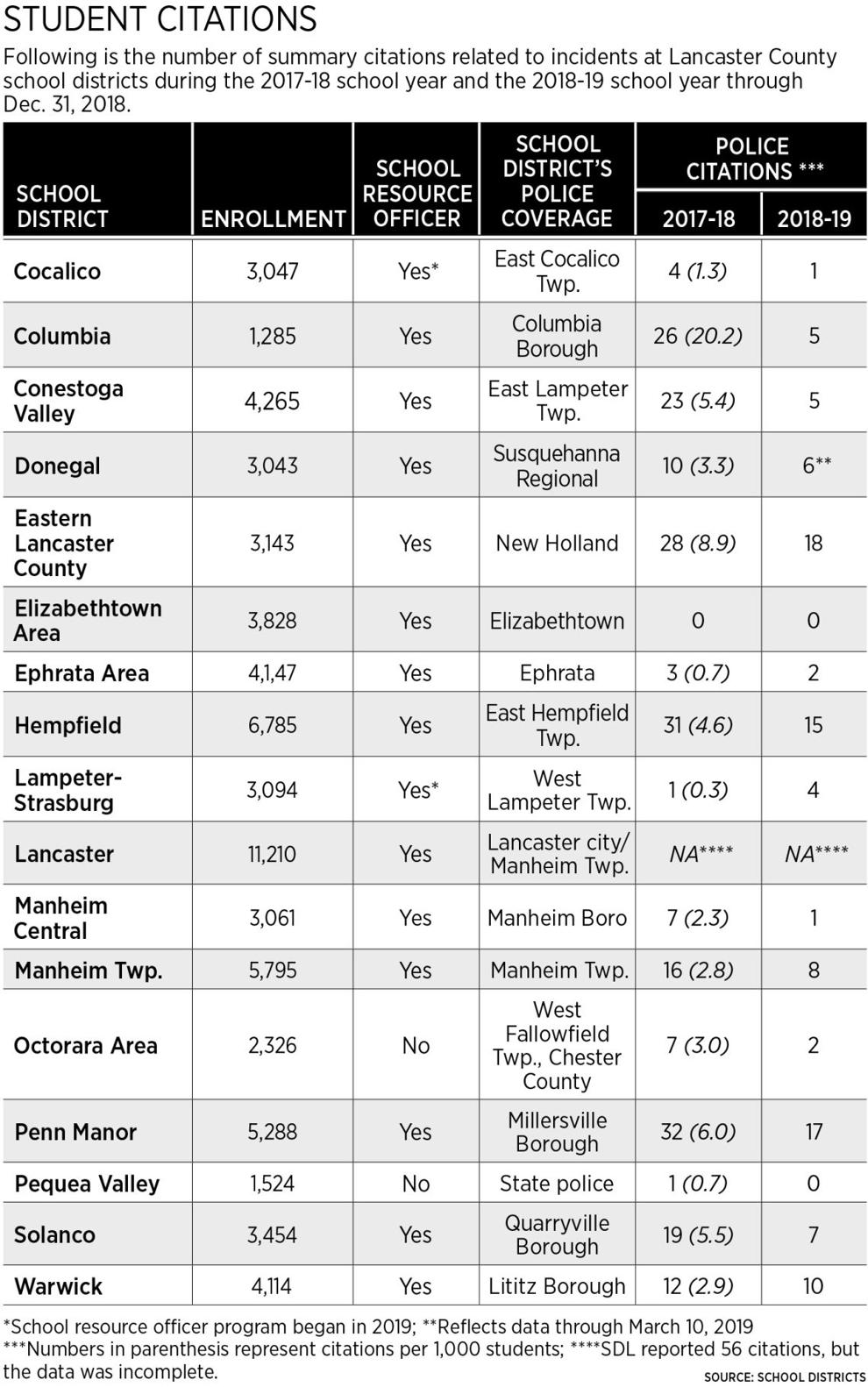 "Maybe Luis put himself in a position where it was easy to label him," said Holmes, a Lancaster mother of three. "But by issuing him a fine, you're giving him a criminal record …. How is that fair? If the SRO had been at the other building that day, he might not have even gotten this citation."
Equity has been a focus in the School District of Lancaster, which has worked over the last two years to reduce suspensions, targeting minority students for interventions. Superintendent Damaris Rau has repeatedly cited the "school-to-prison pipeline" created by harsh discipline policies.
"We try to use suspensions as a last resort, and I would say the police know that and try to reflect that in the use of citations," said Chris Lopez, director of student services. "There is some collaboration and conversation between building administrators and our SROs, but at the end of the day, they take the totality of the situation and make their decision."
Discretion
State law requires administrators to report certain crimes, such as sexual assault and possession of weapons or certain drugs, to law enforcement.
But school leaders have discretion in calling the police — and police have discretion in charging students — in lesser cases.
Pequea Valley is one of two county school districts — Octorara is the other — that does not have a school resource officer. Police were called to campus buildings five times last school year. Cases involving the sale or possession of minor amount of drugs and making terroristic threats did not result in charges; one case involving harassment and intimidation garnered a citation.
"Police intervention is always our last resort," Superintendent Erik Orndorff said. "We will always attempt to work with parents and families first."
Other administrators interviewed for this article said they did not explicitly list offenses that could draw police fines in handbooks where school discipline policies are spelled out.
Once cited, students can pay up or contest fines, starting with their magisterial district judge.
The use of magisterial court for minors raises several issues, Jordan said. Youth aren't entitled to public representation as they would be in juvenile court, and there is no cloak of privacy as traditionally afforded children in the juvenile justice system.
Youth Aid Panels
Several districts rely heavily on a local Youth Aid Panel as an alternative.
School Resource Officer Scott Ney said he is likely to refer Donegal students to a panel after considering factors such as age, prior interactions with law enforcement, and whether there were any injuries or property damage in the incident.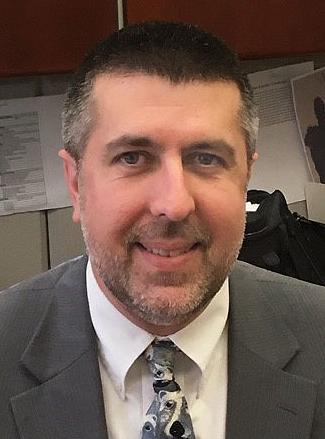 "I'll talk with the juvenile and the parents," Ney said. "They have to be under the understanding that they admit to it, and then I can refer them to the panel."
The panel, made of community volunteers who get 24 to 30 hours of training through the Lancaster County District Attorney's Office, can mete out "restorative" justice such as drug and alcohol counseling for minor marijuana possession or restitution and clean up after a vandalism offense.
If the student completes the assignment, Ney said, no citation is issued and no record is created.
"It's almost like an intervention," said Donegal Superintendent J. Michael Lausch. "It's a nice option for us, especially for a kid who just made a stupid mistake."
In Warwick, the district's coordinator of safety and security John Schofield said the trend is to refer "more and more serious cases" to a Youth Aid Panel .
He said the process of appearing before the court-like panel provides accountability and acts as a future deterrent.
But not every municipality has a panel, and not every police officer is willing to refer cases.
An officer must decide to refer a student to a panel and talk to their parents for consent before issuing a citation. Holmes said in her case, she never had a chance to talk to an officer or the principal about the option, for which she believes her son qualified. School officials declined to discuss Luis' case.
Some students may receive multiple citations over the course of their school career, and after just one prior run-in with the law, they are prohibited from a panel.
In Columbia, eight people under the age of 18 received citations on multiple dates over the last year and a half. That means repeated opportunities for fines to go unpaid, possibly forcing a student into the juvenile justice system.
If fines are not paid, or students fail to report to the magistrate, their cases can be referred to the juvenile court. Those adjudications would show on a court record, and job applicants are expected to disclose them. A mistake at 11 or 12 years old could potentially impact a young adult's chance to go to college, join the military or become a police officer.
Lancaster school board member Salina Almanzar said she knows of students who have dropped out "because they feel there's no way they can pay their fines back or they are traumatized by the process."
Standing practice
Though the use of citations has drawn increased scrutiny since 2010, the practice is not new.
When he was with Lititz Borough police, Schofield often responded to reports of thefts from lockers or simple assaults.
"It's just now that a police officer is right there to handle it," he said. "No one has to call the police to respond."
That said, Schofield believes the number of potential arrests is likely down because police are providing deterrence through their presence.
"The SRO has fostered relationships with our students with the aim of mentoring our youth," Columbia police Chief Jack Brommer Jr. said. "This interaction has prevented problems prior to the initiation of negative behavior."
In Lancaster, Rau said, officers have become advocates for students when they are on or off the McCaskey campus. The district has also hired 20 family and student support specialists over the last two years to help alleviate discipline problems.
"We give kids multiple chances, but when it gets to a certain point … I'm not going to have their school disrupted because one student can't pay a $275 fine," she said. "We're not going to fight that battle. We want to make sure that our school is safe."
Six months after his first and only school fight, Luis is staying positive about his McCaskey experience. His parents have worked closely with school staff to address some academic challenges he faced after suspension, and Luis has been tapped at least twice to provide insights about high school life with fellow students and Rau.
'Transparency and communication'
The ACLU's Jordan encourages districts that want to maintain a police presence to limit ticketing. While most adopt boilerplate memorandum of understandings with law enforcement, he said districts could make discontinued use of summary offense citations a condition for partnership.
In Philadelphia, a 4-year-old policy prohibits officers from responding to 17 offenses including disruption and verbal altercations because "numerous instances of assaults on school police officers and staff occur as a direct result of the officers' intervention."
School District of Lancaster's Lopez said at a February school board meeting that the district would re-examine its school resource officer agreement. He also said he wanted to study citation data to determine if tickets are being given disproportionately to students of color.
Another issue: the use of "disorderly conduct" citations, which Lopez called a "pretty broad term." In its suspension approach, the district has tried to reduce referrals for vaguely worded infringements to better understand patterns behind suspension. The same idea might apply to citation issuance.
J.P. McCaskey Principal John Lischner said he is willing to examine communication with parents and officers to make clearer the possible implications of at-school offenses.
"Being upfront about consequences can help us not just be transparent but to express to students that we care and we don't want them to start to get wrapped up in the system," Almanzar said. "I think transparency and communication are areas we're making strides in, but for every moment we wait, another kid may be negatively impacted."