Severe thunderstorms and a tornado have taken a toll across Lancaster County in the past few months, uprooting tree and leaving residents and tree-care providers with a lot to clean up.
Lancaster County also rests within the quarantine zone for the spotted lanternfly, which restricts movement and removal of things like storm debris and brush.
So what do residents need to know to prevent the spread of the spotted lanternfly?
The spotted lanternfly, an invasive planthopper native to Vietnam, China and India, has the potential to ruin crops — specifically fruit orchards, plant nurseries and hardwood trees.
Lancaster County is part of a quarantine zone of 14 counties throughout Pennsylvania to contain and control the spread of the invasive pest, including: Berks, Bucks, Carbon, Chester, Dauphin, Delaware, Lebanon, Lehigh, Monroe, Montgomery, Northampton, Philadelphia and Schuylkill.
The quarantine restricts the movement of brush, debris, bark and yard waste — essentially the aftermath of severe thunderstorms and tornadoes — outside of the zone.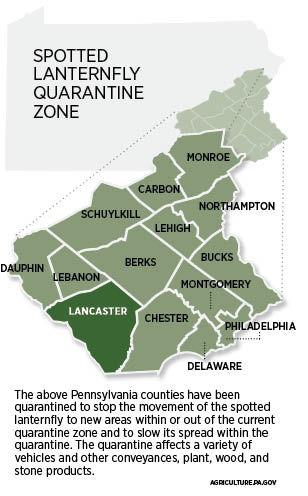 According to the Pennsylvania Department of Agriculture, the red, black and white spotted pest is easily moved during storm cleanup if no one is looking, especially if the pests are still nymphs or in the form of egg masses.
Emelie Swackhamer, Penn State Extension educator in Montgomery County, recommended chipping any fallen trees to prevent the further spread of the spotted lanternfly.
She also suggested leaving the chipped trees onsite, if possible.
Shannon Powers, press secretary for the Pennsylvania Department of Agriculture, said that chipped wood should be shredded to be about 1 inch by 1 inch in size.
Invasive spotted lanternfly in Lancaster County Central Park: What to look for
Pennsylvania Department of Agriculture Secretary Russell C. Redding held a news conference on Wednesday, May 8, 2019, in Lancaster County Central Park about the invasive insect, the spotted lanternfly and the tree that attracts them. The demonstration included how to identify and control the insects.
The state created a quarantine zone of several counties, including Lancaster County, and began a permitting and inspection process within that quarantine zone to reduce the movement and spread of the spotted lanternfly last year.
Here's what to do if you spot a lanternfly:
If you find 1-inch-long masses of 30 to 50 eggs on a tree (they are laid in the fall and may be covered in a gray putty), scrape off with a putty knife into a bag or container and fill with isopropyl alcohol or hand sanitizer.
In spring, in trees where nymphs are seen, place a band of sticky tape around trunks. Duct tape wrapped backwards works well. Check and change traps every other week.
Remove any tree of heaven, also called Ailanthus, from your property as they are lanternflies' preferred host tree.
A number of systemic and contact insecticides work to kill adult lanternflies. Only use on trees where lanternflies are present as these products may kill beneficial insects.
Report any spotted lanternfly by calling 1-888-422-3359.
For more information, click here or call the lanternfly hotline at 1-888-422-3369. 
According to the PDA, the insect should be in the early nymph phase this month and into July. The nymphs are approximately 1/8 inch long, and are black with white spots. 
Wood debris should not be transported out of the quarantine zone and should be carefully inspected.
If Lancaster County residents want to do even more to protect against the pest, Swackhamer suggested composting the wood chips. The heat of the compost is sure to kill any remaining pests, said Swackhamer.
If homeowners wish to save wood for firewood, the PDA suggests shrink-wrapping it to prevent any pests from laying eggs in the future.
And for those who are hiring landscaping and tree care companies to deal with fallen trees, Swackhamer urged residents to make sure that businesses have visible spotted lanternfly permits.
Businesses and organizations within the quarantine zone are required to obtain a permit from the PDA to move vehicles, equipment, waste and goods within and out of the zone.
It's important that landscaping businesses have a permit, said PDA, as it ensures that they understand the life cycle of the invasive insect, the importance of stopping it and how to find and destroy the spotted lanternfly.
You can check to see which companies are trained and found to be compliant with standards listed in the Order of Quarantine and Treatment regarding the spotted lanternfly for operating in the quarantine area here.