A broad-based program to plant 10 million trees in Pennsylvania over the next seven years — with Lancaster County as an epicenter — was launched on a Mount Joy-area farm today.
The Keystone 10 Million Trees Partnership is being billed as one of the most ambitious environmental restoration efforts in state history.
Leaders seek to marshal grassroots groups and volunteers across the state to establish buffer strips along farmland streams to reduce runoff and along urban streets to stem stormwater flooding.
Also involved will be nonprofits, conservation districts, businesses, watershed organizations, local governments and outdoors  groups.
Lancaster County's focus
The kickoff was held in Lancaster County because it is a significant source of soil and nutrient farm runoff that fouls the Chesapeake Bay.
The nutrients spur algae which robs the water of oxygen needed for aquatic life.
Pennsylvania is significantly behind in its pledge to stem nutrient pollution running into the bay, and riparian buffers have been identified as an effective way to make up ground on a large scale.
"Trees, especially alongside streams and streets, are one of the most cost-effective ways to restore and protect stream health, help keep nutrients and soils on the land, and cleanse drinking water sources," said Harry Campbell, Pennsylvania executive director of the Chesapeake Bay Foundation, which will coordinate the project.
The state secretaries of Agriculture, Environmental Protection, and Conservation and Natural Resources gathered on the farm of Rodney Garber and spoke on the merits of the tree-planting. So did the regional administrator of the U.S. Environmental Protection Agency, which has been leaning on Pennsylvania lately to step up its Bay cleanup efforts.
Key role of farmers
After remarks, the officials helped to plant a tree along Little Chiques Creek on the Garber farm. Then members of the Donegal Chapter of Trout Unlimited, students with the Penn Manor Future Farmers of America, Land O' Lakes and other volunteers took over planting trees.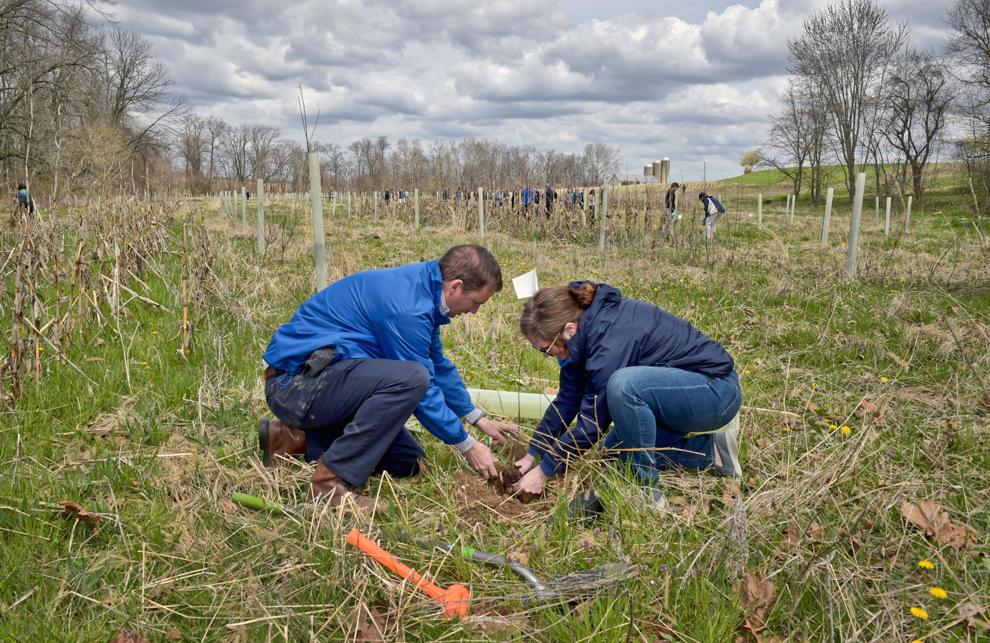 "A farm is the perfect place to kick off this initiative," Agriculture Secretary Russell Redding said in prepared remarks. "Prosperous farms and a safe, abundant food supply depend on clean water, and a clean water supply depends on strategic farm management practices like forested buffers.
"Pennsylvania farmers are key to clean water for our region and we are pleased to support them as stewards of our resources."
The tree plantings will be concentrated in Lancaster as well as Cumberland, York, Dauphin and Franklin counties.
Four tree-planting sessions are already planned for this week by groups, municipalities and volunteers around Lancaster County.
One of them — planting 115 trees in the southeastern part of Lancaster city on Friday — will be the largest single-day tree planting in the city's modern history.
Green infrastructure
Planting trees is a big cog in the city's "Green Infrastructure Plan" to slow stormwater runoff to meet federal requirements to reduce sewage-tainted runoff into the Conestoga River and Chesapeake Bay.
Lancaster County has the lowest percentage of forest cover in the state behind Philadelphia, Delaware and Montgomery counties.
Trees also help filter air pollutants.
"To some extent, less forest cover in Lancaster County does contribute to our poor air quality," said Kevin Stewart of the American Lung Association, referring  to a report last week that found Lancaster County has some of the nation's worst soot and smog pollution.