UPDATE: Police ID woman killed in crash on Route 222, say road should reopen 'by evening rush hour.' Click here to read more. 
Update 6:15 p.m.
Route 222 South re-opened just after 6 p.m., according to dispatch reports.
---
Update 2:10 p.m.:
A Pennsylvania state trooper was monitoring the construction zone at the time of the crash, according to East Cocalico Township police, which said state police are handling the investigation and anyone who witnessed the crash should contact the state police Lancaster barracks directly. 
An email from PennDOT spokesman Mike Crochunis said local police patrol the area but state police "traffic queue protection is being used on this project during the AM and PM rush hours."
Asked about the placement of signs near the work zone, he wrote, "PennDOT's traffic engineers conducted a review of the advanced signing and the signing through the work zone. Some additional signing was added where there was previously only signing on one side, they doubled up to include signs on both sides of the southbound lanes. Additional 55 MPH speed limit signs were added and an additional message board was added to the project to the north of the Colonel Howard Blvd./Pa. Turnpike exit alerting motorists that traffic is reduced to a single lane ahead."
Crochunis wrote that a highway crossover "is not feasible" because of the geometry of the bridges and the types of repairs being conducted, and the work "cannot be conducted within the timeframe of an overnight lane closure, then have the lane reopened to traffic the following morning."
---
One person died and seven others were injured after a crash in a construction zone on Route 222 south Monday morning, according to police.
The crash happened around 8:30 a.m. when a tractor-trailer "failed to stop or slow" and rear-ended a car at the start of a construction zone, according to state police Trooper James Spencer. Two other vehicles were rear-ended also, he said.
The construction zone started about two miles south of the Pennsylvania Turnpike interchange. The Pennsylvania Department of Transportation is doing bridge work in the area.
A female from the rear-ended car was taken to a hospital and died, according to Spencer. Seven others, including the driver of the tractor-trailer, were hospitalized with varying injuries, he said.
Fire police were summoned to help direct traffic. Southbound Route 222 is shut down between the Pennsylvania Turnpike on-ramp and Route 772/Brownstown exit, according to 511pa.com.
Southbound traffic has been reduced to one lane since May during rehabilitation on bridges over Pleasant Valley Road and Glenwood Drive, according to PennDOT.
Spencer said to expect the road to be closed until at least around 3 p.m. State police are investigating the crash, which happened in East Cocalico Township, because it happened in a construction zone, he said.
At one point, dispatchers said a helicopter might be needed and discussed having one land in the northbound lanes of Route 222.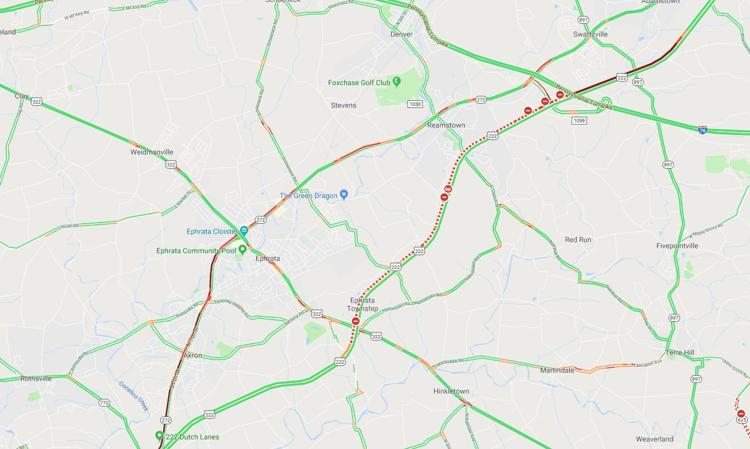 222 south is closed due to a vehicle accident. It expected to be closed for several hours.

— East Cocalico Township Police Dept (@ecocalicoPD) June 24, 2019
222 SB CLOSED btwn the @PATurnpikeAlert and 772 b/c of a tractor trailer crash in the const zone. #HBGTraffic pic.twitter.com/axIewX212o

— TTWN Harrisburg (@TotalTrafficMDT) June 24, 2019