During a workday earlier this summer, Lancaster County Chief Deputy Sheriff Chris Riggs was overheard saying that his Fourth of July plans would include buying beer, writing deputies' names on the beers, and using them for target practice.
Three employees, interviewed separately by LNP, confirmed the same account, and the incident was referred to the county human resources office. The employees said the comment was indicative of tension and low morale, which, in their view, stem from poor management that is leading to staff shortages.
The employees asked not to be identified out of concerns for professional retaliation.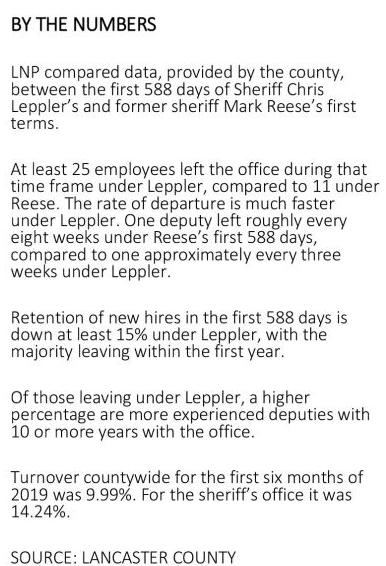 Understaffing is also leading to problems for the court system.
An analysis of staffing trends by LNP revealed that more than two dozen employees have left the office since 2018, and turnover this year is 42% higher than the county average.
The impact on court operations — and therefore taxpayers — is clear: The shortage of deputies, who provide security in courtrooms, has slowed the pace of criminal cases, delaying process and increasing costs.
But where the root problems lie is less clear.
Staffing shortages
Sheriff Chris Leppler, the office's elected official, says it's tough to keep a full staff with relatively low pay and a strong economy. He added that his efforts to change office culture to a more paramilitary mindset might be causing some friction.
LNP spoke to several current and former sheriff's office employees, but only one agreed to speak for attribution. They were concerned they could face retaliation from Riggs or Leppler for speaking publicly. They instead privately said the top two officials were at the core of low morale and high turnover.
Leppler declined to speak about his top deputy. Through Leppler, Riggs also declined comment.
In the first 588 days of Leppler's term, departures have more than doubled as compared to the same period under Sheriff Mark Reese, who resigned in July 2017 amid sexual harassment allegations. Retention is also down.
Currently, there are 10 full-time and five part-time deputy positions open, in addition to two open administrative and three clerical positions.
Recruitment and retention problems are not unique to Lancaster County. Law enforcement entities across the state and nation face similar issues.
The Lancaster County Prison is also down about a dozen correctional officers, and the courtroom bailiffs have seven open positions.
"In Lancaster County we're considered to be at full employment, so there's more job openings than there are people to fill those jobs," Charlette Stout, the county's human resources director, said recently.
The effect
Deputy shortages can cause scheduling and security problems for the court.
Without sufficient deputies, opening courtrooms is sometimes delayed. In turn, the court schedule is backed up, Court Administrator Mark Dalton said. Courtrooms are sometimes closed when there are no deputies to staff them.
Judge David Ashworth said staffing problems in the sheriff's office have a trickle down effect. Ashworth said he has great respect for the deputies and sympathizes with the sheriff's plight, but it is not a good system for judges to guess which hearings they can afford to hold without a deputy.
"We need to be able to run an efficient court system," Ashworth said, adding he thought deputy salaries were a contributing factor.
One deputy said not having a deputy present is a huge security risk, pointing to a 2005 incident in Atlanta, Georgia, where — even though a deputy was present — a defendant managed to steal her gun and shoot several people in a courthouse.
"What are we waiting for, the same issue?" the deputy asked.
'Paramilitary structure'
Leppler said he thinks some of the losses are a result of reimplementation of structure and discipline, which he said was lacking in past administrations. He referred to instilling more of a "paramilitary structure."
"I think maybe people had a problem coming back to that," he said.
He noted the sheriff's office is often used as a "springboard" to get into other law enforcement positions. Twelve of the 25 individuals who left under Leppler were deputies with five or fewer years' experience.
While the sheriff said retention and recruitment need to be addressed, he said he doesn't think it is at a critical point yet. He said there were fewer total deputies when he took office in 2018.
"If I felt that it was critical and I had to pull staff from other offices, I would do that," Leppler said.
Tension in the ranks
Wendell Reed, who worked part time as deputy with the office from May 2018 to May 2019, said he saw five or six deputies leave.
"Which is like, wow," he said.
Low pay was a factor in turnover, Reed said.
Despite being the most populous county in the region, Lancaster's pay rate is in the middle of the pack among surrounding counties. Deputies start at $17.21 an hour.
Leppler also said more competitive pay would help with retention. He said deputies make $7,000 less on average than the lowest-paying police department in Lancaster County. For instance, the starting salary for Lancaster city police officers is $50,882.
But two former employees who spoke with LNP said sheriff's office management was causing morale and retention issues. Both said they took pay cuts when they accepted other jobs.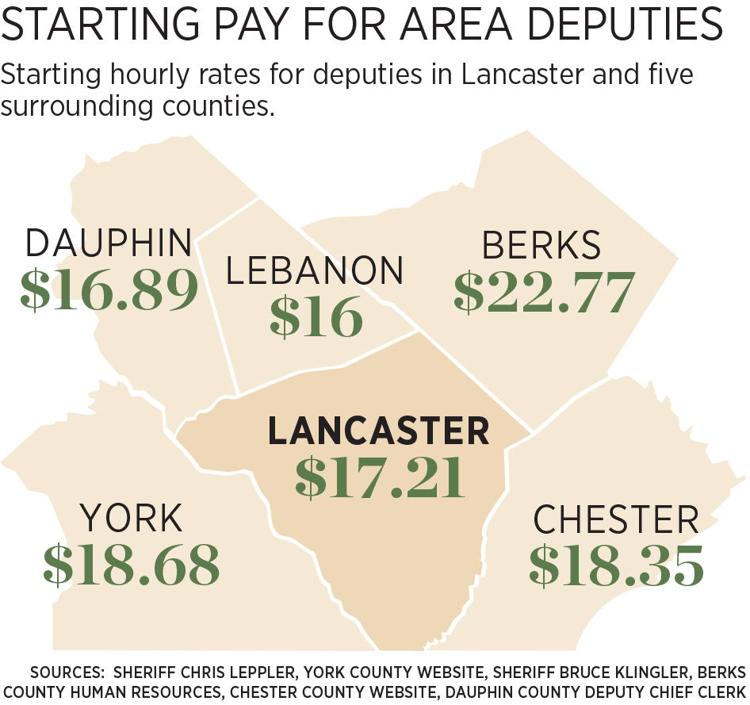 Current and former employees described the staffing losses as an "exodus" and refuted the idea that pay was the main reason for the departures, instead insisting poor management was the cause. Reed, the former deputy, said complaints about how the office was run weren't uncommon and morale was low while he was there.
"It wasn't just one or two rabble rousers; it was more of a consensus," Reed said.
Discipline, how job assignments are handled, and who was or was not promoted were frequent themes.
Chief Deputy Riggs, second in charge in a 61-person office, was the source of frustration for some deputies, Reed said, although he said he was personally treated well.
Other current and former employees also cited Riggs' leadership as a reason for the morale problems and departures. Problems they mentioned included favoritism, short-temperedness and a perceived cold shoulder based on whom the employee supported in the 2017 special election for sheriff.
"I think it's foolish if the sheriff doesn't see that (Chief Riggs) is a lot of the problem," said one former employee, who despite leaving the office still feels retaliation is possible.
Leppler disputes this. He said he believed cultural change is leading to morale issues, and discipline has gotten more consistent with the implementation of a disciplinary review board.
The sheriff declined to discuss specific complaints related to his chief deputy, or the human resources investigation that resulted from Riggs' recent target-practice comment. Leppler said Riggs handles much of the day-to-day operations and the push for a "cultural change," which he thought might lead Riggs to bear the brunt of the push-back.
What can be done?
Thomas Maioli, executive director of the Pennsylvania Sheriffs' Association, said law enforcement at the municipal, county and state levels is also struggling. But just because they're struggling, it doesn't mean they can lower their standards.
"Sheriffs have very stringent steps that they have to go through in hiring," he said.
Maioli hopes to complete a survey soon to see what solutions there are.
"I'm feeling it just like everyone else is right now," Leppler said, adding he is trying to find better ways of recruiting.
Berks County Sheriff Eric Weaknecht said he, too, is facing problems, citing pay and the "springboard" effect. They recently started using billboards to attract recruits.
Lebanon County is bucking the trend with a full complement and several applicants for one open position. That county also uses the state's employment website to recruit.
A more competitive pay would help, Leppler said. After the 2020 census, wages will need to reflect the size of the county, he added.
"I don't know that there's any one answer," Leppler said.