Wearing gloves and safety glasses, Bradley Kelley's seven-member crew stood at a grit-covered table and sorted through pile after pile of things that had ended up in recycling bins.
Mixed in with empty water bottles, crushed soft drink cans and other desired recyclables, they found lots of items that don't belong in curbside bins because they gum up recycling and make trash bills go up.
They included corn cobs, a diaper, plastic bags, sodden newspapers, even a perfectly good cat scratching post, all of them would-be contaminants in Lancaster County's curbside recycling stream of 35,000 tons a year.
Contaminants comprised 30% of the county's recycling bin contents last year, and Kelley — an outside consultant for the Lancaster County Solid Waste Management Authority, which oversees recycling here — says that's too high.
Communities, he said, should try to reduce contaminants to 10% or less to make the system more cost efficient.
Kelley's three-day task last week at the authority's transfer station on Harrisburg Pike was a hands-on waste audit to find out if the authority's year-long, $200,000 public education campaign to reduce contamination had made a difference. The results are expected at the end of September.
Penn Waste, which separates and bales Lancaster County's curbside recyclables at its materials recovery facility in York County, reports some decline in contamination.
"But it has not been significant," Penn Waste spokeswoman Amanda Moley said. "We have a long way to go."
---
Market crash
China last year disrupted the recycling industry when it stopped importing boatloads of America's waste plastic and paper, creating a glut of recyclable materials in the United States and depressing prices.
Domestic manufacturers that turn used plastic, metal, paper and cardboard into new products expect low contamination in the recycled materials they buy. Penn Waste has had to add more workers, invest in equipment and slow down the recycling line to meet the manufacturers' quality standards, Moley said. The cost gets passed along to consumers.
The county solid waste authority responded to the glut and its impact on Penn Waste with a back-to-basics approach to recycling. A year ago, it limited curbside collection to the most marketable items: plastic bottles with necks, food and beverage cans, glass bottles and jars, and corrugated cardboard.
"For so long, we've said you're a good citizen if you recycle," Kathryn Sandoe, the authority's chief commercial officer, said. "Now we're asking, 'Are you putting the right things in your bin?' Only then can you be certain that those materials are being turned into new products."
The authority asks residents to take their newspapers, magazines, office paper and thin cardboard to recycling spots such as Lancaster City's drop-off center, 850 New Holland Ave.
---
Neighborhood survey
Over five weeks this summer, volunteers descended on a 127-home neighborhood in West Lampeter Township to find out how well residents are following the new recycling rules.
The volunteers found that 47% of the bins contained things that shouldn't have been there.
To promote proper recycling, the volunteers left "oops" tags at bins containing such unwanted items as greasy pizza boxes, plastic bags and thin cardboard.
Most people who received an oops tag started recycling correctly only after getting a tag two weeks in a row. But Sandoe said 30% continued to make recycling mistakes even after receiving multiple tags.
"It's going to take three to five years until this (recycling shift) becomes the new normal for people," Sandoe said.
In the meantime, recycling markets are volatile and prices remain depressed, Penn Waste's Moley said. To make up for lost revenue, Penn Waste assesses the county waste authority a monthly processing fee. The authority passes the cost on to haulers.
The fee has increased from $15 per ton of recyclables last summer to $60 per ton currently, Sandoe said. As a result, the average household may see its trash bill go up about $12 a year.
"Recycling has always had a cost," Sandoe said. "That cost was previously absorbed by the value of the recyclables. Because the value of the recyclables isn't there any more, the cost has to be shared by the consumers."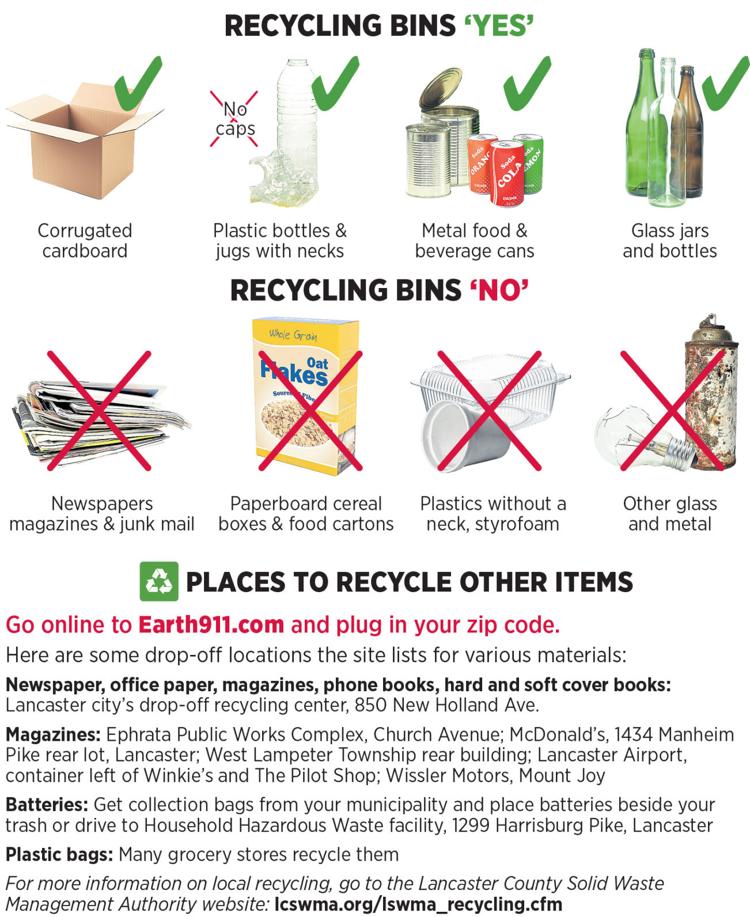 ---
Consumer impact
Anne Germain, vice president of the National Waste and Recycling Association, said Lancaster County's efforts to streamline what is collected, reduce contaminants and change behavior through a public education campaign are sound approaches.
"Know that there is light at the end of the tunnel," Germain said. "Domestic capacity (for recycled materials) is coming online. But we have a ways to go before we anticipate the recovery to be fully in place."
Consumers should also know that while recycling correctly is important, Germain said, so is buying products made from recyclables. She said the Ellen MacArthur Foundation has gotten commitments from major companies to use recycled products and increase the post-consumer content of the things they make.
"These companies are making ambitious commitments largely because of consumer pressure," she said.