The Dillsburg Veterinary Center is tired of the Lancaster County SPCA's ongoing denial that there were maggots on Libre, a puppy rescued July 4 from a southern Lancaster County farm, and that the puppy showed clear signs of neglect by the farmer who owned him.
Writing on Facebook on Tuesday, after SPCA director Susan Martin held a press conference reiterating her reasons for not pressing charges against the ailing Boston terrier's breeder, the vet staff wrote:
"Two things we are 100% certain regarding Libre,
"1. When Libre was brought to us the morning of July 5th, there WERE several maggots in his wounds that we flushed out (and no, we did not count how many maggots we saw nor did we video this as that is not normal procedure). Also, regardless of the exact number of maggots found on Libre, one maggot on any animal is far too many!
"2. Someone failed this puppy terribly! He was neglected!!!
"We are his medical team, not the investigators. Our main concern is the welfare and health of Libre at this point."
Story continues after image.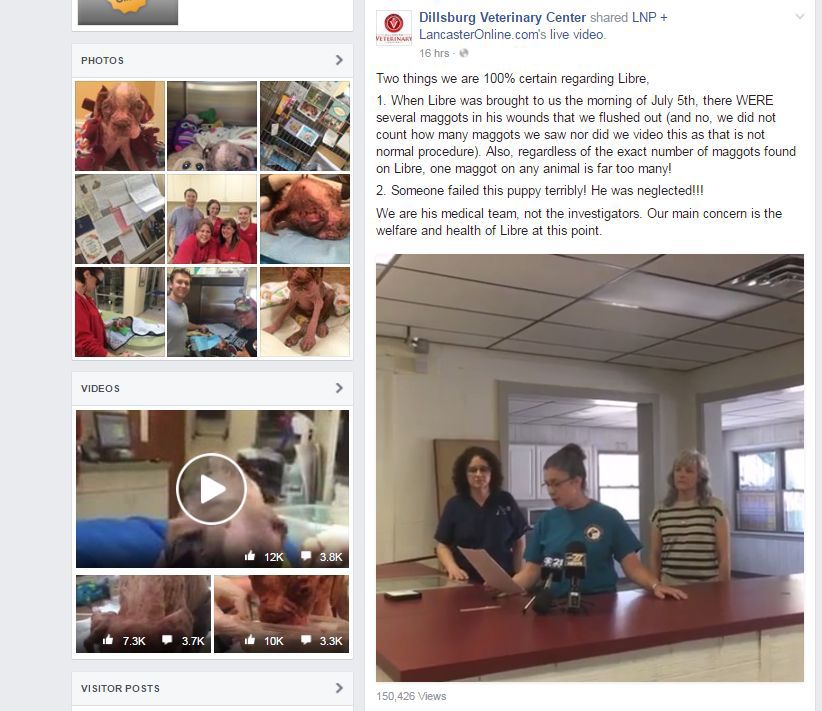 A screen capture from the Dillsburg Veterinary Center's Facebook page.
The post is a direct response to Martin's claims that veterinarians who treated Libre found no — later revised to two — maggots on the ailing pup.
Dillsburg veterinarian Dr. Ivan Pryor has been leading the team on Libre's care. He and his wife, according to numerous Facebook posts, have been taking Libre home with them each night so the pup has round-the-clock care.
The animal hospital posted on July 5, the day Libre was taken there for treatment, that "unfortunately, yes this is a very bad case of animal abuse/neglect." In a separate post, the hospital said they "continue to flush maggots from his wounds."
Martin has blasted Libre's rescuers and veterinarians for exaggerating the pup's condition. She said her staff veterinarian, Dr. Kelly Bergman, determined from a cellphone photo on July 2 that the puppy was "not in imminent danger" and did not require immediate care.
Pryor said in previous statements that Libre was hours from death when brought in for treatment by Janine Guido of Speranza Animal Rescue, a Mechanicsburg-based group called in to handle the situation on July 4.
Libre was listed in critical condition until Tuesday, when Pryor downgraded the puppy's condition to serious.
Martin said Tuesday she cannot prosecute the breeder without a veterinarian's testimony. Although Pryor has not been available for comment, Guido said the vet has said he is willing to testify on Libre's condition and care.
During Martin's press conference Tuesday, a dozen people — some representing other local animal rescue groups — protested outside the SPCA. Since LNP began reporting on Libre's story, the newspaper, the SPCA, Speranza Animal Rescue and Dillsburg Veterinary Center have received thousands of messages calling for Martin's resignation as shelter director.
Libre is drowsy during a visit Wednesday morning by Speranza Animal Rescue's Janine Guido.