Andrew Haas is quiet just now.  He's trying hard to get a sentence out without making what he calls "a mistake" and having to start over.
He gently presses his cheeks with his open palms to coax out the "sh" sound — one of the most frustrating blends for him. 
For most of his eight years, Andrew has been working on his speech — first with a therapist from Lancaster-Lebanon Intermediate Unit 13 in his home in Marietta, then at Our Lady of Angels,  where he attends school. He's also overcome coordination issues with the help of therapy.
---
MORE FROM OUR SERIES
Susan Baldrige and Gil Smart: Silent Menace: How to tell if you have lead in your home
Dan Marschka and Richard Hertzler: Slideshow of Photos and Video
Susan Baldrige and Gil Smart: Silent Menace: Lead can cause brain damage, maybe even crime
Susan Baldrige and Gil Smart: Silent Menace: Lead may be lurking where you don't expect it
---
Some families might assume their child was just born with difficulties. They might have written it off to bad luck or genetics. But the Haas family discovered that Andrew and two of their other seven children were accidentally exposed to lead, the number one neurotoxin in the country.
And it happened right in their own home — just like it's happening now in thousands of homes in Lancaster County, to many other unsuspecting families.
Silent but costly epidemic
Lead causes delayed language and motor skills. It can affect a child's behavior and attention span. The effects can't be reversed.
Nationally, childhood exposure to lead has decreased over the past 30 years, after lead was removed from gasoline and paint in the 1970s.
But Lancaster County still has a big lead problem.
The extent of the problem here is hard to quantify, as local children aren't systematically tested for lead poisoning, and there's no county health department to push the issue.
But much of the housing  in the county is older, and thousands of local homes might still harbor lead paint. Lead might be present in the environment, too, at and around old industrial sites.
A local partnership, the Lancaster Lead Coalition, has formed to tackle the issue. Born out of the countywide Partnership for Public Health and Lancaster General Health's Center for Wellness, the coalition is partnering with the University of Pennsylvania and has applied for a $400,000 grant, through the National Institutes for Health. The money would be used to pay for more testing for local  children and to fund lead education for families.
Problem is acute here
Lead in blood is measured in micrograms per deciliter. Even a few micrograms per deciliter can cause cognitive problems in children; higher levels between 5 and 20 are known to impact both the nervous system development and behaviors as well as affect the liver, joints and hearing and cause fatigue and vomiting. Anything approaching 60 can cause death.
State figures show  2.5 percent of Lancaster County children who were tested in 2013 had elevated blood lead levels, at least 5 micrograms per deciliter. That was the third-highest percentage among Pennsylvania's 67 counties.
In Berks and Venango counties, 3.5 percent of children tested had high lead levels. But those counties test more children — 13 percent of all children, close to the statewide average of 14 percent. By comparison, only 7 percent of Lancaster County children were tested for lead in 2013.
Members of the lead coalition said they're not sure what they'd find if more children here were tested.
Dr. Jeff Martin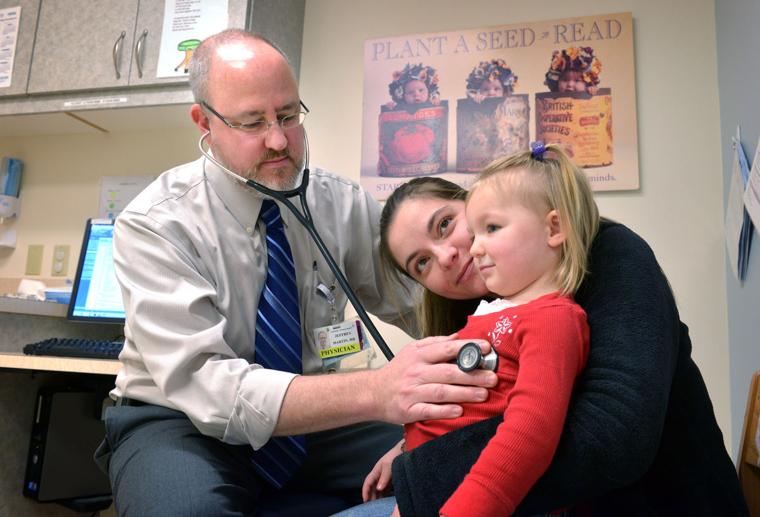 "We may catch a lot more kids with lead in their system, but we don't know that," said Dr. Jeffrey Martin, a local family physician who began worrying about lead in the mid-1990s, when he discovered an alarming number of his own patients had elevated lead levels — and the serious problems that went with it.
The Pennsylvania Department of Health's 2013 report on lead levels said 20 communities — including Lancaster city — have lead problems:
"Even though the percentage of confirmed elevated blood lead levels has decreased significantly since 2007, these cities still experience confirmed elevated blood lead levels at a rate of more than twice that of the rest of the state and 36 percent more than the state as a whole," the report stated.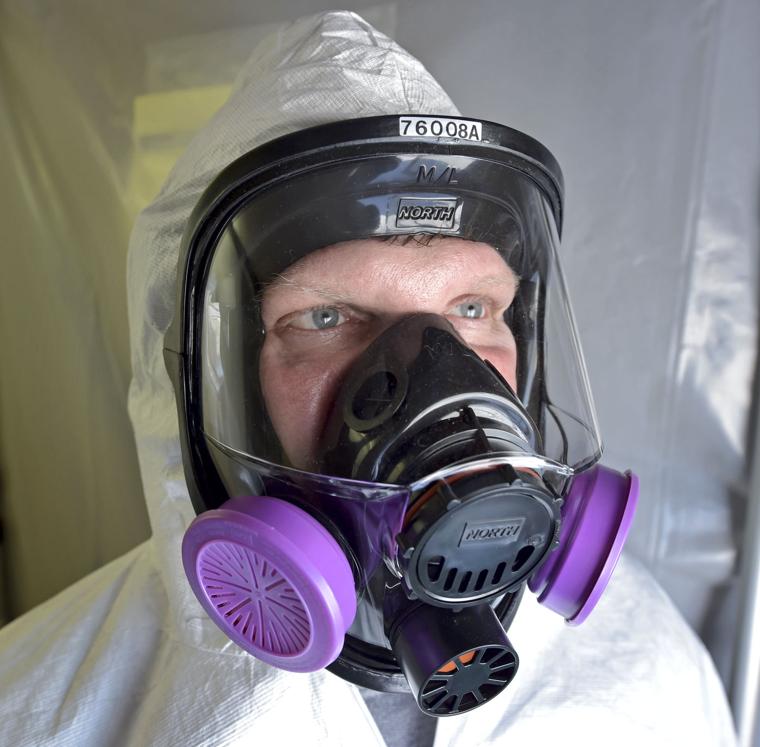 SILENT MENACE: LIVING WITH LEAD
Day One
Day Two
Day Three
The three-day series will be published on Sunday, Monday and Tuesday in LNP.
'Dramatic impact' of lead
Martin said lead can lower a child's IQ and alter his or her personality.
"For every point of elevated lead in the blood, particularly the first five points, there is a dramatic impact on a child's mental abilities," said Martin.
It's about one IQ point drop for every point of elevated lead levels, he said.
"You see overly aggressive kids and ADHD diagnosis, with raised lead levels. Kids with elevated lead levels are more likely to end up in a juvenile detention center," said Martin.
Dr. Marilyn Howarth, director of Occupational and Environmental Consultation Services at the Hospital of the University of Pennsylvania, said lead has "an insidious kind of effect":
"It's not like people are jumping up and down saying there's been a big change in my child; no one's been able to say, I know my child would have been smarter," she said.
But they can suspect.
Cherita, from Lancaster , said her 14-year-old daughter Tiana struggles with serious learning issues and has trouble focusing and remembering. "She's a slow learner, and she is on medicine for ADD (Attention Deficit Disorder)," said Cherita, who was granted partial anonymity because she doesn't want her daughter to be bullied at school.
When Tiana was 3, the girl developed a speech delay and  her lead levels were checked. She was measured at 40 — very high.
The state Department of Health tested Cherita's house and found some lead paint she had painted over. But it turned out the lead was most likely coming from Tiana's grandparents' Lancaster house.  They were doing some renovations when they watched Tiana as a toddler; Tiana may have ingested dust or chips of paint.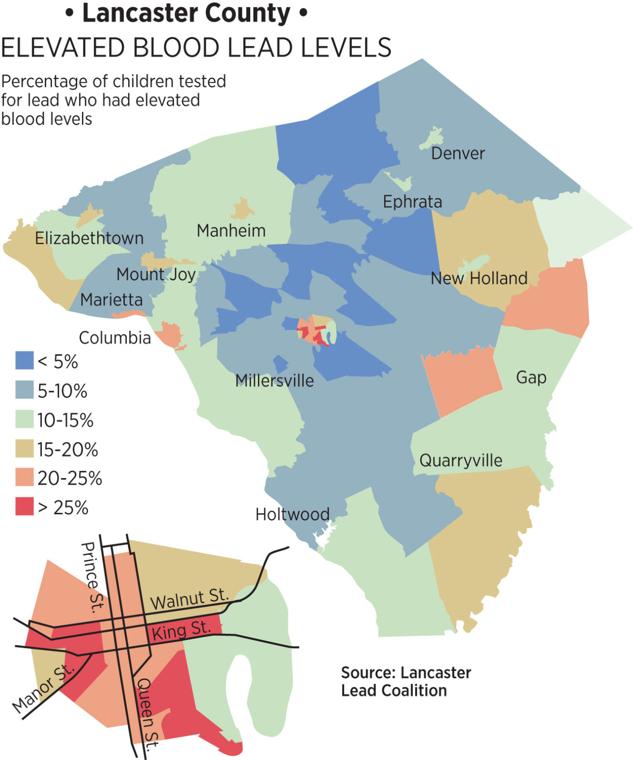 Tiana's older sibling does not share his sister's symptoms. The grandparents weren't renovating their home when they watched the older child.
Getting the lead out
Lead was added to gasoline in the early 1920s to help reduce engine knocking and boost octane ratings. By 1973, the U.S. Environmental Protection Agency had more than enough evidence of the harm lead was causing. It was slowly phased out beginning in the late 1970s into the 1980s.
Lead was added to paint to make it more durable. "Particularly with outdoor paint, people loved to use lead paint," said Howarth. "It lasts a long time."
White paint, she said, typically had the highest lead levels.
Lead paint remains on many older houses and structures. Something as benign as putting a window up and down in an old house can send tiny particles of lead into the air.  Small children who  put their hands and toys in their mouths can ingest the dust or inhale it.
Several studies link the decrease in leaded gasoline and paint to the steady decline in crime rates since then. Yet problems persist.
Andrew in his home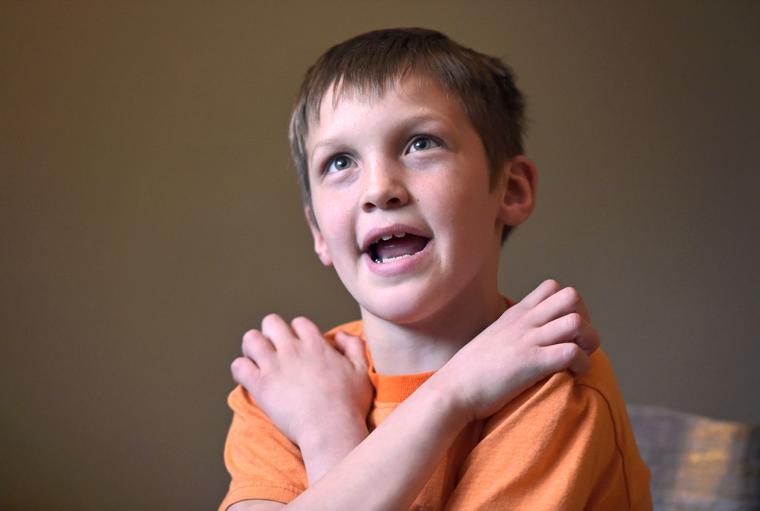 Andrew Hass's parents had no idea they were exposing their children to lead.  Rebecca is a nurse, so she knew there were some dangers of toxins and dust when the couple dove into remodeling an older home they purchased nine years ago.
She wore a mask when she and Frank were repairing the plaster and painting. She wore a mask when Frank was stripping the varnish off the beautiful oak wide-plank floors.
But she was also pregnant.
"Anytime you have an organism that is growing at a fast rate and changing, it's going to be impacted more by toxins," said Martin.  "Lead disrupts the normal neural development."
The Hasses first noticed Andrew wasn't talking around the typical age when babies are making sounds. When he did talk, they couldn't understand him.  Their family doctor suggested a routine blood test that included testing for lead.  
Andrew's first test showed he had a blood level level of 14. A second test showed it had risen to 17.
"We were scared, we didn't know anything about it," said Rebecca. "But the state, at that time (2005), was awesome. They tested the house, they came out with a machine and put it up against the paint, and tested where lead exposure was. Places that tested higher, we would repaint over."
She said the state also loaned the family a vacuum with a HEPA (high-efficiency particulate arrestance) filter and had a lead nurse visit and help the family find resources.
"I hear they don't do that anymore," Rebecca said.
In an email, Health Department spokesman Wesley Culp acknowledged  the state has changed the way it handles the problem of lead.
The state incorporated 2012 recommendations by the National Centers for Disease and Prevention that found there is no level of lead in a child's blood that is safe and the most effective intervention is to prevent exposure to lead hazards, according to the response.
EHC field supervisor Dan Kylor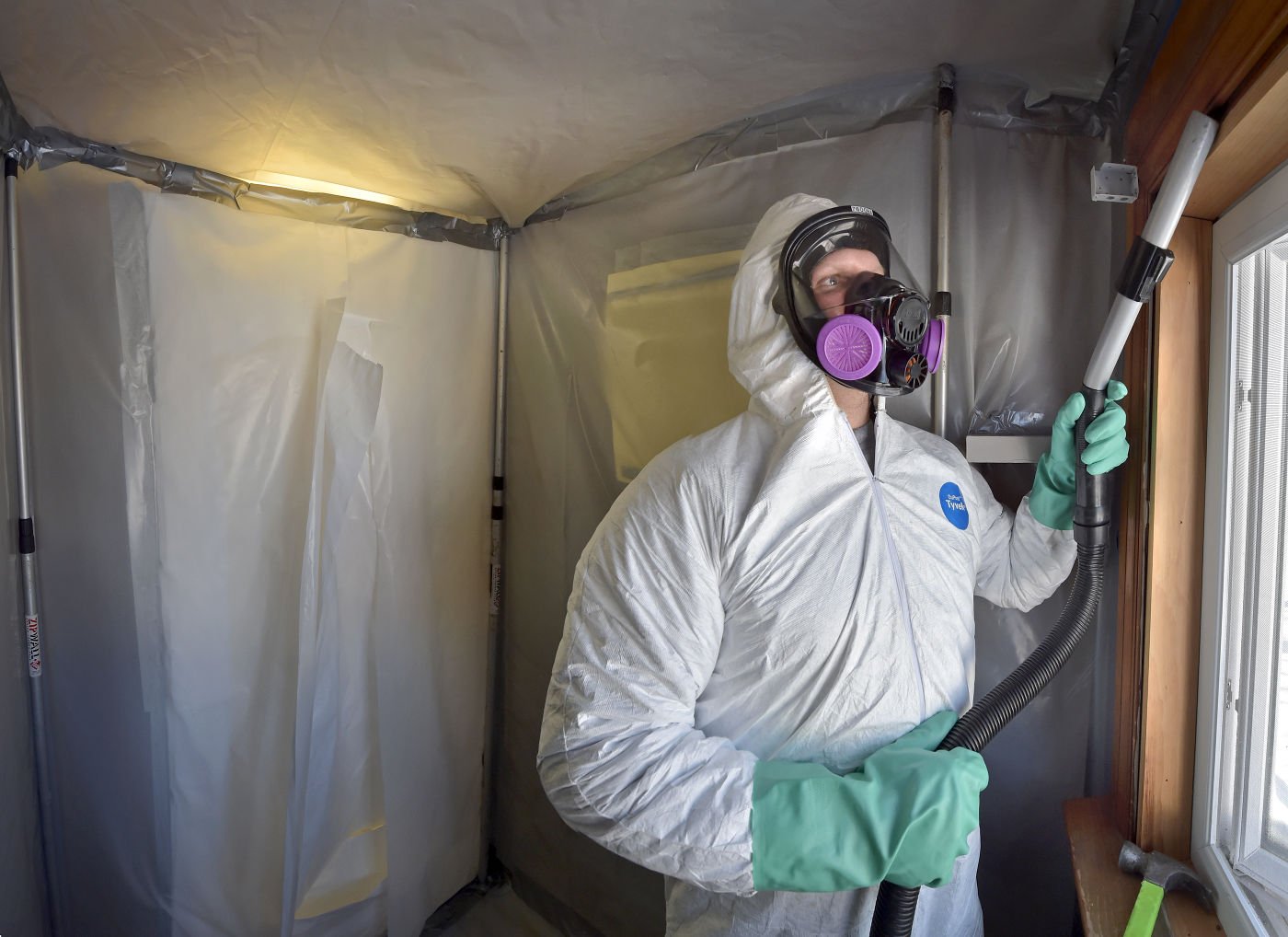 Culp said, with the CDC's guidance, the Department of Health transitioned from a reactive lead program to a  prevention program in July 2013. That approach addresses the risk factors in a home that might contribute to illness or injury and is proven to be more cost effective than addressing each risk factor individually, he said.
The state spent $3 million on the lead program in 2005 and is projected to spend $2.6 million this year.