Two local hospitals plunged into the red in their first year as part of nonprofit UPMC Pinnacle, according to the Pennsylvania Health Care Cost Containment Council.
The independent state agency's latest annual report on hospital finances shows operating losses of $13.9 million for the Lancaster city hospital that closed in February, and $6 million for the Lititz hospital.
Both had operating surpluses the previous two years — $12.6 million and $22.8 million for Lancaster in 2017 and 2016, and $8.5 million and $14.4 million respectively for Lititz.
In a written statement, UPMC Pinnacle said it has invested in upgrades but did not elaborate on whether that played a significant role the sharp drop
The Lititz hospital and system "remain financially strong," it said, "and we are committed to serving the greater Lancaster area for generations to come."
The report, which covers the year ended June 30, 2018, also shows WellSpan Ephrata Community Hospital back in the black with an operating surplus of $9.6 million. The upswing followed three years of declining surpluses and then a $45,000 shortfall last year.
The two largest hospitals in the area both posted substantial surpluses, as they have for years.
Penn Medicine's Lancaster General Hospital had an operating gain of $119.9 million, down from its record $143 million the previous year.
And Penn State Health's Milton S. Hershey Medical Center had an operating gain of $194.9 million, up from $166.7 million the previous year.
All the systems issued written statements in response to LNP's questions.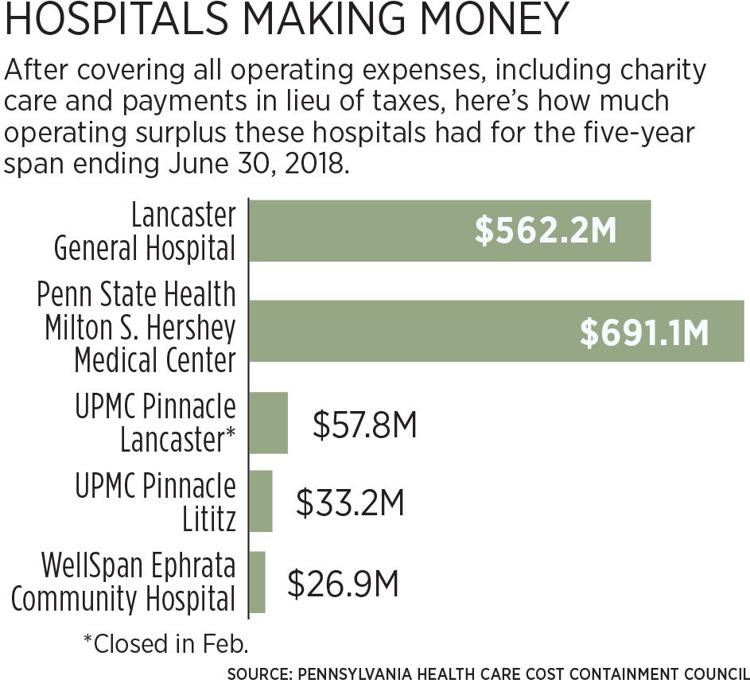 Statewide perspective
The average hospital operating margin statewide dropped slightly this year, the council report shows, to 4.8%. Total margin, which includes investment gains or losses, averaged 6.6%.
Over a three-year span, the 168 Pennsylvania hospitals split pretty neatly into thirds. One group of hospitals, especially the smaller ones, had losses; one group had surpluses of more than 8%; the remainder had surpluses of 8% or less.
Because they are nonprofits, all the local hospitals are required to use any surpluses for the community's benefit through actions like adding or improving buildings and services.
The agency defines community benefits like charity care and payments in lieu of taxes as operating expenses that don't come from surplus funds.
Rural hospitals are dying but large, not-for-profit hospitals in cities and suburbs are raking in cash, reports @bobjherman https://t.co/ehwwO1HKf9

— Anna Edney (@annaedney) May 21, 2019
Just to go one step further: I reached out to @MethodistHosp, which had one of the highest operating margins at around 10%. They talked about charity care. What they didn't say was charity care equaled just 4% of the system's revenue.

— Bob Herman (@bobjherman) May 21, 2019
Figures for specific local hospitals were as follows:
UPMC Pinnacle Lancaster
• 12.6% shortfall, below 10-year average of 7.5% surplus.
The hospital closed at the end of February, with the system consolidating its inpatient services in Lititz.
The report shows revenue down $7.6 million from the previous year, and operating expenses up $19.9 million.
UPMC Pinnacle Lititz
• 9.6% shortfall, below 10-year average of 12% surplus.
The report shows revenue down $2.5 million from the previous year, and operating expenses up $12.8 million.
The system did not answer a question about how much it invested in the Lancaster and Lititz hospitals.
It noted that the council's report doesn't show underlying factors, and that the hospital are part of the whole UPMC network.
Since it acquired the local hospitals in mid-2017, it said in its statement, there were significant upgrades to bring the facilities up to UPMC Pinnacle standards. Those upgrades included "increased staff compensation and physician coverage, electronic health record implementation" and the addition of specialty services, including interventional cardiology.
The statement said patient activity at Lititz "has exceeded our expectations, particularly in the use of our new interventional cardiology program" and emergency visits and surgeries.
Lancaster General
• 11.2% surplus, slightly above 10-year average of 11.1% surplus.
LGH's latest surplus of almost $120 million is more than the estimated $115 million cost of a major emergency department expansion its leaders are considering.
The system said it had a "modest" 4.3% overall operating margin for the fiscal year, with the hospital supporting a range of other services that are important to the community's health but not as profitable.
"What we earn here stays here, to benefit our community," the system said, noting that it expects to reinvest more than $100 million into its services each of the next five years.
WellSpan Ephrata Community Hospital
• 4.5% surplus, slightly below 10-year average of 4.7% surplus.
The system is financially strong, according to WellSpan Health senior vice president and chief financial officer Michael O'Connor, and the hospital has recovered quickly from the electronic health record system cost that factored largely in the previous operating loss.
Now, he said, it is working to optimize the system, which has already enabled online appointment scheduling and aided WellSpan's "nation-leading" efforts to reduce sepsis deaths.
The hospital has expanded advanced specialty services and made quality improvements, he said, citing its most recent rating of four out of five stars on Medicare's Hospital Compare website.
Penn State Health Milton S. Hershey Medical Center
• 11.9% surplus, above 10-year average of 9.6% surplus
Hershey Medical Center's latest surplus of almost $195 million is nearly equal to the estimated $200 million cost of the new 108-bed hospital it's building in Cumberland County.
The system noted that it makes an academic support payment each year to Penn State College of Medicine to train providers and facilitate medical research, and subtracting that brings the hospital's latest operating margin down to 9.3%.
And, while it didn't share a specific figure, it said the system-wide margin is lower than the hospital's, because of funds being reinvested across the health system.
"The remaining margin allows us to reinvest in the communities we serve in several ways, including infrastructure improvements made necessary by growing patient demand," it said, noting the expansion of the hospital's emergency department and the next-door children's hospital as examples.