Aracelis Rivera, a retired teacher from New York City, fell in love with a newly remodeled row house on Lancaster's West Vine Street and quickly made an offer.
Rivera was drawn to the shiny floors, the kitchen cabinetry and the dining room spotlights.
What Rivera didn't know was the win-win nature of the property's backstory, how a job-training crew transformed it from a condemned eyesore to a neighborhood gem that she would buy for $140,250.
The community-improvement initiative, known as CAPital Construction, has a dual mission. One is to train workers who have employment barriers, such as a criminal record. The other is to attack blight.
Program's origin
Community Action Partnership created CAPital Construction, now in its third year, as a response to needs identified in "One Good Job," the 2016 report of a mayoral commission on poverty.
Twice within two months, Kevin Polite, 34, got pulled aside at separate workplaces where he …
In partnering with other housing entities that work to improve housing stock, CAPital Construction now employs eight workers, including some who have been with it since the beginning.
In addition, CAPital Construction will soon start a pre-apprenticeship program to prepare workers for the construction industry. The goal is to train 34 workers over two years. They'll earn about $10 an hour during eight to 12 weeks of training, during which they will make facade improvements to houses and businesses.
Collaborative effort
Rivera's new home at 620 W. Vine St. is one of four in Lancaster's southwest quadrant — dubbed SoWe — that CAPital Construction has rehabilitated for sale to first-time homebuyers. A fifth, in Columbia, is expected to hit the market as early as May.
Meanwhile, three other properties are being readied for sale, and six rentals have been upgraded.
CAPital Construction contracts with organizations — including Lancaster Housing Opportunity Partnership, Lancaster Equity and the county redevelopment authority — that acquire condemned properties for rehabilitation.
"I've learned a lot," said Kevin Polite, 36, a father of four with a criminal record who has been with CAPital Construction since its beginnings in November 2017.
Under the guidance of experienced carpenters, Polite has practiced such skills as framing, drywalling, tiling, flooring and lead abatement.
"I like it all," said Polite, who earns $12 an hour and receives a comprehensive benefit package. "The pay is not great, but it allows you to be stable while you're learning. And there's the consistency of doing the work every day."
Polite's plan is to make a gradual transition to real estate investment, buying low-cost properties and rehabbing them for resale.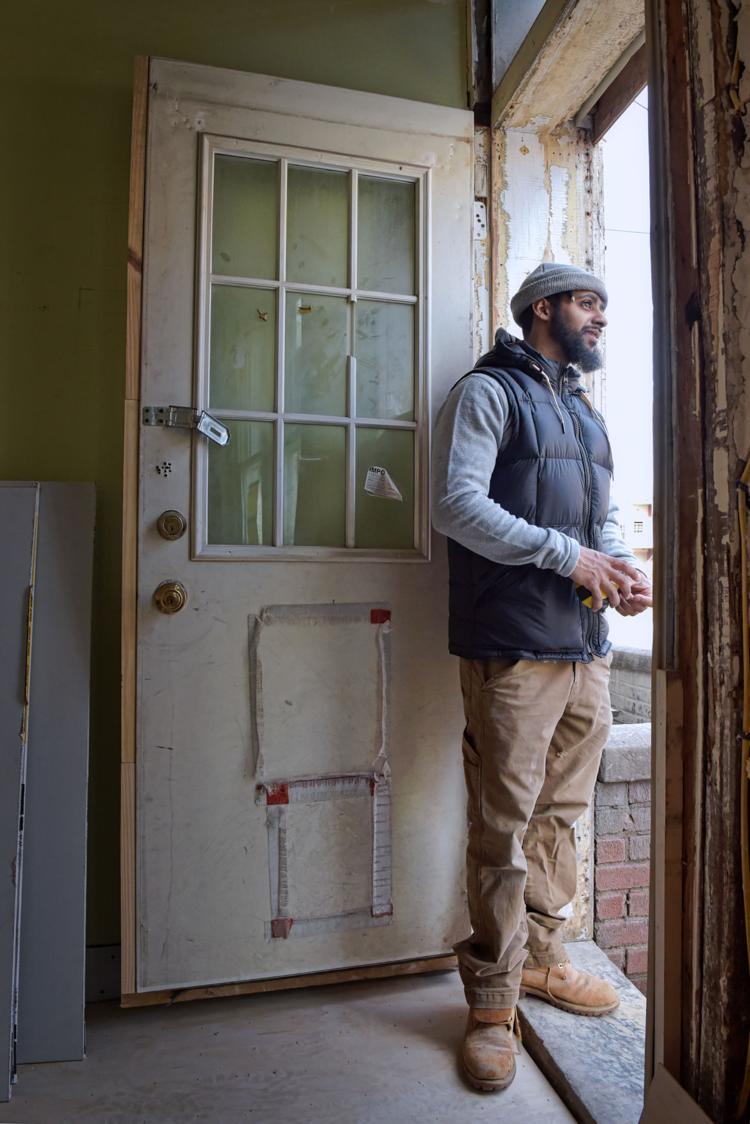 Reimagining futures
"We're working with (crew members) to reimagine their futures" and prepare for a long-term career, said Vanessa Philbert, chief impact officer at Community Action Partnership. "We're not rushing them out of the door. We want to make sure that when they're ready, they're ready."
Keith Brommer, an experienced carpenter, is the foreman for the extensive gutting and rehab of a row house at 304 Cherry St., Columbia. He likes that his classroom is an actual construction site.
If a window frame is found to be out of square, for example, Brommer turns the problem into a teachable moment. At the end of the project, a property will have new life and a family will have a home.
"To restore it and give it back to the community, it preserves the town," Brommer said. "That's why I took the job."