One is the loneliest number when it comes to school property tax increases in Lancaster County.
That's because all but one of the county's 17 school districts are raising property taxes in 2019-20, with increases ranging from 1.2% in Octorara Area, which straddles Lancaster and Chester counties, to 3.5% in Penn Manor.
Warwick, meanwhile, is sticking with its current rate.
School officials point to rising special education, pension, charter school tuition and health insurance costs as the main reasons for raising taxes. And some, like Penn Manor, also must raise revenue for major construction projects.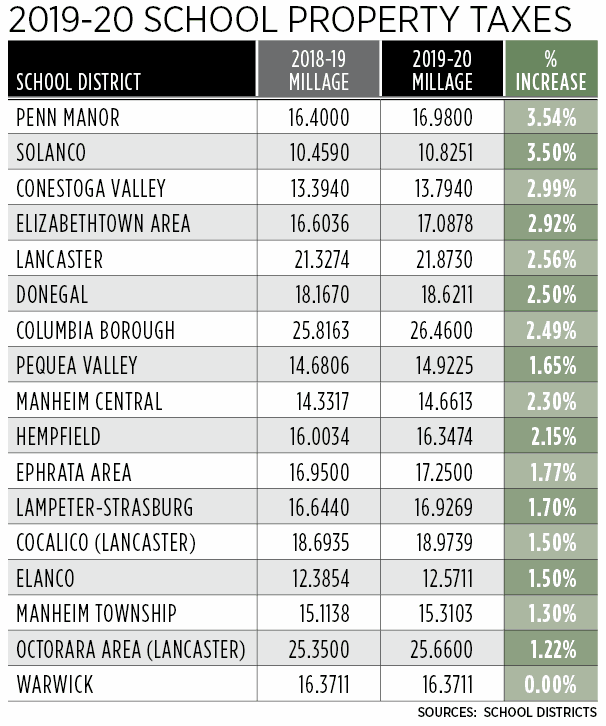 Penn Manor, which is knee-deep in a $99.9 million high school renovation and construction project, has now raised taxes over the Act 1 index for four consecutive years, starting with a 7% increase in 2016-17.
But Chris Johnston, the district's business manager, said taxpayers should feel some relief soon.
"We had to go over the index for the last time to put in place millage to cover the debt for the new high school," he said, adding that he expects to remain below the Act 1 index next year.
---
How do your school taxes compare?
Enter your property's assessed value and pick your school district to see how your school tax compares this year to a property with the same value in the other Lancaster County school districts.
---
The state releases its Act 1 index, which limits how much school districts can raise taxes, every fall. But schools can apply for an exception to pay off debt or cover increases in the local share of special education and pension costs.
School officials say the slight increase in state funding hasn't kept up with rising costs. That ultimately leaves taxpayers responsible for making up the rest.
"There really isn't revenue elsewhere to seek," Johnston said.
Solanco and Conestoga Valley, which are raising taxes by 3.5% and 3%, respectively, also received Act 1 exceptions. Both applied for exceptions based on special education costs, as the number of students requiring special services continues to skyrocket.
At Conestoga Valley, for example, special education costs have increased by $1.6 million, or 15%, from 2018-19, a budget summary on the district website states.
Warwick, meanwhile, managed to balance its budget without a tax increase.
The school district chief financial officer Nate Wertsch said the district is in "the best financial position" it's been in for years.
"The local economy has really helped the revenue side, while the district has worked hard by implementing many initiatives to control some of the bigger drivers on the expense side related to special education, cyber charter tuition, and health insurance costs," he said.