It's back to the drawing board for Buchanan Elementary School, or at least its water system.
School District of Lancaster officials approved a redesigned plan during a meeting Tuesday that enables the building to store and supply all of its own water-some 3,885 gallons worth-at an added cost of roughly $100,000.
The district plans to submit that new plan to the city water authority, hoping the third time is a charm for the Lancaster Township construction project.
Work has been delayed by several months while the project is caught up in a battle over a water tower that the city wants to build on an adjacent site.
"Because of the politics of this we've had to add fire walls … and a water tank and all the associated costs of having the architect redesign," complained board member Randy Carney. "This is a lot of money we've been pushed to spend (but) I don't see any way around it."
Redesign
The district originally planned to use city water for the new school, as it does at the current school on South West End Avenue. Recognizing capacity would be an issue, architects designed the building with fire walls instead of high-demand sprinklers — an option allowed by code.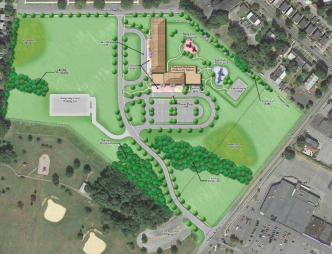 The new building would be next to Lancaster Community Park, across from Manor Shopping Center on Millersville Pike. The 63,272-square-foot building would improve accessibility, add air conditioning, security and more shared spaces.
City officials proposed placing the 113-foot, 3-million-gallon water tower a few hundred feet away on green space residents have fought hard to preserve.
Public works director Charlotte Katzenmoyer has said the tank and a new transmission line will improve capacity and pressure system-wide and especially to customers southwest of the city. It is the lowest-cost option of more than a dozen considered.
On Dec. 16, 2016, city officials ruled that they did not have enough water capacity to accommodate about 55 additional students who would be expected to fill prekindergarten classrooms at the new school.
"The City of Lancaster will be able to provide the additional capacity needed for the proposed school after Phase 3 of Large Diameter Transmission Main project has been completed," read a letter from engineer Benjamin Perwien.
School district officials have said that statement essentially holds the district's project hostage.
At odds
Facing public pressure, the city has so far declined to negotiate sale of the land needed for the water tower. Though the site is in Lancaster Township, it is owned by the district.
At contentious public meetings in March and again Nov. 2, board members questioned the city's site selection.
About 10 Lancaster Township residents attended the school board meeting Tuesday.
Kate Lutz, a spokesperson for the ad-hoc Frieds of Township Lancaster Park group, said she supported "uncoupling" the projects and having the district move forward on Buchanan.
She held that future votes against the water tower would be pro-Buchanan and pro-education because students wouldn't have the tank looming over them while in school.
There was no discussion this week about when-or even if-the school board would open negotiations on the sale of the tower site or possible revenues generated by a cellphone tower.
The district hopes to have an answer on the capacity issue within four weeks, and several members suggested previously that any conversations should wait until after that ruling is in hand.
Lancaster Mayor Rick Gray, however, has told the district that it can take the land through a public process, a valid threat in the eyes of school board president Harvey Miller.
"There could be a public taking, and then we'll have nothing to show for it," he said earlier this month.