The annual debate over cyber charter school funding is already at full-speed.
The nonprofit, nonpartisan advocacy group Education Voters of PA this week released a report that contends lowering annual tuition rates for Pennsylvania's publicly funded but privately run cyber charter schools could save school districts more than $8 million in Lancaster County and upwards of $250 million statewide.
The current method for funding cyber charter schools, which have historically offered mixed student results, is fundamentally flawed, the report states, and puts an undue burden on more reputable brick-and-mortar schools already struggling to make ends meet.
"The relief would be greatly received by our taxpayers," Eastern Lancaster County Superintendent Bob Hollister said of the proposal, "but it still isn't reflective of what our actual costs are to operate our own cyber school."
Elanco is one local school district that provides its own cyber program. Hollister said in a phone interview Thursday that it costs about $3,500 per student. That's less than one-third of what it pays for cyber charter tuition for nonspecial education students.
"This is unacceptable," Susan Spicka, executive director of Education Voters of PA, said in a statement. "… The time has come for lawmakers (to) reform Pennsylvania's charter school law so that school district payments to cyber charter schools match the actual cost of educating a child at home on a computer."
The report proposes static cyber charter tuition rates of $5,000 per student and $8,865 per special education student, basing it off of the average amount school districts pay to provide their own cyber program.
It also points out how poorly cyber charter schools have performed over the years: Not one of the state's cyber charters achieved a passing score in any of the five years the School Performance Profile, which was replaced by the Future Ready PA Index last year, was in effect.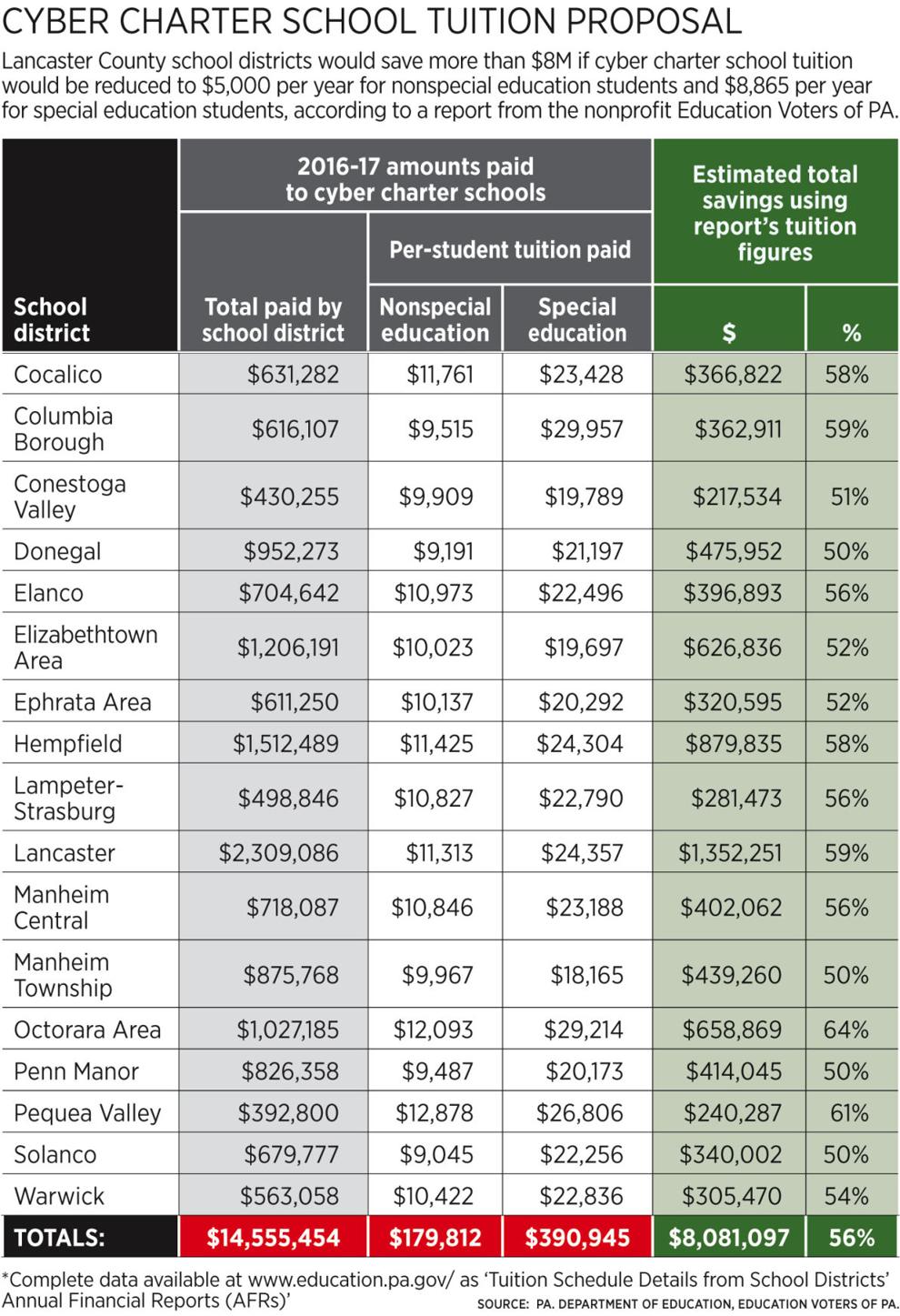 'Hidden costs'
Charter advocates such as Ana Meyers, however, say that chipping away at cyber charter school funding is the wrong way to go.
"What people fail to realize is that cyber charter schools have different expenditures than traditional brick-and-mortar schools," Meyers, executive director for the Pennsylvania Coalition of Public Charter Schools, said in a phone interview Thursday.
These "hidden costs," she said, include state testing, tech support, learning management systems and internet reimbursement and devices for students and families.
Meyers said she'd be willing to sit down with legislators to discuss charter school law reform, which has been on the radar of many lawmakers, including those in Lancaster County, for some time.
Charter school funding commission
State Sen. Ryan Aument, of Landisville, told LNP Thursday that previous comprehensive charter school reform proposals — such as House Bill 97, sponsored by state Rep. Mike Reese in the 2017-18 session — have come up short, but perhaps a different approach could prove more successful.
Aument, who chairs the Senate Education Committee, said he'd like to put in place a charter school funding commission to study the issue similar to the way a bipartisan group of lawmakers did in 2014 and 2015 for basic education funding.
"Broadly speaking, I do think the funding for cyber charter schools is an issue we have to take a look at," he said.
---
Related coverage