The Haunted Lancaster series, sponsored by LancasterHistory.org, highlighted several local small cemeteries and the stories behind them.
Readers wrote to LancasterOnline and shared their thoughts and stories on these plots that dot the Lancaster County landscape.
Here are some of their stories and thoughts:
CONOY TOWNSHIP
Some may consider it macabre to focus on historic cemeteries and you are correct to point out how living near one will give people a shiver down their spine. In and around Conoy Township, we have several small family graveyards, including the Haldeman Family graveyard along Route 441. Falmouth Village has a very beautifully maintained cemetery with some very old graves of the first settlers along the Susquehanna.
North of Falmouth, there is a field near Red Hill along Route 441 where the farmer plows around the tiny family graveyard and someone regularly tends to the growth of sumac that threatens to overtake this small plot of ground. This graveyard sits off the highway at least 400 yards, but you can see it clearly because of the border of cleared farmland which is constantly maintained. There is a very old metal fence around the perimeter, but even without a fence, I'm sure the burial ground would be respected by the property owners.
It's just what you do — it's the right thing, whether it is your family name on the grave markers or the name of the family that lived here 200 years ago. Their resting place is respected.
A little further up the road adjacent to Sunset Golf Course there is a very old graveyard with German script on the weathered headstones. Fascinating!
Katie Hershey
---
NEW DANVILLE
My husband and kids and I moved to a rented house near New Danville in 1999. It was an old stone farmhouse with barns and other out buildings. Planned to be made into a housing development eventually, so rented out meanwhile. We settled into the large six-bedroom stone farmhouse that had the date 1812 on it.
My mom said to me, "You know a lot about your father's ancestry in Gap. My ancestors were from New Danville. Why don't you look them up?" Everyone knows their father's history, but few know their mother's history, because women historically have not been valued.
Eventually, I went to the Lancaster Mennonite Historical Society to look up my mom's family history. To my great surprise, on the front cover of the book about my Shank family's history was a picture of the house we were renting! I was so totally shocked!
It turned out that many generations of my family had lived in that house.
My ancestors were born and they died in that house. And they were buried in the little cemetery by the old springhouse in the meadow.
My husband and oldest son fixed up and welded the wrought iron fence around the little cemetery that had been knocked down over the years. They reset the headstones and foot stones.
I was especially touched by the three young children in one family who died within two days — typhoid or cholera. How heartbreaking for the parents.
— Valerie Clare Walker Peery
---
STRASBURG
The Eckman-Kunkle cemetery is located on Sawmill Road, off of May Post Office Road in Strasburg Township. My great grandmother was Catherine Kunkle and her relatives were Kunkles, Eckmans and Sides, all buried there. I have been there a number of years ago.
I was surprised to learn that the Worths have a long line of Quaker lineage, dating back to Thomas Worth, who sailed from England with William Penn. Many of those relatives are buried at Bradford Meetinghouse in Marshallton, Chester County. I have not visited there yet, I had no idea until a few months ago. I have a strong need to make a pilgrimage.
I knew who my great grandfather was, Benjamin Franklin Worth, but I had a difficult time finding who his father was, until Kevin Shue at the Lancaster Historical Society found Benjamin's death certificate and it listed his father as Ephraim.
—Bob Worth
---

STRASBURG
There is a cemetery on Twin Elm Road, Strasburg Township. It is very old, and has two Civil War captains buried there — Captain Jefferson Neff and his brother Captain Aldus Neff. Both men perished in the war. They have two monuments standing dedicated to the brothers.
It is known as the Brackbill/Barr/Neff Cemetery. Was the original cemetery for the Longenecker Mennonite Church on Strasburg Pike.
—Susan Hall, Strasburg
---
EPHRATA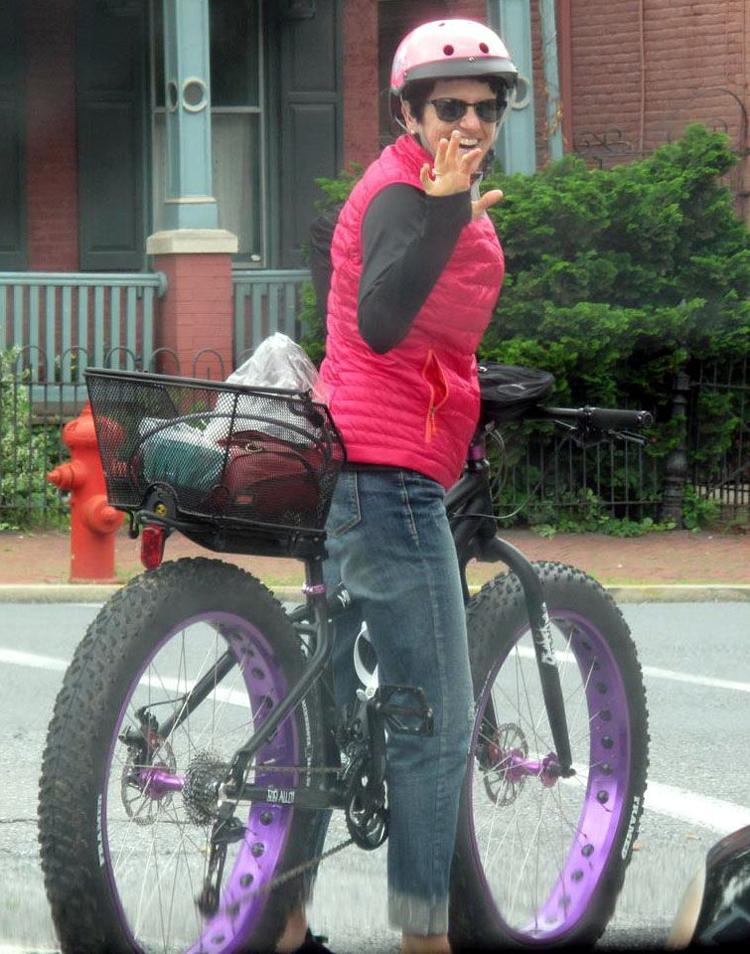 Last fall I shattered my kneecap, to help with rehab I got a fat tire bike, named her Iris and took off on adventures looking for dirt roads and finding old things. An old family graveyard became my first destination.
The Keller Graveyard, near Ephrata, was a place I had wanted to go see all my growing up but, life was moving too fast. This past spring, I went to ask the farmer's permission to go see where my mother's family was buried.
And so it has begun, I use findagrave.com to track down other destinations and load up my bike, Iris, on the car, if I must, and head out to the country to go find things.
—Susan Gottleib
---
MILLER-BURNS-SUMMY CEMETERY IN SPORTING HILL
Would love to know more about the history of this cemetery, who all may be buried there or who owned the farm. I saw the barn and it was dated 1799 in the upper right hand corner. I believe there are several generations of Summy's buried there. I am a descendant of Joseph Summy, my grandfather. His father, John Summy, who died in 1828, is supposedly buried there.
—Nancy Spangler Webster
---
My family comes from Centre County.
I come from a British Baronet who ended up in Philadelphia in 1824 as an indentured servant after he has kidnapped in London, England. The American Revolutionary War separated the Old Baronet from his large family. Two sons fought with the Colonists.
The youngest son, Sgt. Lawrence Bathurst (my direct forefather), moved to Centre County just before 1800 and settled in Boggs Township.
The family worked for the Curtin Family at its Iron Forge Plantation. One of Lawrence's desendents (I think a granddaughter) married Austin Curtin, the eldest son of Roland Curtin, owner of the Iron Plantation.
The Curtin United Methodist Church Cemetery, near the iron forge, is full of Bathurst ancestors that are related to me.
Lawrence, the Revolutionary War soldier, is buried there. Across the road and up the hill from the church is Eagle Cemetery. That has a lot of my ancestors buried there. And the Curtin Family has plots there also.
Roland and Rebecca (Bathurst) Curtin are buried in Eagle Cemetery. l have distant relatives living here in Lancaster County that do not know that we are related.
My ancestors have fought in the Wars of the Roses and sided with the House of Lancaster. The House of Lancaster lost the war and later on the Bathurst Castle was destroyed.
—Craig Bathurst, Manheim Township