UPDATE: WATCH THE INSTITUTE FOR JUSTICE NEWS CONFERENCE FOR DETAILS.
Institute for Justice, a national public-interest law firm, plans to announce today that it is representing LNP Media Group in its open-records battle with Lancaster County's district attorney over cash and property seized during drug investigations.
District Attorney Craig Stedman has appealed to Lancaster County Court in defense of his refusal to release civil asset forfeiture records LNP reporter Carter Walker sought in a Right-to-Know Law request last September.
On a sunny summer afternoon in 2017, District Attorney Craig Stedman joined dozens of legisl…
The state Office of Open Records ruled in LNP's favor in January, and Stedman appealed to county court, contending that the state Forfeiture Act shields expenditure records from disclosure.
The nonprofit, libertarian-leaning Institute for Justice decided to take on the case at no charge as part of its national campaign to reform civil asset forfeiture.
Its attorneys won a case earlier this year before the U.S. Supreme Court on behalf of a man whose Land Rover was seized after he sold a small amount of heroin to undercover police.
"The Institute for Justice's representation will help our efforts to bring transparency and openness to a corner of government that is seeking to deprive citizens of their right to access," said Robert M. Krasne, chief executive officer for Steinman Communications, publisher of LNP and LancasterOnline. "With the assistance of the Institute for Justice, I am confident that we will see the ruling in favor of disclosure, issued by the Office of Open Records, affirmed by our judicial system."
---
Priorities questioned
The Institute for Justice contends that Pennsylvania has one of the worst civil asset forfeiture laws in the country.
Not only can law enforcement take the property of people not charged with a crime, prosecutors don't have to disclose audits of their spending of the proceeds, said Jennifer McDonald, a senior researcher for the Arlington, Virginia-based firm.
District Attorney Craig Stedman says no one in county government — not his finance clerk, no…
"The only way to get detailed information like the average amount of cash seized or exactly what they are spending the proceeds on is to get the county-level records," McDonald said. "For us to get these records from the district attorney will paint a picture of what's going in Pennsylvania more broadly."
The Institute for Justice says allowing prosecutors to use forfeiture proceeds to fund their operations distorts law enforcement's priorities and behavior.
"They can spend it on salaries, overtime and equipment the state and county wouldn't otherwise authorize in their budget," McDonald said. "It creates an incentive for them to seek revenue when the incentive should be solving crimes and keeping people safe."
---
Weak transparency
A report by the law firm says Pennsylvania's forfeiture reporting requirements provide limited transparency.
Counties are required to send annual reports of forfeitures and forfeiture fund expenditures to the state attorney general, but the reports fail to specify what assets are forfeited.
In addition, the reports are not online, requiring the public to file open-records requests.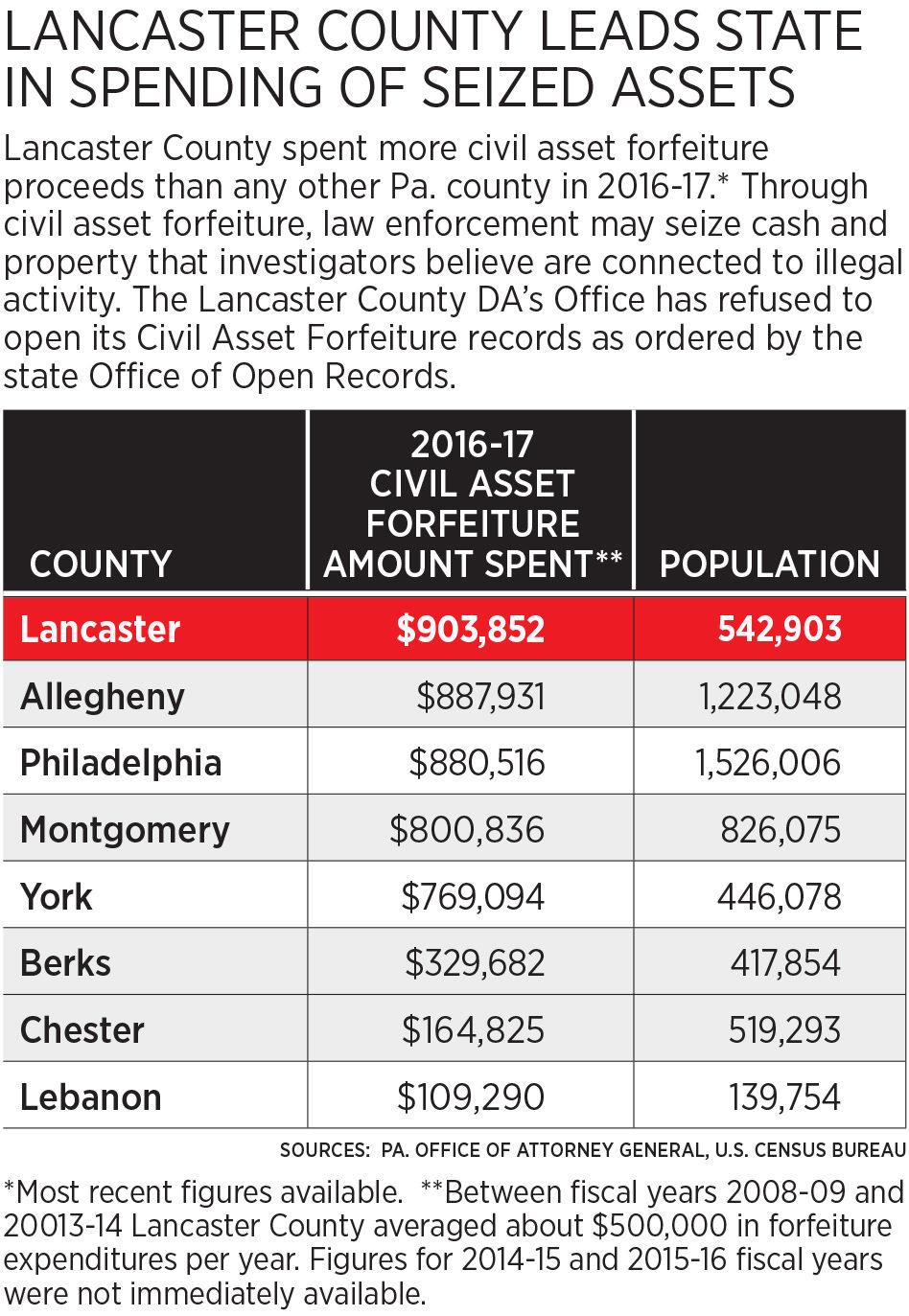 The attorney general's data for 2016-17, the most recent available, shows that Lancaster County seized $237,656 in cash and a total of 242 items of property, including 16 vehicles. It generated $93,774 from sales of forfeited property, and spent $903,852, drawing from proceeds from previous years. The county's spending was the most of any Pennsylvania county that year.
Institute for Justice is advocating for states to eliminate civil asset forfeiture and to allow only for criminal forfeiture, under which law enforcement may seize assets after a conviction.
"You have to be charged and convicted, and then law enforcement can keep the proceeds," said Kirby West, an Institute for Justice attorney. "Because criminal forfeiture exists, civil forfeiture is unnecessary."
Judge Leonard G. Brown III is hearing the case. His first action will be to decide whether to allow the Lancaster County commissioners to join the case. The commissioners concur with LNP that at least some of the forfeiture records should be disclosed.
---
Related articles