The wave of Lancaster County parents objecting to state-mandated tests continued to swell in 2016.
The number of local students who were opted out of the Pennsylvania System of Standardized Assessment exams this year surged to almost 700. Just three years ago, there were 15.
A local opt-out advocate applauded those figures, and school officials here said they weren't surprised by the increases, which come amid several years of nationwide backlash against standardized testing.
---
RELATED: LancasterOnline's complete coverage of standardized testing
---
Under Pennsylvania law, parents can opt their children out of state tests based on a religious exception. Many who do so say they disapprove of the amount of testing in public schools and the degree of stress it places on children.
PSSA opt-outs doubled statewide this year, reaching more than 7,500 for math and language arts.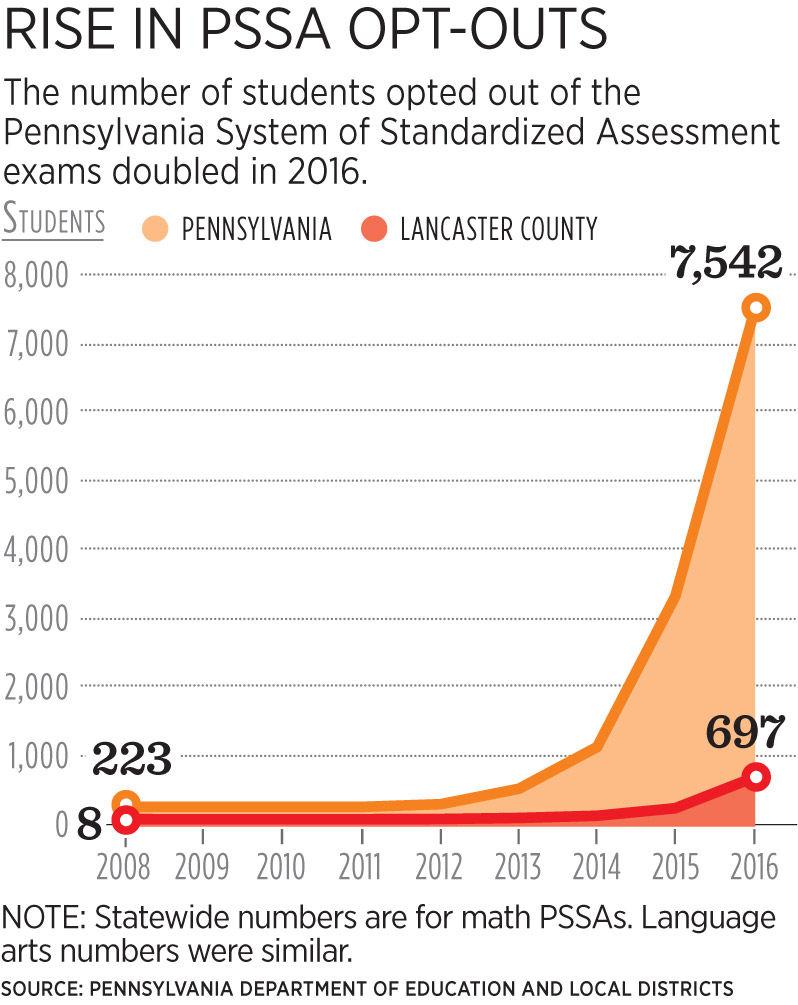 At most local schools, opt-outs represent less than 5 percent of test-takers, but if the trend continues, it could call into question the significance of the test results, according to some school leaders.
Test scores make up the bulk of the state's rating system for schools, called School Performance Profiles, and also play a role in teachers' job evaluations.
During PSSA testing this spring, administrators across the state discussed opt-outs amongst each other, said Cocalico Superintendent Bruce Sensenig.
"The questions being asked are: how valid are the actual results if large numbers of students are missing? Will it truly measure school performance?" Sensenig said in April.
For Manheim Township parent Renee Heller, those questions are a sign of success, not a cause for concern.
Heller has opted her children out of state tests since 2013. She is a co-founder of Lancaster County Opt Out, a group that shares information on the process through social media and in-person meetings.
"Our goal at Lancaster County Opt Out has always been the same: to let parents know they have options," Heller said Thursday. "Obviously, word is getting out."
Push back
In some places, administrators  are pushing back on opt-out. In April, a School District of Lancaster official called some parents about the issue, and a principal dissuaded two parents from their decision, LNP reported previously.
But elsewhere, administrators said opt-outs is out of their hands.
"That's a right. We don't fight that," said Manheim Central Assistant Superintendent Peter Aiken.
In his district, opt-outs spiked to 62 this year, compared with 10 in 2015.
Penn Manor and Hempfield school districts had the highest numbers of opt-outs for 2016 with both hitting above 90.
Those numbers only account for parents who followed the formal process citing religious reasons. Some parents or students also just refuse the tests, said Penn Manor Assistant Superintendent Jerry Egan.
Statewide opt-outs accounted for just under 1 percent of test-takers in math and language arts. Science opt-outs were just above 1 percent.