A fight over payment for work on the Atlantic Sunrise gas pipeline made its way to the mailboxes of Lancaster County residents who own land the pipeline crosses.
Some local landowners along the Atlantic Sunrise gas pipeline are expressing surprise and concern about letters warning that liens might be placed on their properties.
Several said they received certified letters in the last few days that were formal notice of intent to file liens against their property if Michigan-based MacAllister Machinery Co. Inc. does not receive timely payment of about $1.02 million it asserts it is owed by Welded Construction LP, which was the main contractor on the project.
Jeff Kann of Conestoga said he never wanted the pipeline, which  crosses about half an acre of his pasture land, and was surprised and concerned to receive the letters.
"They can come and take the pipe any day they want it," he said.
But, he added, he's seeking advice because "I don't think a mortgage company would refinance me with a lien against my property."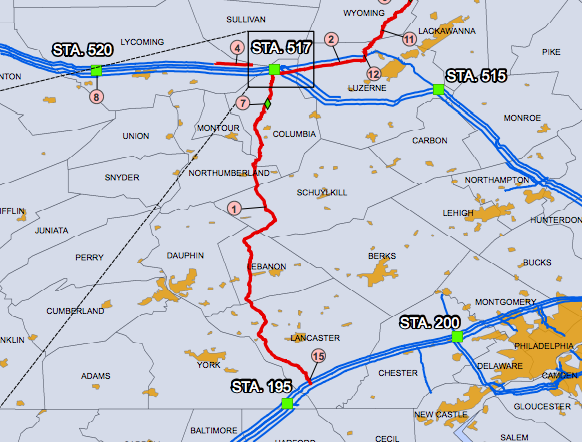 The letters indicated the liens would be filed under the Mechanics' Lien Law, which allows unpaid contractors, subcontractors and suppliers to recover payment for work done by filing liens against the owners of properties where "improvements" had been made.
The pipeline crosses 250 properties across 37 miles in the western part of the county. It was not clear if all of those property owners received letters, because Harpst Ross Becker, an Ohio-based law firm that sent the letters, did not return phone and email messages Monday morning.
The Adorers of the Blood of Christ  are Roman Catholic nuns near Columbia who unsuccessfully sued to stop the pipeline crossing their property. Dwight Yoder, a Lititz attorney representing them, confirmed Monday that they had received the letters warning of liens.
Pipeline owner disputes move
Chris Stockton is spokesman for Atlantic Sunrise owner Williams Partners.
"It is our position that subcontractors do not have any right or legal ability to lien these properties," he wrote in an email Monday.
Stockton noted that Williams required Welded to procure a roughly $450 million bond before the project started, to help protect subcontractors and suppliers.
"Many subcontractors have already reconciled claims made with the bond surety, Federal Insurance Company," he wrote. "Those claims can be processed once the subcontractor makes direct contact with the surety and follows the proper claims process."
Any laborers and service providers unaware of the appropriate steps to follow or need help in the process can reach out to Williams at atlanticsunrise@williams.com, he wrote.
Similar situation was resolved
In December, LNP reported on a similar situation in Berks County involving a similar threat of liens from a Minnesota company that said Welded hadn't paid it for work on the Mariner East Pipeline.
Shortly thereafter, the owner of that pipeline said the situation had been resolved and landowners should expect follow-up letters to the lien notices.
Welded Construction was the main contractor on both the Atlantic Sunrise and Sunoco Marin East pipelines.
It declared bankruptcy in October after the owners of both pipelines refused to pay Welded. Williams Partners claimed Welded breached its contract on the Atlantic Sunrise, and Sunoco charges that Welded failed to comply with environmental regulations on Mariner East.
Derek Dissinger, an attorney who is a partner in Barley Snyder's Lancaster office, said the prospect of mechanics' liens is a powerful tool to start the process of getting claims paid, and that resolution before liens go into effect is pretty common.
Liens can't be filed until at least 30 days after notice of intent is sent, he said, and to date there is no definitive Pennsylvania ruling on exactly how a lien would work on a case like this involving private property with an easement.