A citizen's tip led police to a 16-year-old city boy accused in the killing early Monday of a sixth-grade teacher in her Lancaster city home.
The tip came in through Lancaster City/County Crimestoppers Monday evening.
UPDATE: Teen told police accomplice killed 6th grade teacher, fled with her car
Three hours later, around 9:30 p.m., Marcus Anthony Rutter was taken into custody by detectives who spotted him walking in the 600 block of East Marion Street.
Authorities said they are still looking into the possibility that Rutter had an accomplice in the robbery and killing of Nicole Mathewson, 32, who was found dead in her home at 710 N. Franklin St. Monday morning.
Police Chief Keith Sadler, when asked if officials know the name of the alleged co-conspirator, said that while Rutter has been intensely interviewed, police don't want to "jump the gun" in case he's intentionally attempting to mislead them.
Asked about the possibility that Rutter acted alone, Lancaster County District Attorney Craig Stedman said, "The evidence is consistent that someone — at least one other person is involved but we can't make that conclusion at this point in time."
Investigators, so far, have found no connection between Mathewson and the suspect, Stedman said at a press conference Tuesday afternoon.
The motive, he said, was burglary.
Mathewson was found dead by a friend who went to check on her just after 9 a.m.
The friend had been contacted by Conestoga Valley School District officials, who became concerned when Mathewson failed to arrive for work at Brownstown Elementary School.
She died of "multiple traumatic injuries," Lancaster County Coroner Dr. Stephen Diamantoni said after an autopsy on Tuesday.
Stedman declined to discuss details of how Mathewson was killed but said it's "appalling, I will tell you that."
"It's an absolutely devastating crime," he said. "It's grisly."
He said officials want to talk to Mathewson's family before releasing additional details of her death.
Stedman declined Tuesday night to say if Mathewson was asleep when her home was broken into or if there was evidence to suggest she confronted the suspects.
He also declined to say if she was sexually assaulted.
Stedman explained earlier at the press conference that investigators are at the "sensitive part of the case" and have made the decision to withhold certain information at this time.
Rutter, who lives in the 700 block of East Marion Street, was arraigned Tuesday morning on charges of criminal homicide, burglary, criminal conspiracy to commit burglary and robbery.
He was arraigned before District Judge John C. Winters, and was sent to Lancaster County Prison without bail.
Rutter emerged from Winters' office wearing a white T-shirt with a green palm tree set against a pink background on the front.
He was shackled at his hands and feet, and was led by the arm by an officer to a city patrol car.
According to a police affidavit, Rutter admitted he and an accomplice went to Mathewson's house to burglarize it.
He also told police "that he and his co-conspirator applied force to Nicole Mathewson while in the process of stealing multiple items from her home," and that "Mathewson died as the result of the force applied during the act of burglary."
Image: Affidavit Against Marcus Rutter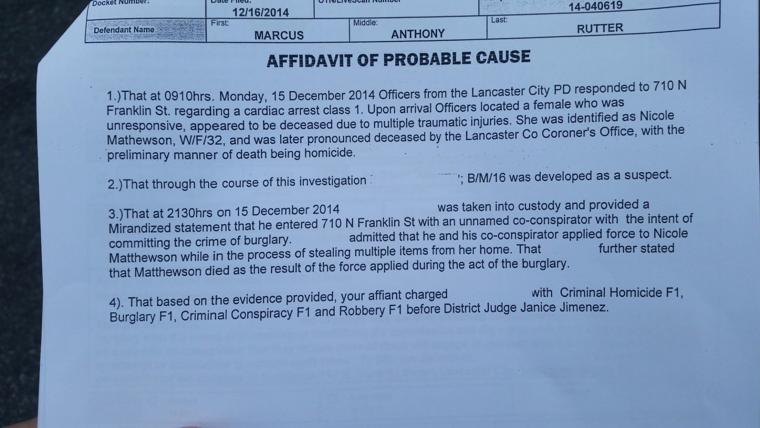 Shortly after police arrived at Mathewson's home, a message was broadcast over the county's emergency radio system urging authorities to be on the lookout for Mathewson's car, which was reported to have been "stolen during a homicide."
City police said Tuesday the black 2005 Mazda 3 had been found. They declined to say where or how it was located.
Rutter apparently had been following news reports about the homicide prior to his arrest. He "liked" a Facebook post by LancasterOnline.com about the case, which was put on the page around 7 p.m. Monday.
According to a neighbor, Rutter lives with his parents and sister in a modest townhouse on East Marion Street.
A man who answered the door at Rutter's home declined to speak to a reporter Tuesday.
The house sits in a quiet block of neat rowhomes about six blocks from McCaskey High School, where Rutter is a junior. He played on the football team.
The team roster for this year listed Rutter as a 6-foot, 3-inch, 200-pound tight end and linebacker.
Rutter also reportedly was enrolled in McCaskey's ROTC program.
Jason Pagan, who lives in a townhome connected to Rutter's, was shocked when informed by a reporter Tuesday of Rutter's arrest.
"My heart is just pounding, I can't believe this," he said. "He's so young. I see him all the time."
Pagan said he never would have suspected Rutter might be capable of killing someone.
And Rutter's arrest made him feel uneasy.
"I mean, I would let him in my house if he wanted to use the computer or something, because I knew him," Pagan said. "I know his family.
"But I have little kids in there."
Over and over, Pagan kept saying "He's so young," as he talked about Rutter and the brutal crime he's accused of committing.
"Some people just don't know how good they have it until it's gone,' he said.
A School District of Lancaster spokesperson refused to provide any information about Rutter's student activities.
The district did release the following statement:
"We are deeply saddened by this tragedy which impacts the entire Lancaster community.
"We will cooperate fully with police and focus on the well-being of our students and staff by having counselors available on-site."
Anyone with information about Mathewson's murder is asked to contact city police at 735-3300. Tipsters also may call Lancaster City/County Crime Stoppers at 1-800-322-1913 or anonymously text LANCS plus a message to 847411 (TIP411).
WATCH: Police press conference