It was only four years ago when one Lancaster County school made the U.S. News & World Report's annual Best High Schools list.
Now, according to the magazine, Lancaster County is home to 10 of the best high schools in the nation — a record high since the publication began publishing rankings in 2007, newspaper records show.
Penn Manor was the county's top-ranked school for the fourth straight year. The 1,713-student school ranked 36th in the state and 1,335th in the country.
Of the students who took the math and English Pennsylvania System of School Assessments last year, 82 percent and 85 percent, respectively, scored proficient or advanced.
The school also touts a 96 percent four-year graduation rate.
Coming in between 50 and 100 were Manheim Township (51), Pequea Valley (60), Warwick (69), Cocalico (77), Manheim Central (78), Lampeter-Strasburg (84) and Ephrata (88) high schools.
Hempfield came in at 118 and Conestoga Valley at 134.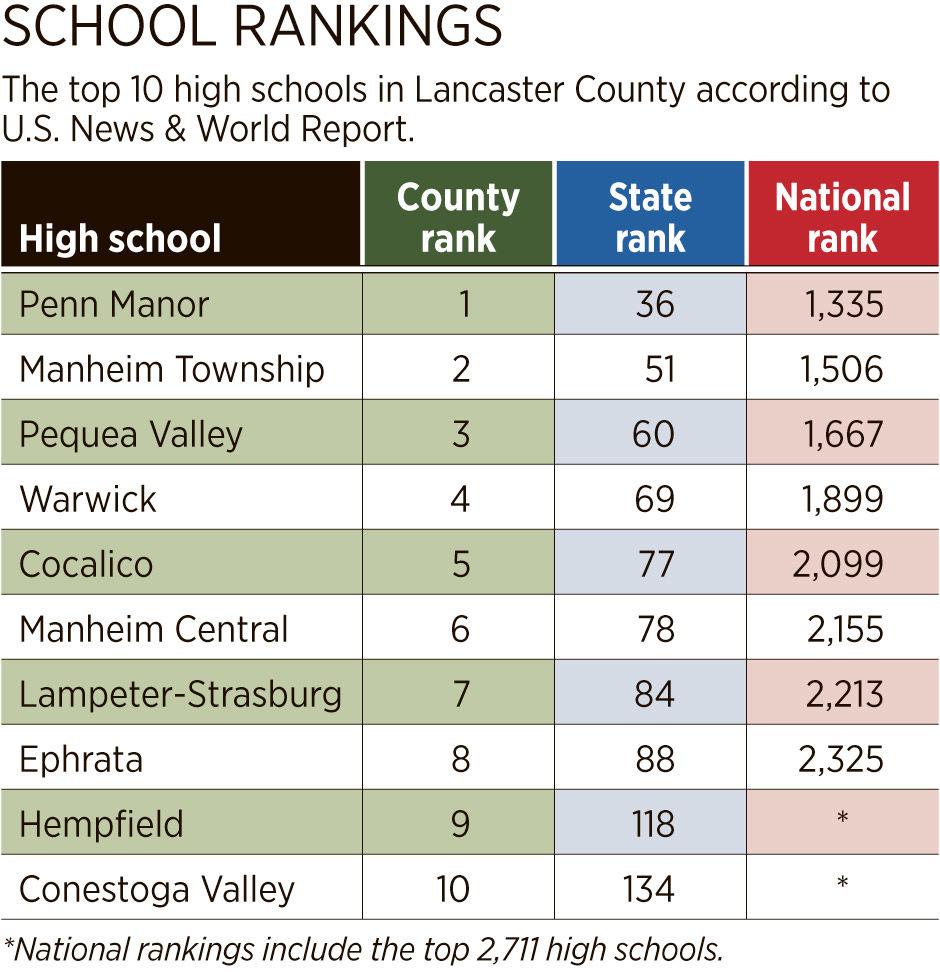 Warwick and Manheim Central — neither of which was ranked in 2017 — made the biggest jumps this year.
Pennsylvania, as a whole, tied for 14th of 50 states plus District of Columbia with 107, or 15.8 percent, of 677 eligible schools earning gold and silver medals.
The state ranked 16th in average graduation rate among its medaled high schools with 94.1 percent.
U.S. News compiles a list of the nation's best high schools every year based on college readiness. It examines state reading and mathematics scores, graduation rates and participation and success in advanced placement and international baccalaureate exams. Also factored in is each school's proportion of economically disadvantaged students whose test results typically fall below average.
A college readiness index is then calculated based on the magazine's findings. The top 500 schools in the nation receive gold medals, 2,010 receive silver medals and 3,236 schools earned bronze medals.
Penn Manor, Manheim Township, Pequea Valley, Warwick, Cocalico, Manheim Central, Lampeter-Strasburg and Ephrata high schools earned silver medals.
Hempfield and Conestoga Valley high schools earned bronze medals.
---