Have you memorized the periodic table by heart? Could you solve a problem using the Pythagorean theorem? How about spelling the word onomatopoeia?
While that deserves credit, Penn Manor School District personnel say that's just one piece of the puzzle to finding success in the workplace.
That's why Penn Manor has partnered with local business representatives, the Lancaster County Workforce Development Board and CareerLink of Lancaster County to create the Comet Credential program, which officially began Wednesday.
The first of its kind in Pennsylvania, district officials said, the initiative is designed to teach students the "soft skills" necessary for succeeding in the modern workplace — skills such as time management, communication, decision-making and writing.
Honing these skills, Penn Manor High School guidance counselor Melissa Ostrowski said, "sets you apart. It makes you special. And that's what you want to be in the marketplace and in your classroom."
The entire freshmen class — roughly 400 students — will complete online courses throughout the year during homerooms and allotted testing times. After each completed course, students receive a credential, which students could add to their resume or LinkedIn page, Ostrowski said.
In total, it will take about 23 hours to complete every course, although finishing the entire program isn't required, Ostrowski said.
The district is using a $5,000 career readiness mini-grant from the Pennsylvania Department of Labor & Industry to create incentives and other additions to the program.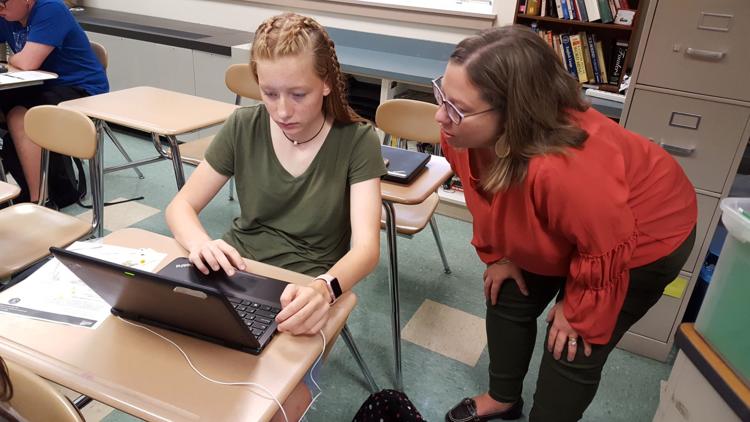 Created by Metrix Learning, the online modules take about 20 to 40 minutes to complete, Ostrowski said. Students must pass a test to complete each module. The course catalog, which many companies have used for their own employees, includes about 4,500 courses. For Penn Manor's program, only 46 were chosen; however, Ostrowski said she's open to adding more if it fits a student's needs.
About an hour into Wednesday's official rollout, Ostrowski received an email from a student who questioned the program's purpose. The student said his courses seemed to be curated too heavily toward business careers.
"If it's going to make a kid disengaged, then we'll need to modify," Ostrowski said. "We need to take feedback. If they don't like it, we gotta figure out a way that will make it work."
Carly Wall, a 14-year-old working in English teacher Maryann Saylor's homeroom, said she also was irritated when she first learned about the program. But after she got started, she realized how beneficial it could be.
"I think this will benefit everyone," she said. "It's stuff that you don't really think about, but it could really help you in your career."
Superintendent Mike Leichliter said he hopes the Comet Credential program can give Penn Manor students a "leg up" when applying and interviewing for jobs. Perhaps, he added, it could be a model for other school districts to follow, despite many already being at the forefront of innovation.
"We're not blazing brand new territory," he said. "I think all Lancaster County schools are on the cutting edge in making all of our students marketable."
According to the Lancaster County Workforce Development Board, at least three school districts — Eastern Lancaster County, Elizabethtown Area and Pequea Valley — have inquired about the program since Penn Manor introduced it.