State regulators have been fining nursing homes a lot more frequently in the last few years, new state data show.
But even so, the eight fines totaling $147,250 levied on seven Lancaster County homes in 2018 amounted to only a year or so of annual fees for one private room.
Pennsylvania Health Care Association puts those annual fees at $69,500 to $135,000 and says they vary by region across the state.
In 2017, fines totaling $23,000 were levied on two local homes, and a third was sanctioned without being fined, records show.
The fines are tied to serious problems reported in inspections conducted by the Pennsylvania Department of Health.
Department spokesman Nate Wardle said in an email that previously it didn't issue fines on a per-day basis, but is doing so now "to ensure nursing home operators are providing safe care."
"Sanctions," he wrote, "are meant to bring about change."
Response from industry
Industry leaders have argued that fines can make things worse for residents, by decreasing resources in an industry stressed by losing money on large numbers of Medicaid residents because reimbursements haven't nearly kept up with inflation.
They have argued for more direct action against homes that routinely provide substandard care, to close them or put them under better management.
According to Wardle, the department is allowed to use money from fines to pay temporary management; keep a home operating while it's being given a chance to correct deficiencies; relocate residents; and reimburse residents for misappropriated personal needs allowance.
By the numbers
Statewide, the department reported conducting 4,716 inspections in 2018 and imposing sanctions 169 times, including 167 involving fines totaling more than $2.3 million.
Inspection reports become public 41 days or more after they're conducted. Those released in January showed 504 inspections at 315 homes, 295 of them because of complaints, and 43 sanctions with fines totaling more than $706,000, according to the department.
LNP regularly compiles and publishes overviews of those reports.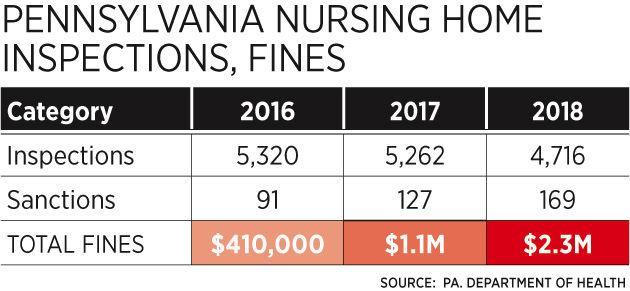 Several of the fines on Lancaster County homes in late 2018 were tied to inspections conducted in early 2017. Asked about the lag, Wardle wrote that the department conducts a thorough review, "which can take what might seem to be an extended amount of time."
"The department has been working diligently over the past several months to ensure that our sanctions are issued in a more timely manner and that information is made available to the public in that same timely manner," he wrote.
The Pennsylvania Auditor General's office is currently following up on a 2016 audit in which it criticized the department's oversight of nursing homes that care for thousands of vulnerable residents. The department quickly reversed a 2012 decision to stop accepting anonymous complaints and stepped up use of financial penalties and other sanctions.
Statewide, there were 5,320 inspections, 91 sanctions and fines totaling more than $410,000 in 2016, according to Wardle, and 5,262 inspections, 127 sanctions and fines totaling nearly $1.1 million in 2017.