Eboni Naval's three young boys were stacking toys on the floor in their Poplar Street home in Lancaster in the summer of 2016, unaware of the danger they were in.
Lead tests done the week before showed "extremely high" levels of lead on nearly every surface of the rented home.
A blood test taken on the youngest, Jamar, not yet 2 years old, showed his lead level was twice as high as the Centers for Disease Control and Protection uses as a threshold for public health action.
And while Rodzell, 4, and Jyair, 6, had not been tested, they were showing symptoms associated with lead poisoning — short attention spans, delayed speech and behavior problems, according to their mother.
Yet, the family continued to live in the house, in the lead conditions, for more than a year until the house was cleared by the city in mid-October of this year.
Which is why supporters of a proposed city ordinance say it needs to pass to prevent many more children from being poisoned.
Vote set for Tuesday
The ordinance that is scheduled for a vote Tuesday requires landlords to make homes lead safe if they are rented to families with children ages 6 years and younger.
"Testing houses is much better than testing kids," said Dr. Jeff Martin, chairman of the Lancaster Partnership on Public Health. "Once a child gets poisoned with lead, there's no cure."
Under current law, rental units are only required to be tested and remediated after a child tests positive for lead poisoning.
And remediating homes, like the one on Poplar Street, can take months and even years.
The lead levels were so high in Naval's home in August 2016 that Kevin Kauffman, who was testing the home as part of the UPMC Pinnacle Lead Poisoning Prevention and Education Program, said it exceeded the levels of his testing equipment.
Off the scale
"A reading of 1.0 indicates the presence of lead," Kauffman said. "My XRF gun can measure up to a level of 9.9. This house was beyond that. And it was everywhere. There was lead on the floors, the windows, the door jambs, the stairways and the walls.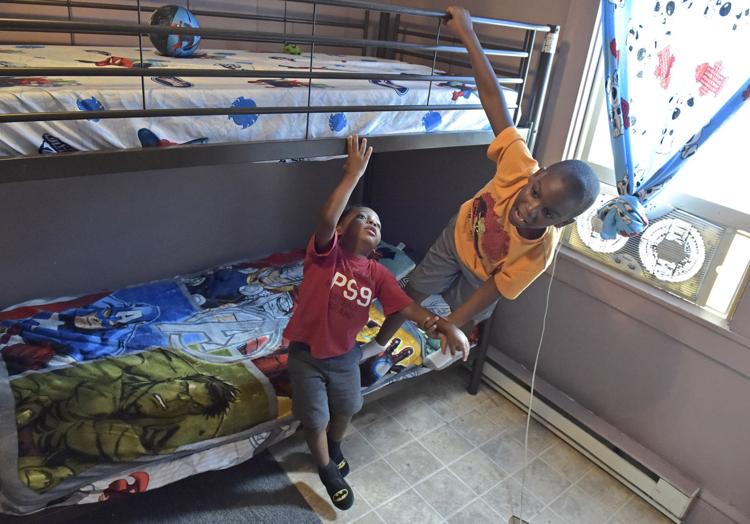 "And there was a lot of disrepair in that house, which makes the lead problem worse because kids can get into the peeling paint and the lead dust," he said.
"Communities should stop using children as mini biosensors, like canaries in a coal mine," said Marie Miranda, a leading environmental health researcher and professor at Rice University, who spoke on the issue of lead poisoning in Lancaster in September.
"After a child has an elevated blood lead level ... it's too late," she said.
Numerous studies have found direct links between lead poisoning and high rates of verbal, intellectual and emotional problems in children. Children who have been lead poisoned end up in prison at a rate that is eight times higher than those who have not.
Evacuations
Kim Wissler, who heads the city's lead program, said that in the past six months, she immediately ordered the evacuation from their rentals of two families whose kids had extremely high levels of lead in their system. She did so after being notified by family physicians, she said.
The current process sometimes frustrates Wissler.
"Typically it takes 45 to 60 days to clear a house of lead," Wissler said. "But if someone appeals our findings and if there are no lead contractors available at the time, it can drag out."
Since 2009, the city has certified fewer than 300 of the city's 12,000 rental units as safe from lead. A few of the cases have taken several years to clear.
It is not completely clear why it took so long to clear the Poplar Street property.
Naval got Jamar's test results in May 2016. UPMC Pinnacle completed the lead test of the house that August. The landlord got bids on the necessary repairs in the fall of 2016 and then applied for federal Housing and Urban Development funds to pay for the lead remediation in January 2017.
The upgrades of new paint, new windows and doors cost about $10,000. The development grant money paid for the majority of the repairs and the landlord paid the difference — just over $2,000.
But the delay in making the house safe put the children at prolonged risk.
"The new ordinance brings this issue to the forefront," Wissler said. "If there is lead, they're going to take care of it. We're not playing anymore."