It's a humid but cool morning last week when Leroy Ketner and his buddy Mark Buehler show up in the State Game Lands 156 parking lot along Route 322 for a trail run.
The guys say the forested property is convenient to their respective homes in Ephrata and Landisville, and it's a pleasant place to play for a few hours.
"I brought my kids up here to hike for the first time last week," Ketner said. "It's nice."
Neither Ketner or Buehler is a hunter, and so neither paid to help buy the 5,100-acre tract on the Lancaster-Lebanon county line, nor do they currently pay for its maintenance.
Hunters have shouldered the bulk of that financial load for the past century.
But under a proposal being considered by the Pennsylvania Game Commission, which owns and takes care of some 1.5 million acres of game lands across the state, non-hunters who use those properties would be required to pay up — possibly $30 a year.
That means non-hunters who frequent the game lands to ride bikes and horses, to hike, run the trails or even walk the dog all would have to pay to play.
"We, the hunters, have paid for everything," said Brian Hoover, a member of the Pennsylvania Board of Game Commissioners from Delaware County.
"We, the hunters, pay to fix whatever the non-hunters break. Horses tear up trails, cars tear up roads, and we pay for it all.
"I think it's time for the rest of the game lands users to help out."
Presented with that idea, Buehler and Ketner had mixed thoughts.
"It doesn't seem like a big expense for year-round use," Buehler said. "If they make sure the money goes back into trails and not somewhere else - that's what I'd want to see."
Ketner pondered, "If they want to start charging me to do it, I might find somewhere else to go."
Lancaster County game lands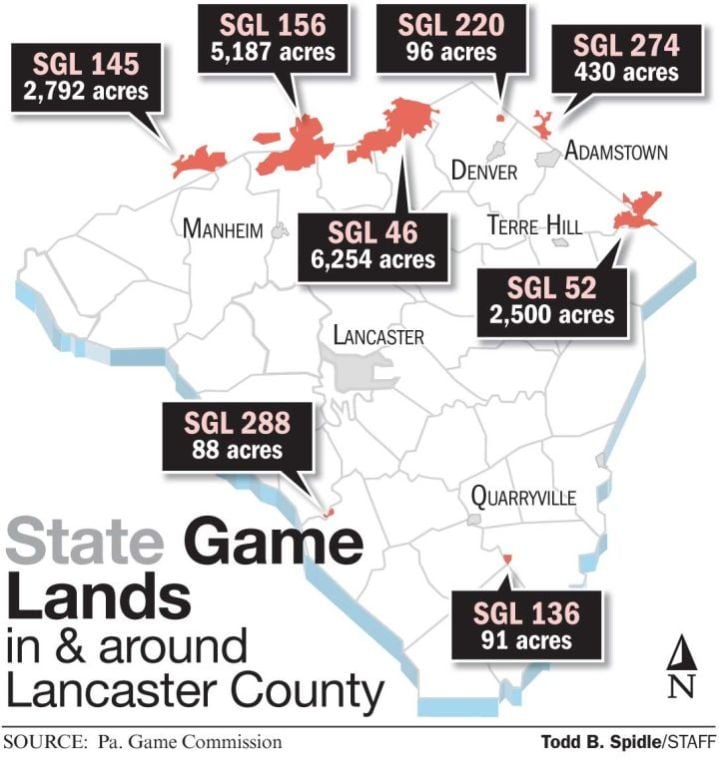 The Pennsylvania Game Commission is an independent state agency responsible for managing Pennsylvania's wildlife.
It derives its revenue from its own fees and earnings.
It is not funded with general tax dollars from the state government.
The agency also owns and manages its network of game lands across the state, which were bought to provide hunters a place to hunt.
According to the Game Commission's website, "with few exceptions, state game lands were purchased using revenues from hunting and furtaker license sales; state game lands timber, coal, oil, gas and mineral operation revenues; the state's share of a federal excise tax on sporting arms and ammunition, known as the Pittman-Robertson Program" and from the sale of some agency products.
Funding for game lands maintenance comes from the same sources.
"For the last 100 years, we've paid the entire freight on these game lands," Hoover said. "Right now, someone can walk onto the game lands whenever they want, whether they have a hunting license or not.
"I don't think that's fair."
Presently, the Game Commission is reaping benefits from the Marcellus Shale gas boom, taking in millions of dollars annually from leases on its game lands.
And the agency has been using those funds to buy new game lands and to maintain existing property.
But Hoover said that revenue stream won't last forever.
"And then the game lands costs will all be on the backs of hunters," he said.
Game Commission figures on those costs were not available last week.
Hunter numbers are in decline. That slide started about 20 years ago, when there were more than 1 million resident adult hunters, and has continued ever since.
From 2002-2012, Pennsylvania saw a reduction of about 100,000 resident adult hunters. About 645,000 bought licenses two years ago.
In light of the potential for shrinking revenues in the future, Hoover at a recent meeting of the Game Commission's board of directors pitched the idea of a game lands user permit.
Agency staff is working out how such a permit system would work, and Hoover hopes a plan can be brought to the full board for consideration before the end of the year.
"There are a lot of details that would need to be worked out first," he said.
Hoover envisions a $30 annual permit, which would be required of anyone who does not hold a hunting license, who uses the game lands for non-hunting activities.
Those activities would be restricted during certain times of the year, such as the two-week firearms deer season, when hunter use of the game lands is peaking.
And certain activities, such as riding horses and bikes, would continue to be limited to designated areas.
Wildlife conservation officers and their deputies would ask people to produce permits or their hunting licenses when they encounter them on game lands.
The permit would be similar to one the Game Commission created in 2011 for non-hunters using any of the agency's 29 public shooting ranges.
Last year, the agency sold about 10,700 of those permits at $30 apiece, generating about $321,000.
Hoover's proposal for a game lands user permit would have to win a majority vote of the eight-member board of game commissioners.
Only two of five commissioners responded to a reporter's request for comment on the idea last week.
Commissioner Jay Delaney said he's "leaning towards it at this point."
He declined to give his reasons, because he said he could change his mind once he hears details in coming weeks of how the permitting system would work.
Commissioner Ralph Martone said he's keeping an open mind, but noted his concerns are mounting.
"Since I hunt State Game Lands almost exclusively, I have already experienced several negative encounters with non-hunters," he said.
"On one occasion, a spring gobbler hunt was interrupted by a group of mountain bikers using the game lands. On other occasions I have had hunts disturbed by people walking their dogs.
"While these experiences were the exception, I am concerned that issuing a permit will encourage more use of game lands by non-hunters and lead to more conflicts between hunters and non-hunters."
Martone also wondered about how the permits would be enforced.
"How do you cite a person for walking their dog or taking a walk on game lands?" he asked.
"Do we have to first post the entire game lands system as 'No Trespassing' in order to enforce the user permit?"
Having a user permit for public property is hardly a new idea, according to Hoover.
People have to pay to visit many national parks. Entering Grand Canyon National Park costs $25 per vehicle, for example.
At most of its state parks, New York charges a vehicle use fee of between $6 and $10 per day.
Delaware charges from $3-$7 per day for use of its state parks, while Maryland has a park passport, which allows unlimited day use of its state parks for $75 for residents and $100 for nonresidents.
"What I'm proposing is something that's pretty common in other places," Hoover said.
•
There are seven tracts of state game lands scattered throughout Lancaster County.
Plus, SGL 145 outside Mount Gretna borders the county's northern boundary.
Combined, they offer over 17,000 acres of recreation space.
Those lands are frequently used for outings organized by Lancaster Hiking Club.
"We probably have 25 percent of our hikes on the local game lands every year," said club member Bill Erwin of Manheim Township.
Making non-hunters buy a permit to use the game lands is a bad idea, he said.
"We like to encourage people to get outside and enjoy nature," Erwin said. "This is going to discourage that. If we have a new person show up at one of our hikes on the game lands, they're going to have to come prepared with that permit, or go home."
Doug Kutz of Elizabethtown has been a member of the hiking club since 1995.
Since he's not a hunter, Kutz had no idea what state game lands were before then.
He said he has learned they exist through the "generosity of hunters," and so he thinks it's only fair for the agency to ask non-hunters to pay their fair share.
"People have the misconception that state game lands are state parks," Kutz said. "They're not. Hunters dug into their pockets and came up with the money to save all this land."
About a decade ago, Kutz went through the process of getting a hunting license, simply to support the game lands and so he would know the same hunting-safety information as hunters.
That meant he had to take a two-day course and then pass a written examination.
He now buys a hunting license every year, even though he doesn't hunt.
"I just wanted to contribute to keep saving land," he said.
Green Mountain Cyclery owner Mike Farrington turns red with anger when asked about the user-permit idea.
"What would we get for our money?" the Ephrata bike shop owner said. "They aren't offering us any more access, so what's the point?"
Farrington is both a hunter and an avid mountain bike rider.
The subject of riding on game lands is a sore one with him, since he tried to work with the Game Commission in the 1990s to keep the Furnace Hills game lands open to mountain bikers.
The agency shut down all game lands to bike and horse riding back then, citing damage caused by bike tires and hooves.
Eventually, the Game Commission allowed riding on a few designated trails.
There are three such routes within SGL 46 near Middle Creek, one through SGL 156 and four in SGL 145.
(SGL 52 in Brecknock Township is the only other Lancaster County game lands with a designated riding route, and it has one.)
Two of the designated riding routes in the Furnace Hills game lands are on the Horseshoe Trail, which isn't even owned by the Game Commission, although it cuts through the agency's property.
The Horseshoe Trail runs for 140 miles from Valley Forge National Historical Park in Montgomery County to the Appalachian Trail north of Harrisburg.
"They can't keep me off the Horseshoe Trail," Farrington said. "I can ride through there for free no matter what they say."
Besides that, what the Game Commission calls "trails," Farrington calls "roads."
Most of the designated riding routes open to biking and horse riding in the Furnace Hills game lands have cartways sturdy enough and wide enough to carry vehicles.
"There's no trail riding up there," Farrington said. "It's ridiculous."
In an effort to keep the local game lands open to trail riding in the late 1990s, Farrington pitched the idea of a user's permit to the Game Commission.
He suggested riders would pay for access, and he pledged plenty of muscle-power from the mountain biking community to work on trails and any maintenance issues there might be on the game lands.
"They didn't even want to talk about it," he said. "Now, they are coming around with this idea, but the audience has moved on. People have found other places to ride.
"I see this being a huge failure."