It's been 20 years since the Walmart Supercenter opened along Route 322 at Route 222 in Ephrata Township.
Traffic congestion was a major concern before the store opened in July 1999, but the commercial stretch of Route 322 heading west to Ephrata Borough has only gotten busier since then.
The Giant-anchored Ephrata Marketplace shopping center opened six years ago, and an Aldi debuted in 2017 on the stretch where there is also a Taco Bell and a Sheetz.
Now, work is underway on a new shopping center across the street from Aldi that would add 83,000 square feet of retail space, including a hotel, to the busy strip.
With the Ephrata Crossings shopping center, retail space equivalent to another 200,000-square-foot Walmart Supercenter will have been added to the half-mile strip between Route 222 and Pleasant Valley Road where more than 20,000 vehicles now travel everyday.
"It's growth for Ephrata, but also can be a nightmare for traffic," said Teri Wene, owner of Fox Hound Grooming Salon at 872 E. Main St. (Route 322) near Taco Bell. "Every one of my customers complains about coming down to this side of town."
Traffic control
As traffic has increased along with commercial development, state and local officials have grappled with how to make driving less painful.
While the state Department of Transportation owns and is responsible for road improvements on Route 322 and Pleasant Valley Road, Ephrata Township manager Steve Sawyer said the township has worked to ease congestion.
"From the township's perspective, traffic has always been the biggest concern," Sawyer said.
While Ephrata Crossings was initially proposed several years ago as a 102,000-square-foot shopping center anchored by a big-box store, its size was reduced at the behest of township supervisors.
And when PennDOT required Ephrata Crossings developer Richard Stauffer to realign Pleasant Valley Road and make other roadway improvements, the township supported his ultimately successful request for a $2.2 million state grant.
Yet Sawyer said he thinks realigning roads and adding turning lanes don't address the fundamental need for more travel lanes.
"It's our belief here at the township that there needs to be capacity improvements made to that corridor so it can handle the volume of traffic that's existing today, much less what will increase with new development," he said.
Dan Moyer, who lives just east of the planned Ephrata Crossings where Route 322 is only two lanes, agrees, but said he doesn't see how the road could be widened. Traffic is just a way of life, he said.
"You have to live with it. Be patient, that's the main thing," he said.
Diverging diamond
So far, a Hilton hotel and a Panera Bread are confirmed for Ephrata Crossings, but more leases are being arranged for the center where Stauffer said he hopes stores will open next spring.
Stauffer, who built the Sheetz and Taco Bell just east of Pleasant Valley Road, said he began working on the Crossings project a decade ago, motivated by stores he said were interested in coming to Ephrata.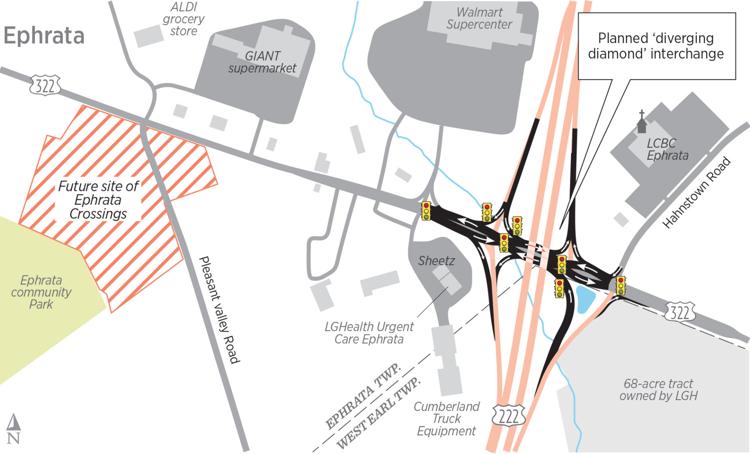 While Stauffer still needs some final approvals for aspects of the Crossings project, he has received his highway occupancy permit from PennDOT, which allows him to start some preliminary roadwork.
As that work continues, PennDOT is about to commence a novel reconstruction of the nearby intersection of Routes 322 and 222 that it hopes could help traffic along the stretch — a diverging diamond interchange.
Bids will be accepted next month, with work expected to be finalized sometime in 2020.
With a diverging diamond design, drivers coming from either direction on Route 322 will be directed by a traffic signal to cross onto the other side of the road before the Route 222 overpass.
That will allow anyone merging onto 222 north or south to make a left turn directly onto the on-ramp, without crossing traffic. Likewise, drivers exiting 222 onto 322 in either direction will be able to merge left or right without crossing traffic.
The primary goal of the $7 million overhaul is to increase safety, but PennDOT said the arrangement will keep turning motorists from having to "stack" in travel lanes.
"Once the project is completed, through traffic will be unimpeded and it doesn't appear to be necessary to add lanes to U.S. 322," said PennDOT spokesmanMichael Crochunis.
Chuck Aughinbaugh owns Ephrata Cycle & Sports at 878 E. Main St. (Route 322), a little more than 900 feet east of the planned Ephrata Crossings. He said he's skeptical the diverging diamond will help alleviate traffic in front of his business.
"When the diamond goes in, supposedly, that's going to alleviate some of the tie-up at (Route 322 and 222), but it does nothing up the road here," he said.
Katelyn Bailey, who lives just east of the planned Ephrata Crossings, said she wishes they could find a way to build a bypass behind Walmart and Giant.
"We need another road," she said. "Or less people."
Staff writer Hurubie Meko contributed to this report.