A new owner of the former Conestoga View nursing home in Lancaster Township pleaded no contest to three counts of reckless endangerment of residents at a Delaware County nursing home, the Pennsylvania attorney general's office has announced.
Chaim "Charlie" Steg of Lakewood, New Jersey, will be sentenced to six to 23 months of house arrest followed by three years of probation. Under his probation conditions, Steg "cannot staff, manage, own, or operate the nursing, clinical, or medical services of any skilled nursing facility for five years," according to the attorney general's office.
That includes serving as a majority owner of any nursing home, Attorney General Josh Shapiro said at a Wednesday press conference.
Steg's plea stems from a 2017 investigation conducted by the state attorney general's office and the Darby Borough Police. It found that three residents at the St. Francis Center for Rehabilitation & Healthcare in Darby died from preventable pressure wounds, sepsis, dehydration and bowel obstructions as a result of Steg's failure to address inadequate staffing levels, according to a March criminal complaint from investigators.
A no-contest plea means a defendant accepts punishment without admitting guilt, according to the Pennsylvania court system's website.
The business entities of St. Francis, including a limited liability company that paid Steg's salary, also agreed to a more-than $1 million settlement with the attorney general's office.
Steg will also have to pay $15,000 in restitution to victims' families.
Thomas Fladung, managing partner at an Ohio-based crisis management firm, Hennes Communications, emailed a statement to LNP|LancasterOnline late Thursday morning on behalf of Imperial Healthcare Group - a New Jersey company registered under Steg's name – that purchased the 446-bed Conestoga View from Complete Healthcare Resources-Eastern for $29.8 million and renamed it Lancaster Nursing and Rehabilitation Center last month.
The statement says the company's vice president of operations, Leon Tarlow, will become Imperial's interim president and CEO.
The change comes as Steg "steps aside from those leadership positions to focus on an ongoing legal matter," the statement reads.
The investigation doesn't involve Imperial, the statement says, and "Mr. Steg was working as an employee in a regional support role with a different company" at St. Francis, and he joined Imperial later.
"Mr. Steg's choice to forego a trial will prevent distractions that typically accompany protracted litigation and will allow our staff to remain laser-focused on the good work they do for those under their care," Tarlow said in the written statement provided by Fladung at Hennes Communications.
"We are fortunate to have a skilled, experienced leadership team in place at Imperial Healthcare," Tarlow said in Imperial's statement. "We remain committed to providing the high level of quality care and services for which we have become known in the region. We will continue to put residents and caregivers at the center of everything we do."
The statement also indicated the company doesn't plan to make any more public comments on Steg's plea agreement.
A request for comment to a phone number for Steg did not get a response.
Web of ownership
Steg has been known in Philadelphia's nursing home sector for several years, according to Diane Menio, executive director at CARIE, an advocacy group for the elderly based in Philadelphia.
St. Francis, the nursing home where Steg was an administrator from 2014 to 2017, according to Shapiro, was one of seven nursing homes and senior living facilities the Catholic Archdiocese of Philadelphia sold for $145 million in 2014 to a for-profit company called Center Management Group, based in Flushing, New York, according to The Philadelphia Inquirer.
The quality of those former church-run facilities went downhill in the years following the sale, according to Menio.
Since 2018, Steg has taken an ownership stake in 12 nursing homes, according to data from the Centers for Medicare & Medicaid Services. The federal data does not yet include ownership changes at Lancaster Nursing and Rehabilitation Center, the new name for Conestoga View.
The federal agency's star-rating system aggregates nursing home inspection reports and other measures to give consumers a sense of a facility's quality.
A review of the CMS data by LNP|LancasterOnline found that under Steg's ownership, five of those 12 nursing homes fell from a three- or two-star ratings to the lowest possible one-star rating. Six of Steg's facilities saw no ultimate change in their star rating and one, Rose View Nursing and Rehabilitation Center in Williamsport, improved from one star to two stars after he took an ownership stake.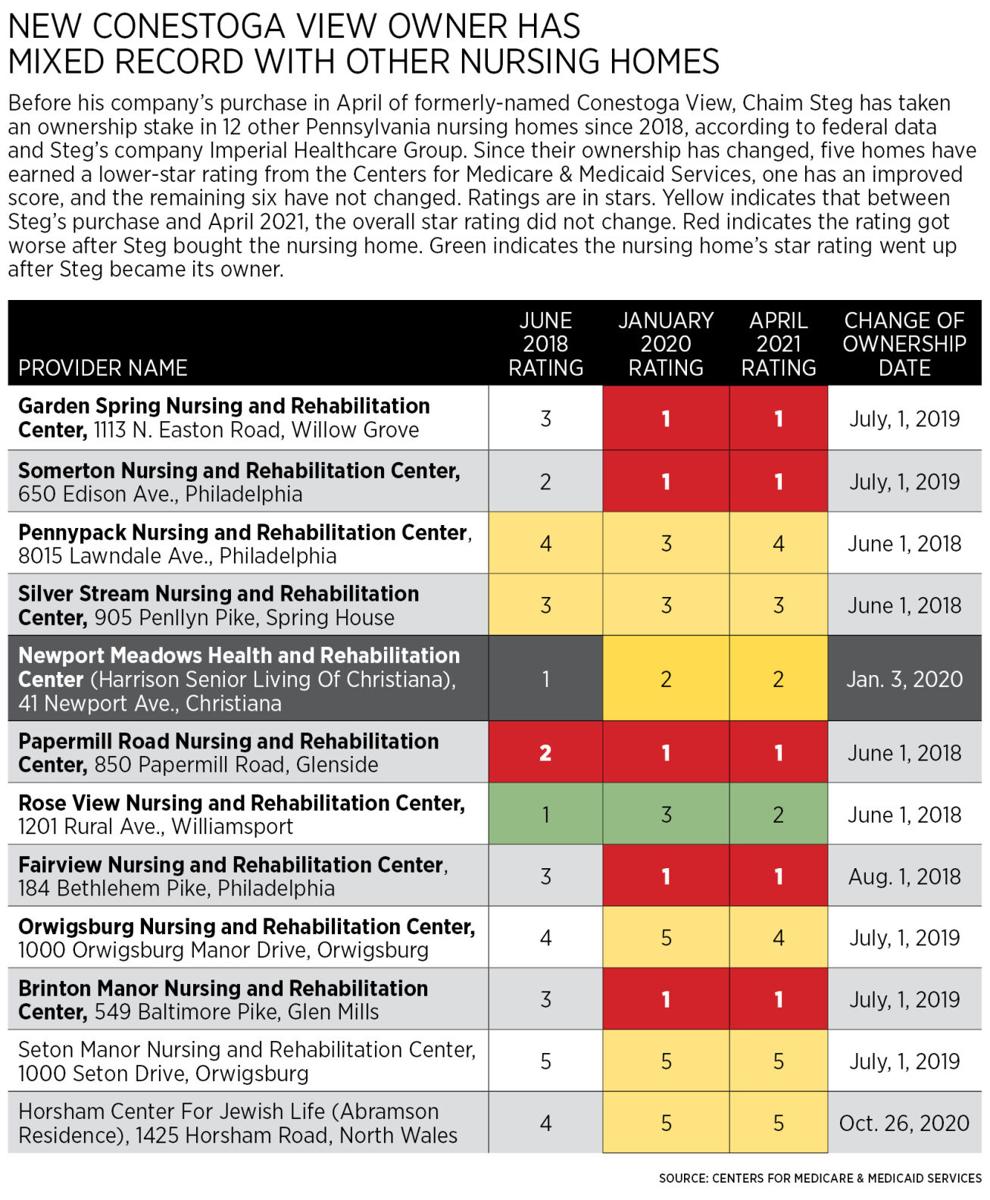 Steg also has had an ownership interest in Newport Meadows Health and Rehabilitation Center in Christiana since January 2020, according to CMS data. As of April, CMS rates Newport Meadows, a two-star facility. LNRC has one star.
Ownerships of for-profit nursing homes can be difficult to track, Menio said. Investors can set up real estate trusts and separate the property from the nursing home operation, and use the real estate company to charge the nursing home business rent, she said.
"It's really a tangled web, and we've been fighting for reviving the nursing home regulations in Pennsylvania and this is one of the big issues we want to deal with," Menio said.
'We are the Titanic'
Investigators' accounts of Steg's understaffing at St. Francis echo in comments from current and recently departed staff members at LNRC, who claimed to LNP|LancasterOnline that they are worried for the safety of residents due to staff cuts and departures. All were granted anonymity due to their fear of professional retaliation for speaking.
Four current and former employees whose departures coincided with Imperial's takeover said administrators have laid off dozens of non-nursing personnel. Others have left LNRC to take better paying jobs elsewhere, they said.
"We are the Titanic," one said. "We're going down and I don't think anything can stop it."
When LNP|LancasterOnline asked Fladung at Hennes Communications for comment on the allegations from the former and current employees at LNRC, he emailed a statement Thursday evening that read, in part, "... it's important to understand that there have been no mass layoffs among caregivers prompted at this facility by budget cuts or other financial steps taken by Imperial. No direct caregivers were terminated or furloughed by Imperial upon transition. We did not reduce or change the ratios of caregivers to patients and on most days in the short time that Imperial has owned this facility, to our knowledge, we have met the Pennsylvania standard of providing at least 2.7 hours of hands-on care per patient.
"We also are following up on each report or allegation involving care issues. While we can't address each one at this point, we are working and will continue to work with our Lancaster staff and the Pennsylvania Department of Health to investigate all reports and allegations, and we are committed to taking the steps necessary to ensure that all of our residents receive the level of care they need and deserve. Any resident or resident's loved one with concerns about care at one of our facilities is encouraged to call 215-847-1905, so that we can follow up as promptly as possible."
Steg did not respond to a request for comment about the allegations by former and current workers.
The plea by Steg is latest in a difficult chapter for the Lancaster nursing home.
As one of the largest nursing homes in the state, LNRC saw the sixth-most COVID deaths of any long-term care facility in the state.
Since the initial outbreak of COVID-19 last year, 233 LNRC residents have contracted the virus, and 81 residents have died from it, according to the latest self-reported data to DOH.
(Click on the PDF below to read the full criminal complaint).