Linda Forwood, 55, a friendly but fragile woman who gets by on government disability benefits, has long worried that the state would close the 14-room personal care home where for 10 years she has felt cared for and safe.
Roxanne Simonson, owner/ operator of Cherry Street Guest Home in Columbia, simply didn't generate enough revenue from the 28 to 30 low-income residents to afford the property taxes and repairs to the big, Victorian-era home.
Several times after inspectors pointed out problems, Simonson, 55, had to deliver the upsetting news to residents that she might have to shut down.
"I used to hate to have those meetings," Simonson said. "I love these people. They're my family. I've sat with them through illnesses. Me and my son (A.J. Billet, an employee) sat with them through death."
Some residents had been homeless, and others had behaviors that bumped up against the rules of other homes. Simonson took them in.
"I was always known as the second-chance home," said Simonson, who has operated the facility at 223-225 Cherry Street since 2001.
"They treat us good," Forwood said. "They treat me like I'm somebody."
Retired farm couple John and Mable Hershey of East Donegal Township appreciated how Simonson and her staff cared for a formerly homeless friend for several years, and they became aware of the home's struggles.
"We both recognized that if somebody didn't take hold of this, it was going to close," Mable Hershey said.
The Hersheys and Simonson agreed the best way forward was to reorganize the business as a charity. In June, the Hersheys helped to establish Our Home of Hope, and the mortgage holder this month sold the property to the new nonprofit.
As volunteer board members, the Hersheys attend to the nitty-gritty of paying bills, hiring contractors and raising funds to supplement the average monthly payment per resident of $1,115 a month for a shared room and three meals a day.
Simonson, meanwhile, has been hired as Our Home of Hope's administrator, overseeing a staff of 11 and doing what she does best: taking care of residents, some of whom call her "Mom."
"I love my mommy, Roxanne," said Kay Wilson, 65, who arrived last year from Water Street Mission. "I can talk to her about anything."
As board members have spread the word of Simonson's mission of looking after the weak and vulnerable, the community has begun to rally around the home, donating money and labor and putting it on a sounder financial footing.
Fewer homes
Pennsylvania has about 1,200 licensed personal care homes, but about 300 have closed over the last 10 years. Owners find it tough to comply with the state's regulations and operate on what the government provides disabled people who rely on Supplemental Security Income.
But the Hersheys are determined that Our Home of Hope will buck the trend.
"We have come a long way, but we are not out of the woods completely," said Mable Hershey, Our Home of Hope board chairwoman.
Grants totaling $60,000 from the Columbia Healthcare Foundation and $40,000 from other donors have paid for a handicap-accessible bath, two furnaces, a water heater, roofing, furnishings and other needs.
The home has also increased the wages of full-time staff from $8.30 an hour to $10 an hour.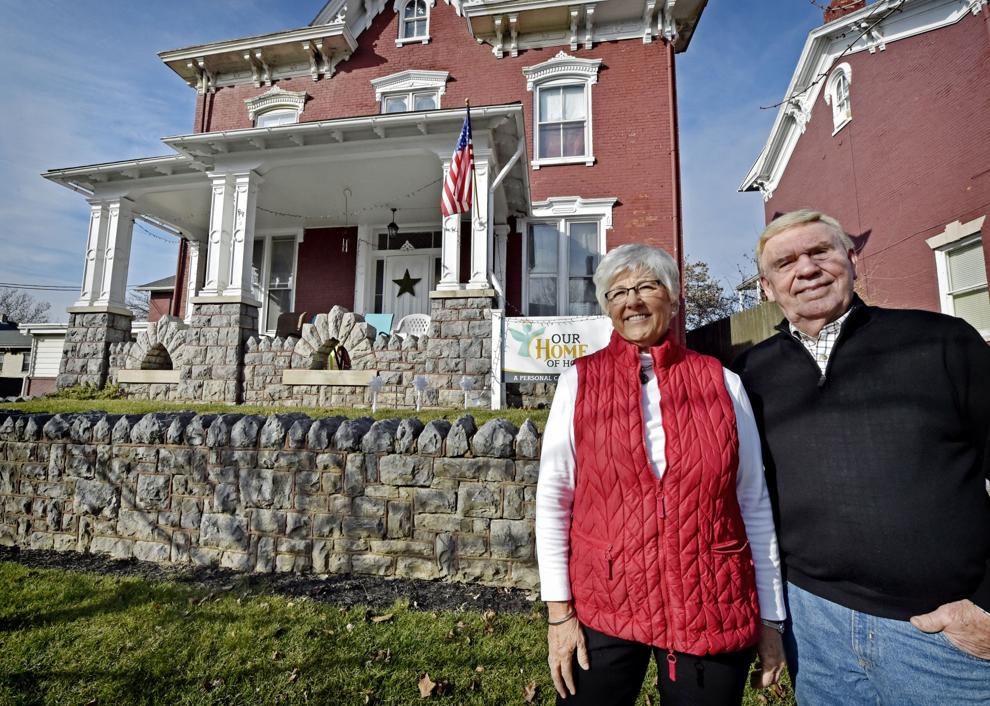 "We just felt (Our Home of Hope) was something that was really needed for the folks who lived there," especially those from Columbia, said William Kloidt, a bank manager and member of the Columbia Healthcare Foundation, which funds charitable initiatives in and around the borough. "We determined we need to help them as much as we can."
Despite the support, the home's to-do list remains daunting. The home's exterior, for example, has needs ranging from painting to new windows and trim. The bill is likely to exceed $100,000.
Other priorities include paying off the $191,000 mortgage, upgrading the kitchen and increasing activities for residents, almost half of whom are over 60.
"I have a lot of faith that (outside support) will continue and this home will be able to flourish," John Hershey said.
Big gift
Happy surprises, big and small, help to keep them optimistic.
One day, for example, Mable Hershey was at Sam's Club, purchasing chairs for the kitchen and chatting about the home to another shopper.
The woman, a midwife from Juniata County, asked lots of questions. Then she said she wanted to help. She pulled out a checkbook and wrote a check for $10,000.
Hershey returned to the home, where she found Simonson despondent because the rusty refrigerator wasn't getting cold enough.
Hershey smiled and showed Simonson the check.
"Roxanne," she said, "I think God sent an angel to Sam's Club to tell us, 'Hang in there. We're going to make this.' "