In a project that will give its campus the most solar-power production of any retirement community in the nation, Masonic Village in Elizabethtown is tripling its solar-power array.
The expansion, on an undeveloped hillside between Freemason Drive and Eden View Road, is adding a 1.98-megawatt system to a 1-megawatt installation done in 2011.
This new system costs $2.3 million, according to a building permit issued by West Donegal Township.
When the new system goes online by Feb. 1, Masonic Village will get 15 percent of its electricity from  the combination of its initial and new solar arrays. The initial array alone provides 5 percent.
Masonic Village says the first, smaller installation saves the retirement community about $50,000 a year, compared to the cost of electricity available from suppliers.
The retirement community expects the second, far larger installation to save it another $200,000 a year.
Patrick Sampsell, chief environmental and facilities officer, said Masonic Village's commitment to solar energy is part of its comprehensive sustainability program.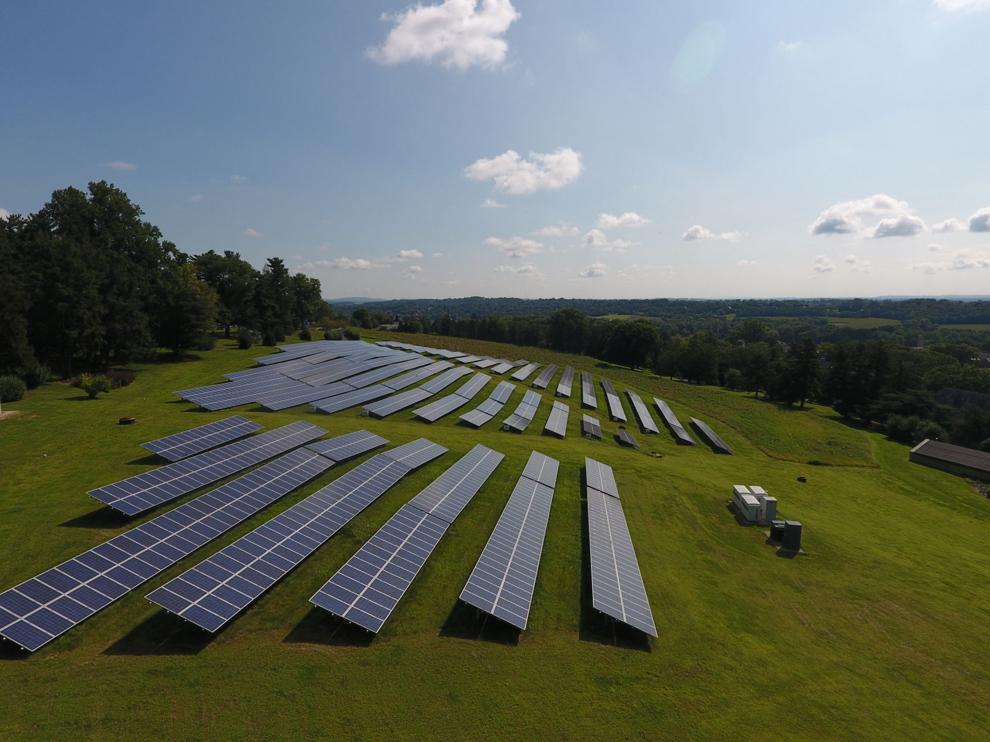 The program, enacted in 2008, also involves conserving energy, educating students and residents about sustainability, improving indoor air quality and restoring part of Conoy Creek.
Both of Masonic Village's installations are owned by Solar Renewable Energy LLC, a Mechanicsburg-based developer of solar arrays.
Solar Renewable Energy will maintain and monitor the new array, and sell its output to Masonic Village, as it does with the initial installation. The price will be less than what Masonic Village would pay for electricity on the open market.
Masonic Village has the option to buy each installation when each turns six years old, when tax credits benefiting Solar Renewable Energy run out.
For now, Masonic Village intends to buy just the new, larger system, for an undisclosed price.
The reason is the cost of solar-array hardware has plunged 70 to 80 percent in recent years, said Sampsell.
As a result, the cost of constructing the new, bigger array is about half of the first installation's $4.5 million cost to develop, as was reported by LNP at the time.
Solar Renewable Energy, founded in 2010 by Chief Executive Officer Doug Berry, is a Mechanicsburg-based firm that has constructed more than 50 solar installations worth more than $100 million.
At Masonic Village, the first installation involved 4,350 panels on five acres. The second involves 5,987 panels on 10 acres, forming a "U" around the first, said Berry.
Besides the solar arrays, Masonic Village also uses six microturbines, fueled by natural gas, to make electricity. They generate another 10 percent of the campus' electricity and produce heat used to warm buildings.
Masonic Village, which dates to 1910, is home to a nonprofit continuing care retirement community as well as a children's home, a working farm and community service organization.
It's the county's second-largest retirement community; its 1,880 residents trail only Willow Valley's 2,600.