Marilyn Ware, a congressman's daughter who led national businesses, served as ambassador to Finland and championed causes ranging from the election of Republicans to the preservation of Lancaster County farmland, died Thursday in Denver, Colorado, where she was under a doctor's care, family said. She was 74.
In a Facebook post, Ware's daughter, Amyla Lavric, shared that her mother had struggled with complications from Alzheimer's disease, but died peacefully.
"Mom was a bright and vibrant woman whose inimitable spirit will bring joy to our hearts always," wrote Lavric, one of Ware's three children.
Formerly of Strasburg Township, Ware never ran for office, but as the daughter of former state senator and U.S. Rep. John H. Ware 3rd, politics was in her blood. Her forte was fund raising.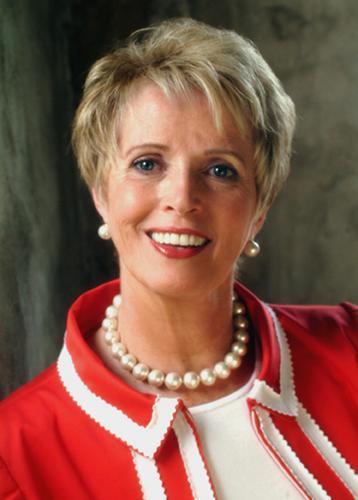 Ware was a spirited chair of the county GOP from 1978 to 1980, going on to chair William W. Scranton III's unsuccessful run for Pennsylvania governor in 1986 and co-chair Tom Ridge's successful gubernatorial campaign in 1994.
In a statement Friday, Ridge called Ware "a passionate Republican and patriot who cared deeply about the direction of our state and nation ... and left a lasting legacy."
Ware later chaired Gov. Mark Schweiker's Early Childhood Care and Education Task Force.
President George W. Bush chose Ware to serve as ambassador to Finland from 2006 to 2008, and she was a delegate at large to the 2004 and 2008 Republican National Conventions.
Lancaster County politicians described Ware as passionate and hard working.
"Whenever our paths would cross, she was always the kind of a person that you knew was putting more into whatever she was doing than she took out," said Noah Wenger of Stevens, a retired state senator.
"She was always a lady, and you always knew where she stood," said Katie True, a former state representative from East Hempfield Township. "She was not shy about letting you know about what the priorities were for her and the Republican Party."
True recalled Ware's particularly determined work for Ridge, saying the campaign "benefited greatly from her actions on his behalf."
Dave Dumeyer, who chairs the county GOP and has long been active in electing Republicans, described Ware as personable and classy, and appreciated how she recruited young people into party work.
Weekly editor
In a 1988 newspaper profile, Ware recalled quitting college — she attended the University of Pennsylvania — to be the editor of the weekly newspaper in Oxford, Chester County, her hometown.
She also discussed her divorce, raising two sons and a daughter on her own, and purchasing the weekly Quarryville Sun-Ledger, which she owned for two years.
Ware then became active in her father's businesses, which included New Jersey-based American Water Works, the nation's largest publicly-traded water and wastewater utility company, which had been her grandfather's business.
Ware was American Water's board chair from 1988 to 2003.
During her chairmanship, Ware led the company in setting a growth and consolidation strategy and in enhancing security within the company and the national water sector, the company said in a statement Thursday.
Ware served on the economic advisory board of RWE and as a member of the international advisory council of Thames Water, RWE's global water subsidiary, the third largest water company in the world.
In 2002, Ware accepted President George W. Bush's appointment to the National Infrastructure Advisory Council.
Additionally, Ware was the honorary president of WaterAid America, an international charity focused on water, sanitation systems and hygiene education.
"Ambassador Ware and her family have a significant place in the history of American Water and in the hearts of many of the people who work for our company," Susan Story, president and CEO of American Water, said.
Special causes
Ware led a multi-faceted life, often turning her energies to community needs.
For example, she championed the creation of the Lancaster County Agricultural Preserve Board and also helped to start Lancaster Farmland Trust in 1988, serving as a trustee through 1993.
"Her vision and tenacity launched a farmland preservation movement that would go on to lead the nation," Karen Martynick, the Trust's executive director, said in an email. "We are forever grateful for her commitment to protecting what is special about Lancaster County and her generosity that helped make our success possible."
In 1991 Ware likewise was instrumental in launching The Janus School, a private school in Mount Joy for children with learning differences.
"She had a profound understanding of the need for a program like the one provided by The Janus School, having witnessed first-hand the transformational effect it had on her son during a sail training program for dyslexic children" in Massachusetts, said Nicholas Chapman, the school's director of development
"She lived the experience," said Douglas Atkins, the school's founding director, "and knew on a deep level what a school like the Janus School could do for kids with learning differences."
In 2009, Ware established the Douglas Atkins Scholarship Fund at The Janus School, and Janet Gillespie, Head of School, called Ware's leadership "a continuing inspiration for our community."
In 2002 when Worth magazine called Ware the richest person in Lancaster County, based on her 10 percent stake in American Water, Ware pushed back.
She said the holdings the magazine cited were not hers alone, but extended to other family members.
In a statement, Ware said she would have preferred that the magazine draw attention to something other than her wealth.
"I'd rather be recognized for what I am," she said. "I'm part of a family that has invested more than five decades in a business that has provided an essential service to people. I will always be proud of what we have accomplished, not only in business but through our personal contributions as well."