From sitting presidents seeking re-election to presidential hopefuls rallying supporters, Lancaster County has been a stop on the road to the White House for centuries. 
One even called Lancaster County home. 
In October 2016, then-presidential candidate Donald Trump drew about 6,000 of his local supporters when he made a campaign stop at Spooky Nook Sports Complex.
In 2008, young Democratic Sen. Barack Obama visited Thaddeus Stevens College of Technology, conducted a press conference in Manheim and visited the now-defunct Wilbur Chocolate Factory. 
Whatever your political affiliation, it's a big deal when your town is a presidential campaign stop.
James Buchanan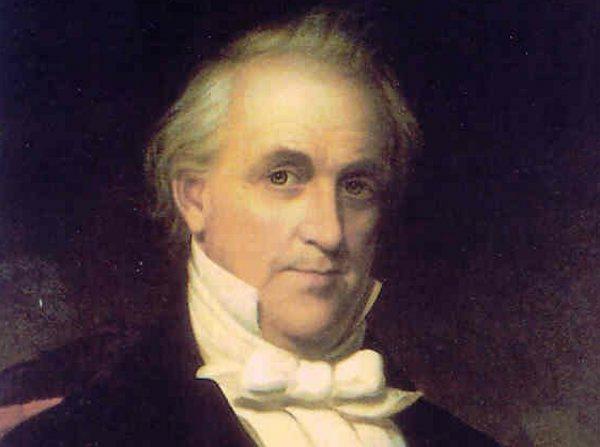 Pennsylvania native James Buchanan didn't just campaign here: he is the only U.S. president to call Lancaster County home.  
Buchanan didn't tour the country as part of his campaign, but instead held a "front porch campaign" from his Wheatland Estate in Lancaster Township.
Wheatland's director Patrick Clarke told LNP some other interesting facts about the nation's 15th president. 
For instance, Buchanan personally freed slaves. There are at least two documented cases of Buchanan having, with his own money, purchased slaves to later free them in his native Pennsylvania.
He also saw the clash over slavery as a rift that would plunge the nation into war and claim the lives of generations. He worried that any wrong decision would push the nation into this abyss.
Under Buchanan, not a single U.S. fort was lost to the rebelling states while he was president.
Abraham Lincoln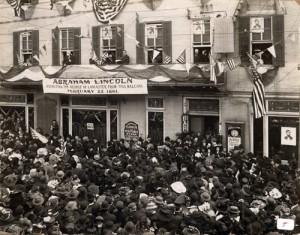 One of America's most revered presidents visited Lancaster once in life and once in death.
On George Washington's birthday, Feb. 22, 1861, President-elect Lincoln made an 18-minute stop-over in Lancaster County on his way to replace Lancaster native James Buchanan in the White House. 
Lincoln made a brief speech from the second-floor balcony of the Cadwell House,  the site of the Brunswick hotel,  according to LNP archives.
Lincoln reportedly said:
"Ladies and gentlemen of Lancaster County, I am happy to meet the citizens of this great county face to face, but I do not feel prepared to make a speech to you today. I have not the time now, nor the strength, and, what is more, have no speech to make. I have come more to see you and let you see me."
In a few days the time will come for me to speak officially, and I will then endeavor to speak plainly in regard to the Constitution and the liberties of the American people. Until I do so speak, I deem it unnecessary to say more."
The next time Lincoln passed through Lancaster he was in a coffin. The downtown was draped in black as the dead president returned to Illinois in April of 1865.
More: Columbia teen witnessed Lincoln assassination 
Charlie Smithgall's cannons: Former Lancaster mayor helps 'Lincoln' look authentic
John F. Kennedy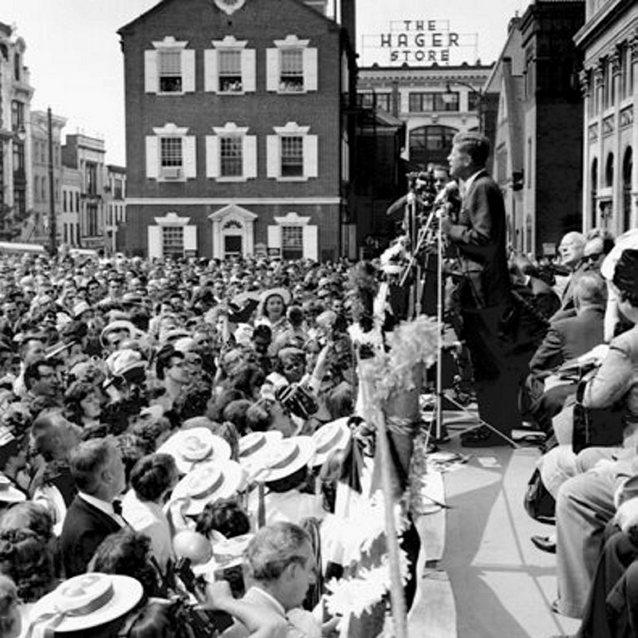 In September 1960, then-Democratic presidential candidate John F. Kennedy campaigned in Lancaster's Penn Square before a crowd estimated at anywhere between 5,000 and 15,000.
The Massachusetts senator spoke for nine minutes, telling his listeners that the "great challenge" facing the nation was to "maintain its vitality." 
He also stopped at Columbia, as well as Reading, York and Lebanon that day. 
Fifty-six years later in November, his nephew, U.S. Rep. Joseph P. Kennedy III, spoke near the same spot on Penn Square for a "Rally the Vote" event for Lancaster County Democrats.
Ronald Reagan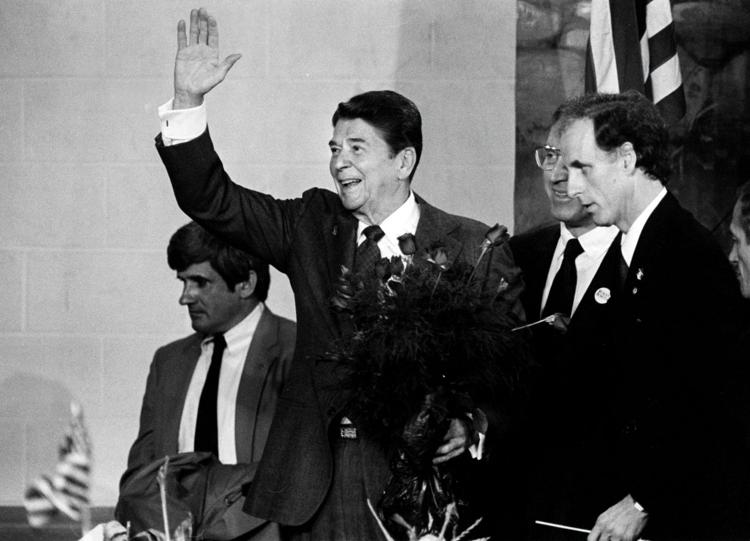 On Monday, Oct. 29, 1984, U.S. president Ronald Reagan spoke to some 9,000 people in Millersville's Pucillo Gymnasium.
The event featured the popular Republican president at his best, those at the event recalled, and came just a week before Reagan was re-elected in one of the biggest landslides in American political history.
"You are a peace-loving people. But the citizens of Lancaster have always been in the front ranks of liberty. You were the arsenal of the colonies, and your men were some of the first volunteers to fill the ranks of Washington's army," Reagan said that morning.