Jesus Palacios Herrera, 43, expected to be away for only two weeks.
A restaurant worker, husband, and father of three from Manor Township, Herrera flew out of Baltimore on March 25 for Mexico, going back for the first time since 2001, when at 24 he entered the United States illegally to seek a better life.
His destination was the U.S. consulate at Ciudad Juarez, where he was scheduled for fingerprinting March 27, a medical exam March 28 and an interview March 29. He wanted to become a legal immigrant, and these were the final steps required for an immigrant visa and permanent residency.
U.S. Citizenship and Immigration Services in February 2018 had granted Herrera a waiver that allows undocumented immigrants to seek permanent residency if deportation would cause extreme hardship to a U.S. citizen, in Herrera's case, his wife of four years. With the waiver secured, Herrera's attorney believed Herrera returned to Mexico with a strong case.
But after a U.S. consular officer in Mexico leafed through Herrera's documents and asked him questions, he denied him a visa, which meant Herrera was barred from returning home. The officer ruled that Herrera wasn't eligible for permanent residency because he might end up using public benefits.
Herrera was stunned. He had worked hard in America and wanted to build an even better life. But today, he remains stranded in Mexico, 2,000 miles from his wife, Tiffany, a Lancaster County native, their children, ages 3 and 16 months, and another son, age 8, who lives with a different mother.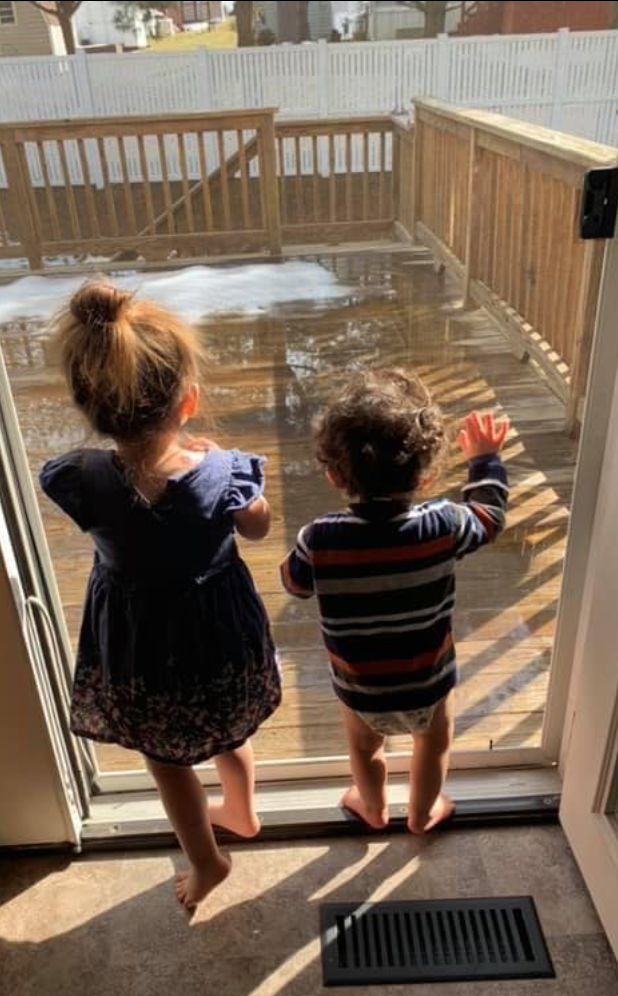 Herrera's separation will likely last the rest of the year, if not longer, while he reapplies, his attorney said.
Herrera is not alone. Thousands of Mexican natives find themselves unable to return to the United States after being denied a visa at the consulate because the Trump administration made it harder for undocumented immigrants to prove they won't burden taxpayers as permanent residents, experts in immigration law say.
---
'Hardest thing'
Tiffany Herrera said the children don't understand why daddy doesn't come home, and in her husband's absence, she is working longer hours as a restaurant server.
"The situation we're going through isn't fair, and it's ripping families apart," she said.
(Tiffany Herrera did not want the restaurant where she and her husband work identified in the story, and LNP is honoring her request. Neither Tiffany Herrera nor her attorney sought publicity. A family friend contacted LNP about the situation.)
In April, Herrera's attorney, Dwight Quichua, submitted updated financial documents to the consulate to get the denial reversed. The papers included tax records, pay stubs, a letter from Herrera's employer that he still has a job, and a letter from Herrera's mother-in-law that she would help the family financially if it became necessary.
The consulate reviewed the papers, concluded in May that Herrera wasn't likely to burden taxpayers and changed its decision.
But the reversal didn't mean Herrera could go home. Because of the visa denial in March, the provisional waiver that had allowed him to go for the consulate interview was revoked.
To get home, Herrera has to restart the time-consuming approval process. Later this month, the Herreras will reapply for the waiver, again making the case for extreme hardship. A decision may take six months or longer. In the meantime, Herrera remains in Mexico, staying with his parents in a small city east of Mexico City.
Besides the emotional toll, the process imposes a financial cost. On top of attorney fees and travel expenses, the Herreras paid $715 for the initial waiver and must pay $930 to reapply. The medical exam fee was $220 plus a 16% tax.
---
Friends' support
Herrera's friends and co-workers expressed disbelief that the State Department initially found Herrera a potential burden on public benefits. They consider Herrera a hard worker who wanted to become a legal resident because he wants to build a better life for his family.
"He's got a job and a nice house, and all he is trying to do is make everything 100% legal," said Lori Patterson, a server who has known Herrera for about 10 years. "What they're doing isn't right, to break up a family like this."
Rita Killheffer, of West Earl Township, a frequent patron at the restaurant, said Herrera worked a lot of hours. "We would ask for him because he's just so friendly," she said.
"It just totally breaks my heart," said Linda Stauffer, a part-time hostess at the restaurant. "If he wasn't such a hard worker and didn't produce and pay taxes ... but he does. How can this be?"
---
Denials increase
Immigration law experts say the State Department in 2018 gave consular officers wider discretion to deny visas on grounds that applicants would become a "public charge" and use benefits such as food stamps and Medicaid.
The number of immigrant visa applications denied on public charge grounds jumped from 1,076 in 2016 to 13,450 last year. Over half are reversed on receipt of extra information.
"The problem is not overcoming the public charge," said Charles Wheeler, an attorney with the Maryland-based Catholic Legal Immigration Network. "The problem is reapplying for the same waiver that you had approved before you went, and being stranded in Mexico for the year it takes you to get reapproved."
"It's evidence of simple harassment, in my opinion," Wheeler said. "You're talking about the U.S.-citizen spouse and children who are the real victims."
In an email response to LNP, a State Department spokesman declined to discuss the denial of visas based on public charge, saying only that "a consular officer reviews the facts of the case and determines whether the applicant is eligible for that visa based on U.S. law."
---
Concerned about family
Herrera, in an interview by video chat, said he understands President Trump's concern about immigrants who become a burden on taxpayers.
"But people like me," he said, "I have continuously been (in the United States since 2001.) I was paying my taxes. I was trying to be good. I have a family. I want to be part of the community."
Herrera said it hurts to see the hardship he's created for his family.
"I worry about Tiffany," he said. "She is under stress."
But Herrera can only bide his time and wait for the day that the government recognizes him as a good employee and wage earner and allows him to return home and help support his family.