A Landisville "stash house" yielded 185 pounds of high-grade marijuana — with a street value of about $1 million — in a Dec. 14 raid by the Lancaster County Drug Task Force.
Miguel Angel Garcia-Jimenez, a 45-year-old Mexican national, faces felony charges of drug dealing and possession, District Attorney Craig Stedman said at a press conference Thursday.
The drugs — much of it vacuum-sealed for distribution — were seized from an apartment in the 200 block of West Main Street.
"This is a tremendous amount of marijuana," Stedman said. "This is a huge seizure. The drug task force did a great job."
Detective Sgt. John Burkhart, who heads the task force, said the Drug Enforcement Administration in Harrisburg provided information that there was a large quantity of marijuana "at an unknown location in Lancaster County." A local investigator was able to narrow down the site, he said.
'More marijuana than furniture'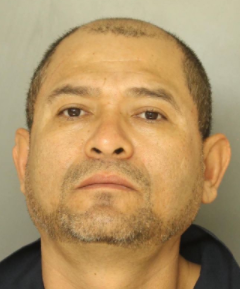 "There was more marijuana than furniture" in the apartment, Burkhart said.
The detective said Garcia-Jimenez occupied rooms on the second floor of the dwelling. He lived there less than a month, Burkhart said.
It was "one of the most significant marijuana seizures in Lancaster County history," Stedman said.
Stedman said officers also seized "an owe sheet" listing customers and $4,000 in cash from the apartment. There were no weapons on the premises, he said.
Garcia-Jimenez has been deported from the United States "multiple times," although never previously from the Lancaster area, Stedman said.
He has used multiple aliases in the past, Stedman added. Police are still investigating his background.
"This isn't the first rodeo for this individual," he said, noting that his setup in Landisville was "not consistent with a novice dealer."
The drugs, he added, "were close to being moved out to the street to mid- and upper-level dealers."
"With this kind of quantity, they'd want to move it quickly," Stedman said. "Then it would just trickle down into our communities."
Garcia-Jimenez was arraigned by District Judge Jayne Duncan and is being held at Lancaster County Prison in lieu of $1 million bail. He is also being held on a federal detainer obtained by U.S. Immigration and Customs Enforcement.
He has not been cooperative with police, Burkhart said.
The marijuana is worth about $500,000 if sold in bulk, Stedman said. It's worth more than $1 million if sold in smaller quantities.
'It's just marijuana'
Although more attention is given to drugs such as heroin and cocaine, Stedman said marijuana is still on the radar.
"Obviously, marijuana is not as deadly or dangerous as fentanyl," he said. However, he said it is a gateway drug for people seeking a bigger high.
"It's frustrating to me to hear 'it's just marijuana,' " Stedman said.
Marijuana today is not the same drug that was used in the 1960s and '70s, he added — levels of tetrahydrocannabinol, or THC, are twice as high in the drug now.
It has been medically proven to cause permanent brain damage and decrease IQ, Stedman said. Annually, he said, police in Lancaster County make more than 600 DUI arrests involving marijuana.