The state and the High companies intend to build a $15.3 million road on part of the "goat path" as a quicker, calmer alternative to heavily congested Greenfield Road at Route 30.
The two-lane road will begin where the "goat path" starts — at the eastern end of Walnut Street. A new bridge will take this extension of Walnut Street over Millcross Road.
The Walnut Street extension, a state road, will end at a roundabout. There it will connect to a new township road, Ben Franklin Boulevard, and go to Greenfield Road.
---
Easing congestion
Greenfield Road at Route 30 in East Lampeter Township is one of the county's worst traffic bottlenecks. At rush hour, dozens of cars idle at traffic lights and on ramps onto the bypass.
Depending on the state permitting process, construction of the "relief road" is expected to begin in the fourth quarter of 2021. The 1.1-mile road is expected to open in the fourth quarter of 2022.
The anticipated impact? An estimated 40% to 50% reduction in rush-hour traffic on Greenfield Road, officials told LNP on Wednesday.
"This is going to provide major relief to Greenfield Road without ever inconveniencing the current traveler on Greenfield Road ...," said Anthony Seitz, vice president of development at High Associates Ltd.
"That's a pretty unique set of circumstances."
Added township manager Ralph Hutchison, "No orange barrels are needed on Greenfield Road to make this happen."
The new road, expected to carry 500 to 600 vehicles per hour at peak times, will have one lane in each direction, separated by an 8-foot grass median. The speed limit will be 35 miles per hour.
Conceived with the township's support and input, the new road will offer a streamlined connection between downtown Lancaster (via Walnut Street), Route 30 and the highly developed Greenfield Road corridor.
Beyond alleviating congestion on Greenfield Road, the Walnut Street extension of 5,000 linear feet (nearly one mile) also will include a trail as part of the Greater Lancaster Heritage Pathway, now being developed.
The pathway, open to hikers and bicyclists, will connect Lancaster city to its eastern and western suburbs. The Walnut Street extension's portion will be 12 feet wide.
---
Project's benefits
The High companies see immediate and longer-range benefits from this project for themselves and the broader community.
Beneficiaries from day one will include motorists going to or from High's Greenfield Corporate Center, Greenfield Estates and Eastwood Village.
High also is thinking long-term. It wants to expand the corporate center and Eastwood Village. Easier travel will make those expansions more appealing to potential occupants.
The new road is expected to spur development in other parts of the Greenfield Road corridor as well.
The "goat path" is the local nickname for the partially completed section of an abandoned 11-mile Route 23 bypass that was to connect Lancaster to New Holland.
The project stopped in 1977 when the Pennsylvania Department of Transportation ran out of money for it, after spending $9 million to acquire rights of way, do grading and put down road bed.
PennDOT covered that five-mile graded section with eight inches of dirt, topped with grass seed. The department leases some of that section to local farmers who let their animals, including goats, graze there.
---
Limited to 1 mile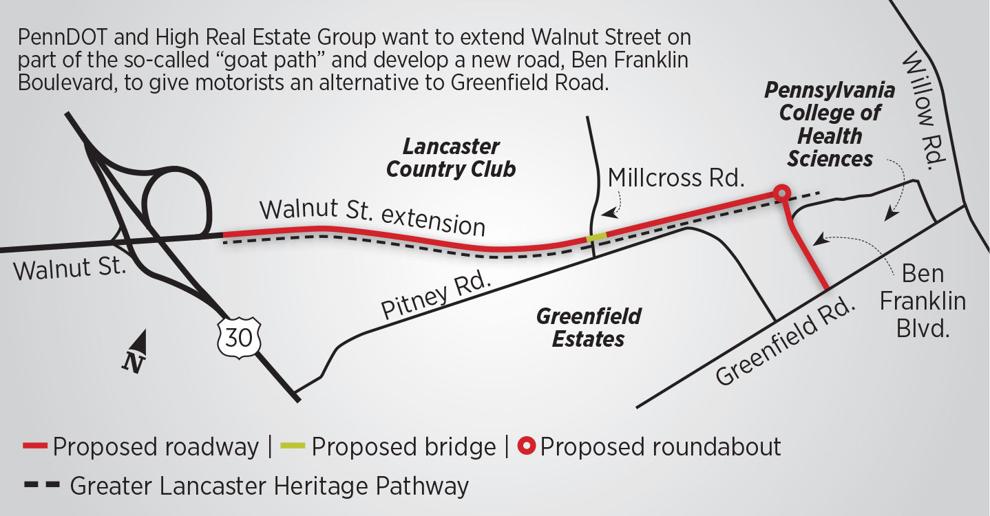 Seitz emphasized that the relief road project has nothing in common with the Route 23 bypass proposal other than using a bit of the goat path. "This road is not going any farther north" than the roundabout, he said.
The High companies are two related Lancaster-based companies, High Real Estate Group and High Industries. Together they are among the county's largest employers, with 1,365 workers here.
The High companies' work on the new road is being spearheaded by High Real Estate Group, which includes High Associates, best known for developing and managing real estate.
The relief road grew out of an effort started almost two years ago by High and the township to find a way to ease congestion on Greenfield Road, according to Seitz. Later, city and county officials joined the group.
First they studied whether to widen the road, but that would come with a prohibitive cost: acquiring rights of way, relocating utilities and possibly replacing the bridge over Route 30 (a $20 million project by itself). On top of the pricetag, traffic would be disrupted during the widening.
Extending Walnut Street, however, would use rights of way the state already owns, without disrupting Greenfield Road traffic.
Seitz and Hutchison said the relief road has drawn the "enthusiastic" support of PennDOT, state legislators, county officials and city officials.
The concept was included in the county Active Transportation Plan released in April, Seitz noted.
The state would contribute $12.2 million to build the new road, bridge and trail, said Seitz and Hutchison. The state already has committed $6 million, they said, including $3 million from the Commonwealth Financing Authority.
High is pledging $3.1 million, mostly for design costs, and other expenses related to rights of way and utility relocation.
Seitz called the collaboration between High and state and local officials "one of the best examples of a public-private partnership that I've seen anywhere."
The construction of a relief route will delight motorists such as Kim Crouse, a bindery operator at the former R.R. Donnelley plant (now LSC Communications) on Greenfield Road.
Crouse, 43, of Elizabethtown, chooses to work third shift in part to avoid the snarled rush-hour traffic at the Greenfield Road/Route 30 interchange, she told an LNP reporter while she pumped gas at the Sheetz on Greenfield Road.
Leaving work in the afternoon means merging into a clogged Route 30, a situation Crouse calls "really bad." Her first-shift commute can take twice as long as her third-shift commute, she said.