With Lancaster County's reputation as the puppy mill capital of the East, many people in search of a new pup — locals and out-of-staters alike — hesitate if they see a dog hails from a local breeder.
People often call the newspaper for tips on how to be sure they're buying from someone who loves and cares for their dogs, not an operation that treats animals like crops and cares little for their treatment or wellbeing.
Rescue groups usually recommend adopting dogs from a shelter, rather than supporting questionable breeders and contributing to pet overpopulation. However, people who want a specific breed — perhaps because they want to show the dog and need credentials — should be cautious about the breeders they patronize.
Karel Minor, from Humane Pennsylvania, notes the term "puppy mill" can mean different things to different people.
"Some people consider a puppy mill to be a kennel in violation of the legal standards of care, regardless of size," he says. "Some view any commercial breeding operation to be a puppy mill because the animals are kept solely for the purpose of creating more dogs" and are not treated like domestic companion animals.
Dogs, he says, "should not exist merely to create more dogs for sale, with little human interaction and companionship."
Officials from three local animal rescue organizations — Minor, Susan Martin from the Lancaster County SPCA and Connie Kondravy from ORCA — offer tips for finding the right dog from a legitimate breeder.
Here are their suggestions:
— Ask the breeder what types of dogs are available.
"Most reputable breeders generally specialize in breeding only one type of breed of dog," Martin says. "If the breeder has many different types dogs on the property, more than likely they are not breeding for the betterment of the breed."
Responsible breeders, according to the ASPCA, "are individuals who have focused their efforts on one or a select few breeds."
Also, adds Kondravy, "the private breeder who only deals with one or two breeds will know the unique issues specific to that breed."
— Check the breeder's license.
"Breeders should be able to show a current kennel license," Minor says, "and buyers should look up the inspection history of the kennel on the state website."
Kondravy says state law requires any kennel that keeps or transfers 26 or more dogs per calendar year to be licensed and meet state requirements for care. Kennels must also pass an inspection every two years, she says.
— Examine the puppy's parents and the kennels where dogs are kept.
"Always ask to see the mother and father of the puppy as well as their living areas when going to the breeder's house," Martin says. "If they are unable to do either — do not purchase a dog from them."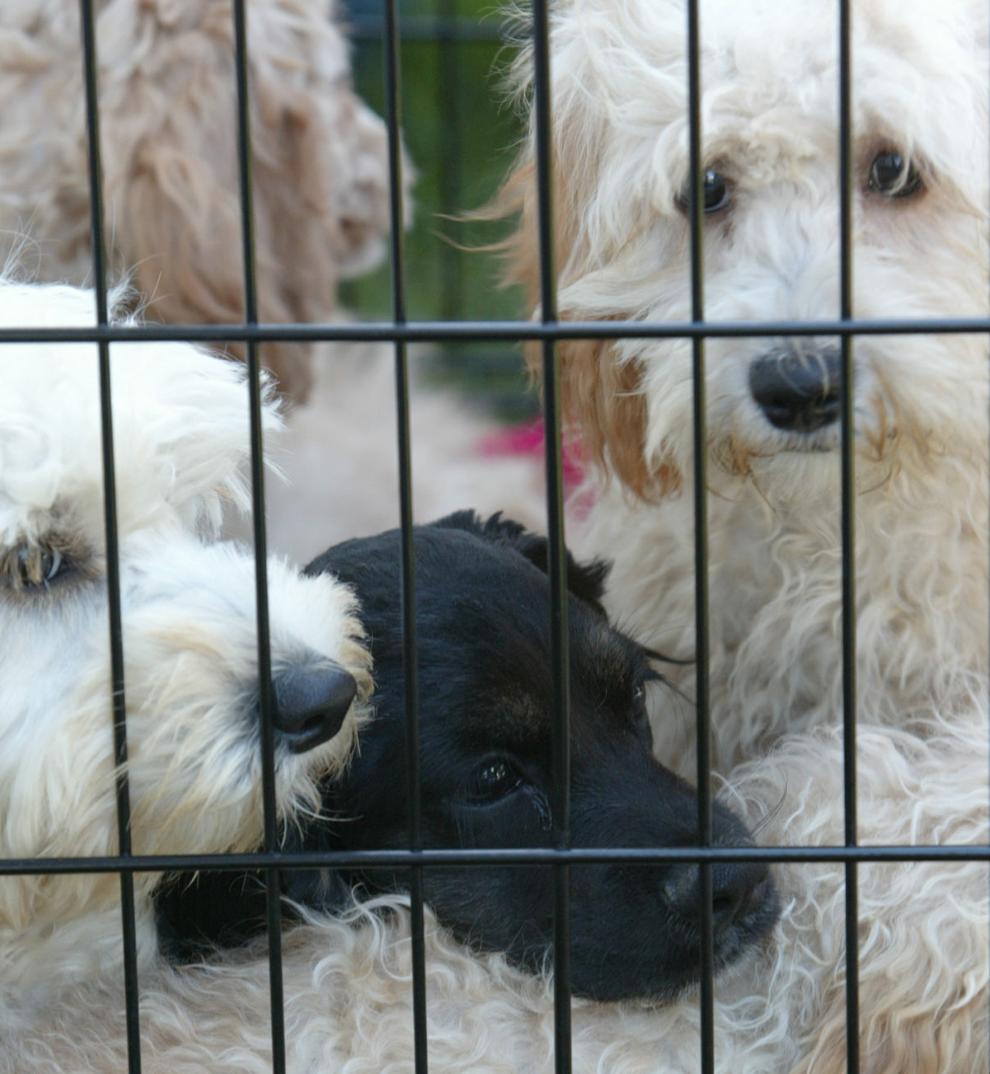 Minor goes a step further.
"Buyers should always be wary of a breeder who will not introduce the mother to the buyer or simply brings the puppy from somewhere else," he says. "We encourage people to seek out a breeder whose dogs are also companion animals and exist as part of the family, not merely in a kennel."
National dog advocate and author Chris Shaughness says good breeders "keep the dogs inside the home, and not outside in cages or runs."
— Don't accept excuses.
A breeder might offer legitimate-sounding reasons to keep visitors away from the kennels, Kondravy says. For instance, she says, the breeder might say visitors can spread disease among the dogs.
Insist on seeing the kennels before making a purchase, she says.
"If a buyer doesn't feel like the breeder is caring for the puppy and mother as well as the buyer would," Minor says, "it should raise major red flags."
— Ask the breeder for references from past customers.
"Call them to ask what the temperament of the dog is like and if there have been any issues," Martin urges.
— Be prepared to answer questions, too.
"A responsible breeder will always ask questions to the potential adopter to ensure they will be able to provide proper care for that breed of dog," Martin explains.
"If the breeder doesn't ask the potential purchaser questions, then more than likely they are just looking to sell puppies and not concerned about the well being of the puppy," she says. "People should not support a breeder that doesn't care where it is going."
A good breeder, Shaughness agrees, should "interview you extensively to be sure their puppies are going to the best homes," and they should offer a return guarantee "should you have health or behavior issues."
Also, she says, a good breeder "will require you to sign a contract stating that you will return the dog if you are unable to keep him or her at any time during the dog's life."
— Contact the breeder's veterinarian.
"The breeder should be able to provide veterinary records and the buyer should be able to contact the veterinarian to ask questions," Minor says.
"Ask the veterinarian personally if there have been any previous health issues with the breeder anytime in the past," adds Martin. "Always ensure the puppy has a health certificate signed by the veterinarian you spoke with."
— Get a second opinion.
"A buyer should be able to take the dog a vet of their choice for an exam," Minor says, "and have a written guarantee of the right to return if any health issues are found, above and beyond the mandates of Pennsylvania's Puppy Lemon Law."
Although the law gives new dog owners an avenue for returning sick puppies, it's not a perfect solution, Kondravy says. If they care about the dog, they'll pay costly vet bills instead of "returning their puppy to suffer or die in a barn kennel."
— Consider adopting from a shelter instead.
"The SPCA would always prefer for people to adopt," Martin says, although she acknowledges that some pure breeds are rarely found in shelters.
"Because there are homeless pets awaiting adoption in every community in the nation, the ASPCA strongly advocates that potential pet parents 'make pet adoption their first option' when considering bringing a dog or cat into their home," according to the ASPCA website. "Local animal shelters offer many choices, whether one's preference is dog or cat, small or large, purebred or lovable mutt."
If you're committed to a specific breed, the ASPCA says, contact the local chapter of that breed's rescue group to see what adoptable pups are available.
— Contact the local shelter even if you don't want to adopt.
Martin recommends calling a local shelter to ask if they're familiar with the breeder and if that breeder has had animal cruelty issues in the past.
— Don't adopt out of pity.
"I often get calls from people who are reporting a dirty kennel and say they bought dog from a puppy mill just to rescue it 'out of bad conditions,'" Martin says. "It is important to not buy a dog from anyone prior to doing research as noted above."
Buying a dog just to rescue it, she says, "only continues to fuel the market of un-reputable breeders."
Instead, she says, the person should report the conditions of the kennel to the proper authorities.