The whine of chain saws and crash of falling trees have replaced shouts of glee this summer at Camp Furnace Hills, a haven for Lancaster County's Girl Scouts since 1947.
Over the next six months, the 240-acre camp is destined for extensive logging, then all but 50 acres is to be put up for sale to the highest bidder.
Many are unhappy over the prescription for the 71-year-old Girl Scout camp in Clay and West Cocalico townships.
Two grassroots groups that have formed to try to save the camp in some form accuse the governing Girl Scout council of not cooperating in their efforts and having a single-minded goal of squeezing as much money from the land as possible, then selling it for development.
Also unhappy are two land trusts interested in buying much of the camp property, as well as Camp Echo Trail in York County, to save key remaining forestland in the region.
Both the Lancaster County Conservancy and the Natural Lands Trust appealed to the Girl Scout council to hold off on logging the land so they could prepare offers but were refused.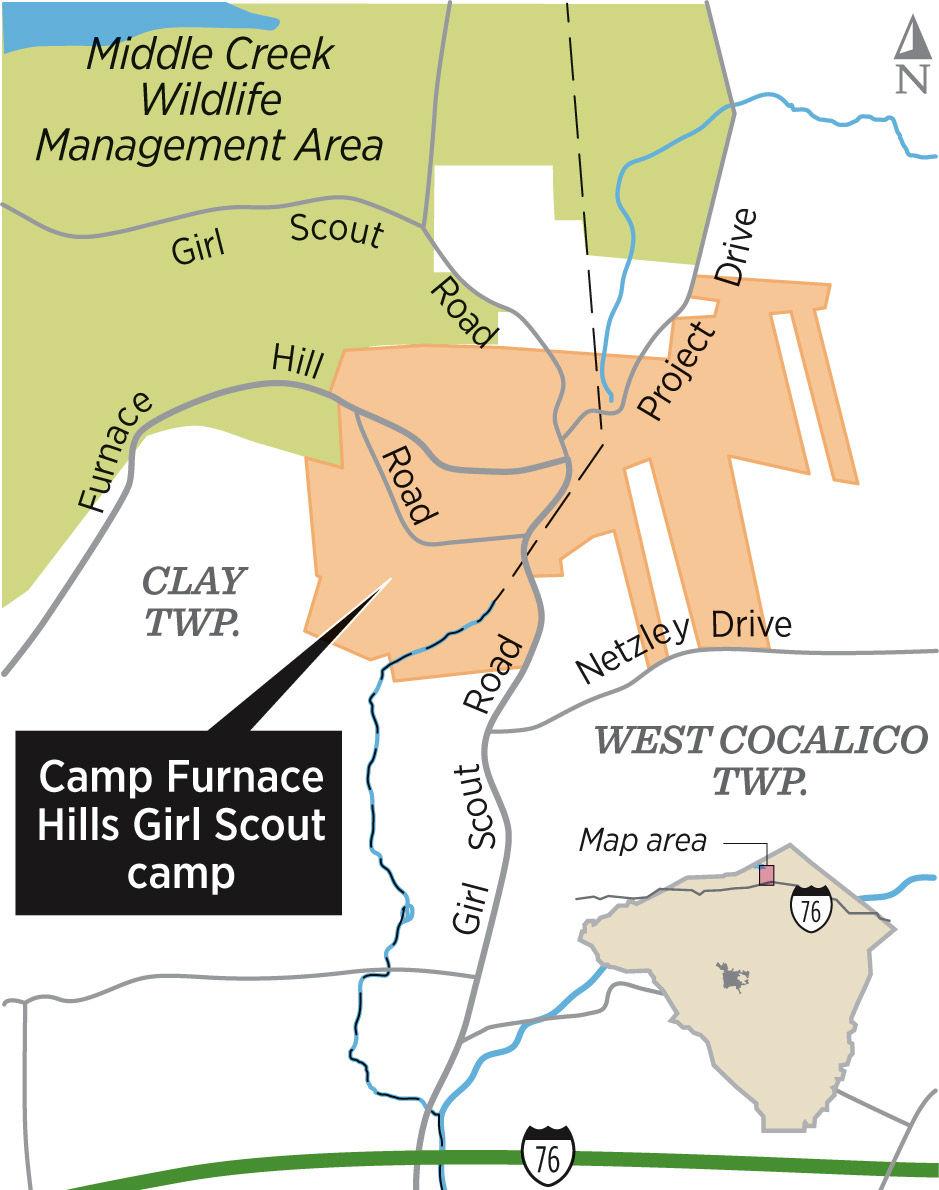 "The feeling is they are not going to sell to any of the groups that are trying to save these camps because they don't want to save these camps. They want the money. They don't want the legacy," says Dean Dirian, a Brickerville resident who with his wife, Candi, helped form the group Friends of Camp Furnace Hills.
Land sale through Realtor
Amid declining membership and revenue, Girl Scouts in the Heart of Pennsylvania voted last November to sell 190 of 240 acres of Camp Furnace Hills in northern Lancaster County and all of Camp Echo Trail.
Fifty acres of Camp Furnace Hills containing some buildings will be retained for Girl Scout programs for at least three years.
New York-based Timberland Realty was contracted to list both properties. The company's website says it specializes in "recreational" or "recreational residential" acreage.
Listing agent Brian Bullard did not return multiple requests for comment via emails, phone messages and cellphone texts.
Contracts were signed to aggressively log both camps before they are put up for sale in the spring.
Limited logging distant from the active camp began last month at Camp Furnace Hills. A majority of the timbering will be done on the remaining property, including the active 50-acre center, after Scouting activities are shut down on Sept. 1.
Logging concerns
Critics of the logging-and-sale decision say the mature forest will be clear-cut and the deforestation will threaten a wetlands and the headwaters of two streams, including Furnace Run, a high-quality wild trout stream.
Clear-cutting is not part of the timbering contracts, said Amy Mountain, spokeswoman for the Girl Scout council.
A member of the logging crew on the current timbering operation described it as a "very heavy selective cut."
The forest in Clay and West Cocalico townships is part of the Furnace Hills, earmarked for preservation as part of The  Mid-Atlantic Highlands project, a private-public effort to protect the rugged foothills of the Appalachian Mountains in Pennsylvania, New York, New Jersey and Connecticut.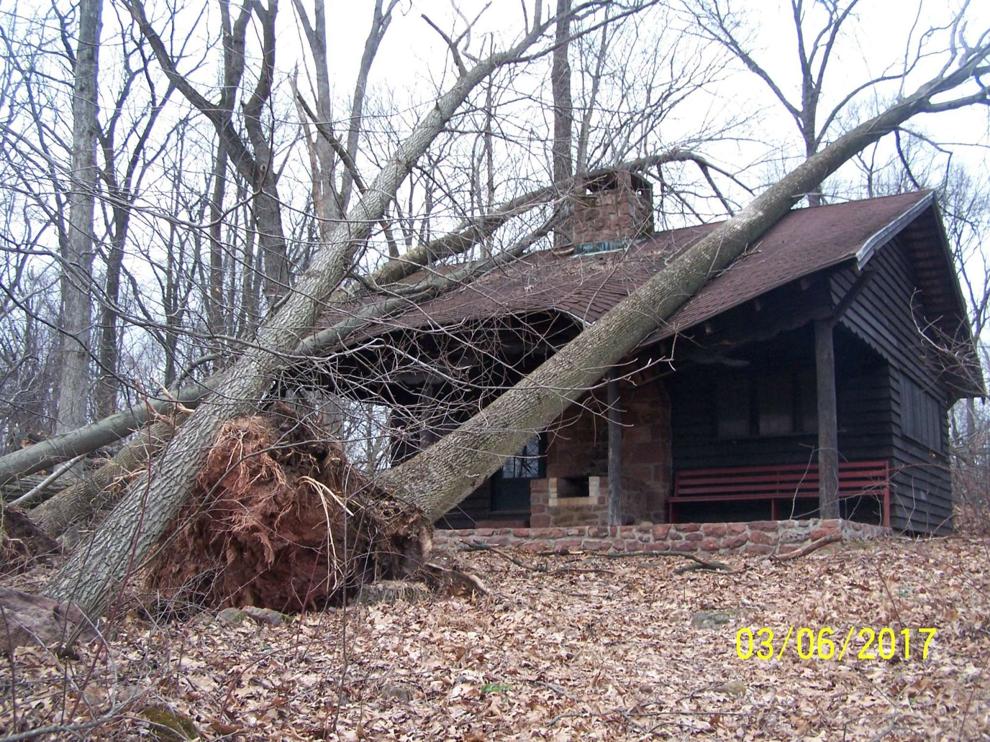 The area to be logged and sold includes the camp's dining hall, swimming pool, cabins and camping platforms. The to-be-retained 50 acres with ongoing Girl Scout activities include the historic Foxfire House and barn, program center and other buildings.
Council spokeswoman Mountain said timbering "will be conducted under the strictest safety and environmental guidelines."
The Lancaster County Conservancy initially looked at trying to purchase Camp Furnace Hills woodland, but handed off to the Natural Lands Trust, a Delaware County-based group that is exploring a purchase offer and applying for state grants.
The Lancaster County Conservancy is concentrating on efforts to purchase and preserve Camp Echo Trail property in the River Hills along the Susquehanna River, even though it is also to be extensively logged.
Residents recently complained about logging practices at Camp Furnace Hills.
A visit by the Lancaster County Conservation District on July 16 found no earth disturbances but flagged the logging company for not having a  permit for a wetland crossing not shown on submitted logging plans, according to John Repetz, a spokesman for the state Department of Environmental Protection.
Poor communications
Will Haggans, a Manheim father of two Girl Scouts, has formed the Furnace Hills Camping Association, a nonprofit raising money through fundraisers and donations in hopes of a purchase of some or all the property to keep camping going.
"I just want to keep a camp open for the kids in the community, not just for Girl Scouts," he says.
"The communication has been rough with them," he says. "Their Realtor does not get back to my Realtor. They won't even tell how much timbering is being done.
In response to those comments, Mountain says, "While the topic of the future of Camp Furnace Hills is an emotional one for many people, from the beginning, our interaction with Will Haggans and FHCA has been conducted with courtesy and transparency.
"Will and his group have a mission-driven interest in Camp Furnace Hills.  GSHPA respects and recognizes that dedication and we are committed to a financially sound and transparent process in trying to work with groups that seek to purchase any GSHPA property.  It's not an easy or a simple process, but GSHPA continues to engage professionally and respectfully with any group or individual who has expressed interest in a GSHPA property."
Says Dirian of Friends of Camp Furnace Hills, "Their only intent is to sell it to the absolute highest bidder. They don't want to save these camps, they want the money. We've made a couple offers directly and by proxy."
In reply, Mountain says, "As the property is not yet listed for sale, an asking price has not yet been established. When it is formally listed, Brian Bullard at Timberland Realty will be the point of contact for any inquiries about purchasing the property and what the process is to do so."
In a council website section called "Fiction versus Fact — Keeping Our Promises," the council addressed the allegation that it is not keeping its promise related to Girl Scout camps.
Council staff "continues to meet with community groups to look for local solutions at the same time that we are listing for sale those properties identified by the Board for retirement."
When asked about a rumored $1.7 million asking price for the Camp Furnace Hills property, Mountain emphasized that no sale price has been set.
Mountain also points out that since the decision was made to sell the property, membership has stabilized and, in fact, increased to its current level of 17,680, the highest girl membership the council has seen since 2015. 
Critics have also raised questions about the use of funds from an insurance settlement the council received by electing not to repair the camp after a devastating winter storm in February 2017.
In response, Mountain said that the insurance money was placed into a fund whose use is controlled by the council board.
The onset of logging in woods where generations of Girl Scouts have camped and made memories raised a furor on Facebook pages devoted to saving the camp.
"I am literally sick to my stomach," wrote Sandi Fasnacht, who lives next to the property, camped there as a girl and is a former Girl Scout leader.
"You hear the trees crashing to the ground," she added in an interview. "I am not an activist but this is home, this is where we live. They are profiting like crazy.
"Life won't be the same around here. I miss the girls in our neighborhood."