As Oak Tree Development planned to build Lime Spring Square along Rohrerstown Road, the developer had lots of decisions to make.
But to be honest, some topics on the table were less scintillating than others.
"Stormwater is kind of a boring subject. It's hard to get people excited about it," said Mike O'Brien, Oak Tree president.
A dull topic to some folks, for sure, yet a hot topic to many others. And important for all.
"There's a lot of pressure on Lancaster County — businesses, farmers, municipalities, developers — to help the discharge that is coming from our county and ending up in the Chesapeake Bay," said O'Brien.
Residents — as well as reporters — pay the most attention to big, new shopping centers with …
O'Brien spoke at a recent ceremony to mark the unveiling of Oak Tree's choice of coping strategies to deal with stormwater management.
Its pick? Floodplain restoration.
The Lancaster-based firm is among a handful of local developers to opt for this less common approach. It costs more than the typical solution — constructing stormwater basins.
But floodplain restoration also offers many more advantages, advocates say, to the benefit of developers, municipalities, taxpayers and the bay.
Had Oak Tree Development gone with that usual approach, it would be constructing at least 12 stormwater basins on the East Hempfield Township site.
Cost: $1.3 million, according to Oak Tree Development.
These pond-like basins can do the job of collecting runoff from the developments' rooftops and parking lots, then releasing the water later at slower, smaller, controlled rates.  That's about it, though.
So Oak Tree Development picked an option that's been deployed only about 15 times in Lancaster County, according to its floodplain project's planner, LandStudies.
Cost: $1.5 million, says Oak Tree Development.
Yes, it costs slightly more than basins. But it accomplishes so much that the extra expense is more than worth it, says LandStudies and Oak Tree Development.
Who benefits
Oak Tree Development, for instance, will gain eight acres of land to develop — land that would have been used for basins.
East Hempfield Township will be a major winner too.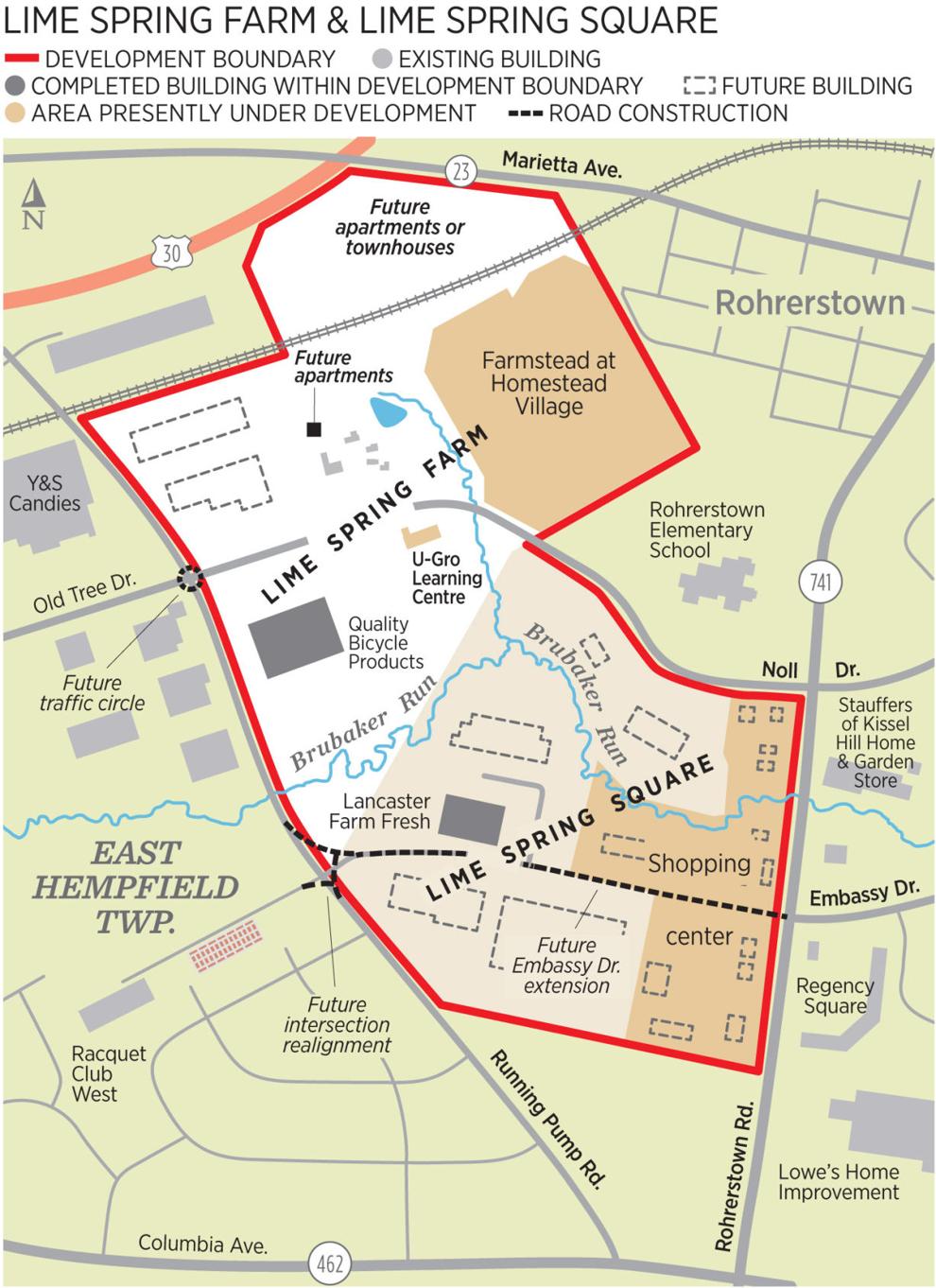 Unlike stormwater basins, floodplain restoration not only will control runoff. It also will sharply cut the amount of pollutants that gets into Brubaker Run, which winds through the site — and ultimately the Chesapeake Bay — from upstream and the floodplain.
The township will get credit with state and federal agencies for these reductions of sediment, nitrogen and phosphorus. The agencies require municipalities to reduce the amounts of those pollutants that flow into the Bay.
For instance, the Brubaker Run project by itself will achieve 72 percent of the sediment reduction in the Little Conestoga Creek watershed that the agencies require of the township, according to preliminary calculations by LandStudies.
How so? The floodplain restoration project will cut the amount of sediment going into Brubaker Run by 45 percent.
These strides will be made without the township spending a cent -- great news for township taxpayers. Oak Tree Development is picking up the full cost of the floodplain restoration.
To get the same impact on its own, the township would have had to build several stormwater-control projects by itself, potentially costing township taxpayers more than $5 million, LandStudies estimates.
"This is a very special project for the township and (its) residents...," said Bob Krimmel, township manager.
"(I'm) very proud that this project is in our township and that (our) elected officials saw the benefit of this project and supported this during the planning process," Krimmel added.
The Brubaker Run project will be just the third floodplain restoration in the county that directly gives its municipality credit on state and federal scorecards for reducing pollution of the Bay, says LandStudies.
---
"This is the way to get things done, where there's actual value being created, measurable value."
~ Mark Gutshall, founder and vice president of LandStudies
---
It will join projects at Landis Homes (Manheim Township) and Rock Lititz (Warwick Township).
Mark Gutshall, founder and vice president of LandStudies, describes the floodplain restorations as "economic ecology," because the developer, the environment and the community each come out ahead.
In the past, when one of those sides would benefit, its advance would come at the detriment of the other, Gutshall indicated. Not so with floodplain restoration.
"This is the way to get things done, where there's actual value being created, measurable value," he said.
"The measurable value is additional (acres to be developed). It's additional open space, it's additional wetlands, it's additional sediment, nitrogen and phosphorus removal, and flood reduction," said Gutshall.
Lime Spring Square, adjoining Oak Tree Development's Lime Spring Farm project, is being developed on the former Outin farm, an 84-acre tract between Rohrerstown Road and Running Pump Road.
The site includes a small shopping center that's under construction, a completed building for the Lancaster Farm Fresh produce cooperative and proposed office, commercial and light industrial buildings.
Out with the old
Brubaker Run's floodplain will be restored along 4,200 linear feet of the stream, according to a plan devised by LandStudies in cooperation with RGS Associates, the land planner for both Lime Spring ventures.
The floodplain restoration will remedy problems caused by what's known as "legacy sediment."
Construction on Lime Spring Square shopping center on Rohrerstown Road is underway and with …
That's what built up behind the small dams that farmers and others erected on streams such as Brubaker Run and larger waterways to power their grain mills and serve other purposes. This happened in the 1700s, 1800s and early 1900s.
Lancaster County is estimated to have once had about 500 such dams. Only traces remain of most of them.
Over the decades, floodplains behind the dams got covered by thick coatings of sediment, rendering the floodplains impotent. Along Brubaker Run, the sediment is three to four feet deep.
In a five-month effort to start this month, 35,000 cubic yards of sediment will be scraped off by heavy earthmoving equipment such as bulldozers and excavators.
"A significant amount of sediment is currently entering the stream via stream bank erosion, as the steep banks made of highly erodible legacy sediment fall and collapse into the water," said James M. Kreider, director of field operations for LandStudies.
"The proposed restoration will remove this sediment from the floodplain so it can no longer enter the watershed, and will create lower and more stable banks in its place, hence reducing the amount of sediment entering the stream by approximately 250 tons/ year for this reach," he wrote in an email.
Removed sediment typically is spread on farm fields or used elsewhere in the development where more topsoil is needed.
The restored floodplain will not only do a far better job of removing pollutants, it also will be better at recharging groundwater and reducing runoff, and create 8.4 acres of new wetlands, according to LandStudies.