"Oh internet," was the lighthearted lament of a Hempfield High School secretary who found herself referenced in a viral tweetstorm and national media coverage Saturday.
The Associated Press reported that House Speaker Paul Ryan tweeted about Julia Ketchum, of Lancaster, who was named in a previous AP business story about changes in tax withholding sparking bigger paychecks.
Ketchum had told AP her check went up $1.50 per week and, while the quote wasn't a stretch, she more or less felt put on the spot to say something.
"(AP) asked me what I'm going to do with the extra money," Ketchum recalled. "My Costco membership was the only thing I could think of at the time that would be covered."
Ryan, linking to the AP story, presented Ketchum's quote as benefit of the Republican tax overhaul, but then deleted the tweet after online criticism that touting such a small amount made him look out of touch.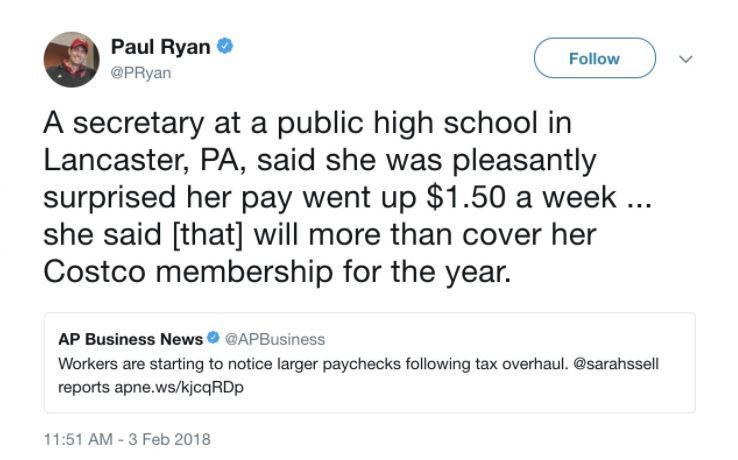 Ketchum was surprised her quote even made it to the AP report, she said.
"Especially since they picked up on my $1.50-per-week increase," she added. "People interviewed before and after me had hundreds, and when (Ryan) chose to tweet about me, that cracked me up."
Regardless of any political context surrounding the tweetstorm, Ketchum said all the attention at least seemed to validate her tax withholding.
"I'm hoping it means I have my deduction set at the right place, since there was very little change," she said.
Ketchum had no further comment regarding the tax bill, but said her newfound internet fame should be interesting to explain to students and colleagues on Monday.
The Associated Press and New York Times contributed to this report.