This week Lancaster Watchdog looks for a missing road sign in Terre Hill and has an explanation for the novel traffic calming device set up along Farmingdale Road in East Hempfield Township.
---
Where to turn in Terre Hill?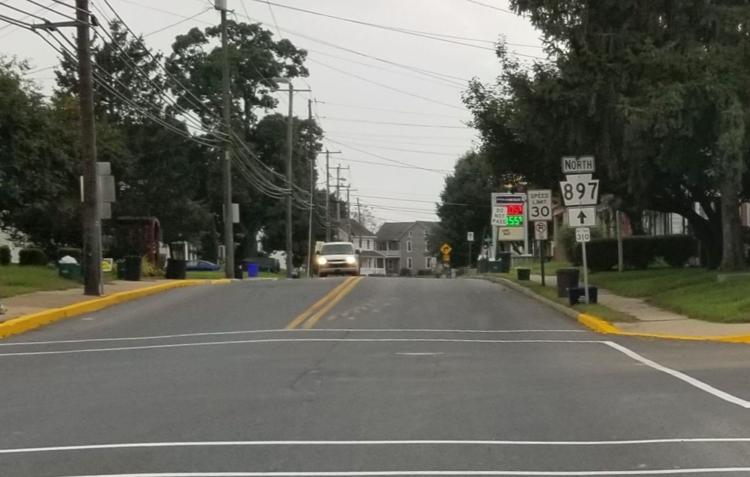 A handwritten letter mailed to Watchdog contained this challenge: "Can you find Route 897S in Terre Hill when traveling west on Union Grove Road from Route 625?"
It's not so easy.
The problem, as the letter writer describes, is that motorists traveling west on Union Grove Road and wanting to go south on Route 897 need to turn left at a stop sign just as they get into the borough.
While the intersection has a sign pointing straight ahead for Route 897 North, nothing points the way to Route 897 South.
"I've seen motorists and big rigs pull off the roadway when they see they are headed north on 897, probably questioning, 'Where did I miss 897 South?'" the letter writer says.
If motorists make the correct turn, there is an immediate sign indicating they are on 897 South, although they would have to make that turn "due to intuition," as the letter writer says.
Interestingly, a Google Maps image from 2009 shows there was a sign then indicating the turn for Route 897 South. That sign was in front of a sign indicating Route 897 North continued straight ahead.
Watchdog reached out to a spokeswoman for the state Department of Transportation, who said she would look into getting a new sign for the road.
---
One lane yield on Farmingdale Road
A Watchdog reader asked for an explanation of the new tactic being deployed to get motorists to slow down on Farmingdale Road in East Hempfield Township.
Just north of Marietta Avenue, Farmingdale Road has new barriers that narrow the road to one lane, forcing opposing motorists to take turns as if they were at a one-lane bridge.
Installed earlier this month, this "one-lane yield" road is the novel solution to control speeding along the popular shortcut road between Marietta Avenue and Harrisburg Pike.
To further slow traffic, the township plans to install a roundabout at Farmingdale Road and Irwin Avenue, just north of the new one lane yield. The township will then study the effectiveness of both measures before making them permanent.
Chris Bauer, a traffic engineer with McMahon Associates, said the one-lane yield would be the first of its kind in Lancaster County, although they are commonly used in Europe.
Bauer said the device is meant to mimic a narrow residential street where motorists are forced to go slow. He said it was favored by residents over speed bumps, which the township pointed out can make snow plowing difficult.
If, as Bauer expects, the one-lane yield reduces the number of speeders, the road will actually be narrowed by taking out pavement and adding curbing where there are now temporary barriers. Bushes may also be planted.
"We really wanted to do something to slow the traffic down and this is the device," Bauer said.
---
Notice any problems?
Email the Lancaster Watchdog at watchdog@lnpnews.com or go to lancasteronline.com/watchdog and tell us about it. You can also send mail to Lancaster Watchdog at P.O. Box 1328, Lancaster, PA 17608-1328.