Lancaster Township officials will have the opportunity to see some of the detailed engineering data, calculations and modeling that led Lancaster city to choose a school district property in the township for a 3 million gallon water tower.
At an April 9 township meeting, Mayor Danene Sorace agreed to provide access to data collected and analyzed during the site selection process by the city's engineering consultant.
"We're interested in taking advantage of that," township Manager William Laudien told LNP.
Representatives from the school board would be welcome, too, he said. Depending on when it happens, the board would indeed be interested, President Edith Gallagher said.
City Chief of Staff Matt Johnson said the offer was extended as a courtesy and is highly unusual. He stressed that the city is not re-opening the site selection question, only giving the township a deeper look at the information used.
The township, he noted, is not a party to the pending lease negotiations between the city and the school district.
It will cost the city about $3,000 to $5,000 to have the engineering consultant prepare the data for review, Johnson said. Because of the security risk involved in disclosing information about infrastructure, those given access will have to sign nondisclosure agreements.
The water tower is planned for property near Wheatland Middle School and the future Buchanan Elementary School. The estimated base cost for the 113-foot structure and related on-site infrastructure is $7.5 million.
The city says the tower is needed to improve water pressure. Much of its capacity will serve current and future development in areas southwest of Lancaster city and Lancaster Township.
School board members and nearby residents have questioned the city's rationale and complained about lack of transparency. When the school board voted 6-3 to enter into lease negotiations last month, most members said they felt forced to do so to avoid a potential eminent domain seizure and have some influence as the project's details are finalized.
The city has said it considered sites at 14 locations for the water tower.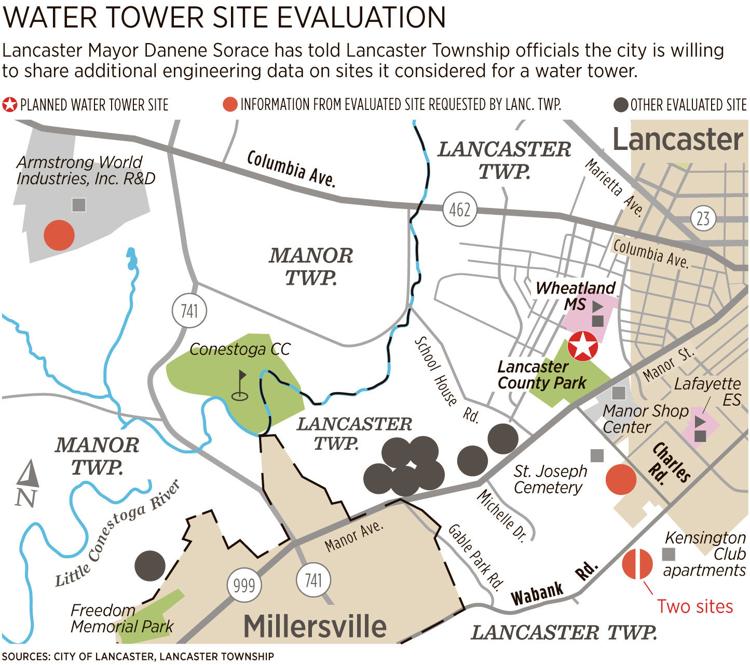 The township is interested in seeing full information on four of the sites, Laudien said: one at 196 Charles Road; one at a tract owned by Armstrong World Industries south of Columbia Avenue; and two spots at a location off Wabank Road near the Kensington Club Apartments.
It isn't necessary for the township to go through every single site the city considered, Laudien said. If the city's conclusions check out at those four, the presumption would be that they do elsewhere, too.
Nor does the township think the data won't check out, he said. But verifying that it does "makes the matter clear" and "helps us all move forward," he said.
"I'm glad that the mayor has made this offer," he said.
LNP correspondent Herb Landau contributed to this report.